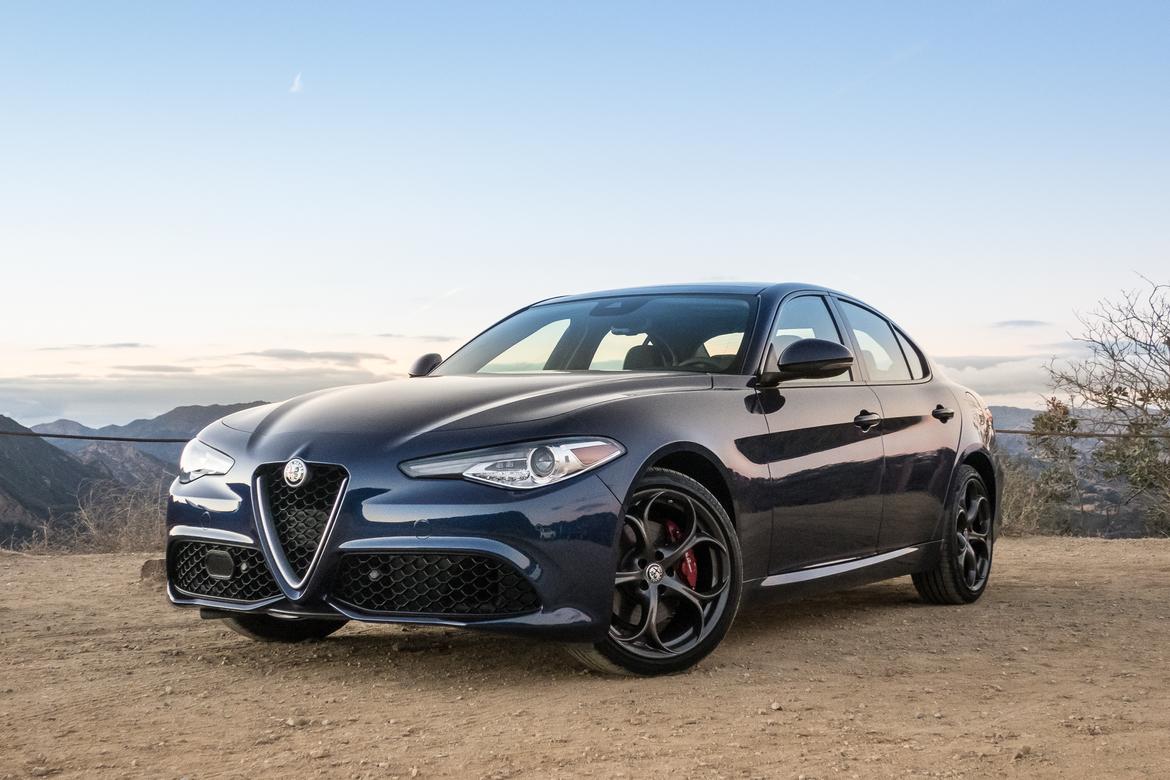 — In the first 30 minutes of being behind the wheel of the 2018 Alfa Romeo Giulia, I was confused, and so were my colleagues. We've spent a good amount of time in the Giulia; it participated in 's 2017 Luxury Sports Sedan Challenge and we had both the Ti and Quadrifoglio versions into our office this year. Our general assessment of the Giulia tends to be something to the effect of: "I really liked it," followed by a pause, and then, "Well, it has some issues ... "
Related: What's the Most Fun-to-Drive Luxury Sports Sedan?
Get 2018 Alfa Romeo Giulia Details Find a 2018 Alfa Romeo Giulia Near You
It's a bit of an odd duck in that regard: Your first instinct is to really like it, but then your head catches up to your heart and the practicality of living with a car that will in consecutive seconds delight and infuriate gives you pause. There are common themes to our near-Shakespearean love-hate relationship with the Alfa Romeo Giulia:
Love — Handling and Steering
The first thing I noticed when I got behind the wheel of the Giulia was how taut the whole package felt. It has one of the tightest and quickest steering racks I've encountered, especially for a car with electric power steering. Turn in is immediate, and the Giulia doesn't so much turn into corners as dive into them like a runner stealing home.
This is aided by a strong chassis and a stiffer suspension that can hold up to these sharp movements without making the car feel out of control. These characteristics also rang true with multiple versions of the Giulia that we drove, from the Ti all the way up to the Quadrifoglio.
That pleased Managing Editor Joe Bruzek, who said: "You don't need to load the Giulia up with a hoard of packages to get one of the most rewarding luxury sedans in its segment to drive. The Giulia Ti left all other luxury sedans in its dust when we tested acceleration, handling and braking performance against six other luxury sports sedans (at our Challenge)."
Hate — Interior Quality
For a luxury car with a luxury price tag, the Giulia's interior isn't up to snuff. There isn't quite the level of consistency of materials that you see in other luxury brands (especially Mercedes-Benz) and parts of the experience — particularly on the multimedia front, which we will address later — just don't measure up to competitors. Executive Editor Joe Wiesenfelder also found an enemy in the Giulia's turn signals, which spring back to center after you activate them.
"The stalk should stay where you put it," he said. "And if you hold the stalk in position, it still stops blinking after a few times. Just weird."
There was, however, one part of the interior we did really like ...
Love — Paddle Shifters
There are giant paddle shifters mounted to the steering column on both sides — and they're fantastic. They're made of aluminum instead of cheap plastic like we see on some vehicles, and Senior Research Editor Mike Hanley lauded not only their looks, but also their responsiveness.
"They're not usually my thing, but I loved the massive shift paddles on the Giulia's steering wheel," Hanley said. "They look and feel great, but more importantly when you pull on them a gear change happens immediately."
Hate — Multimedia System
The Giulia has a subpar multimedia experience for a few key reasons, starting with the screen itself. Aaron Bragman, our Detroit bureau chief, had difficulty just seeing the screen, saying: "I'm not sure if it's a polarized filter or what it is, but it's dark, grainy and difficult to see in bright sunlight."
Part of that is the difficulty users will have with controlling the system — it's not intuitive, whether you're using the large dial control or the steering-wheel controls. For example, the buttons on the steering wheel that would normally scroll you through your radio-station favorites instead just tune up one satellite radio station, and there's no way to modify the action of that button.
One final nit: The screen itself is a decent size, but for some reason it doesn't use all of the screen as a display for the backup-camera system. It only uses about one-third of it to show the picture, and I found myself having to stop and lean in to get a better peek at it while reversing.
Love — Engine
Both of the Giulia's available Used Engine — the turbocharged 2.0-liter four-cylinder and the twin-turbocharged V-6 found in Quadrifoglio models — deliver excellent power and work well in tandem with their transmissions to put it down to the wheels.
In fact, while surveying editors for impressions, even if my colleagues chose to highlight a different part of the vehicle, they always included a mention of the powertrains. Asked what he loved most, Bragman perhaps put it best: "Dat Used Engine . Either in 2.0 or V-6 guise, the powertrain is fantastic."
Hate — Lane Departure Warning Noise
When the lane departure warning system is activated, the warning sound that comes through the cabin is abrasive. It sounds like a mix of a buzzer and a vibrating cellphone — and when you're not expecting it, it's downright spine-tingling. A friend riding along with me likened it to the noise made by the Operation board game when you screw up.
The sensitivity of the system can be turned down or off, but the alert can't be modified. I ended up shutting the whole thing off for most of the week I had the car, which was frustrating.
Love — Styling
From those circular, cloverleaf-like wheels to that unique grille, we loved the Giulia's styling and little flourishes — like the start button being placed on the steering wheel by your left thumb, Formula One style. Even the logo is a triumph, and Alfa knows it because it's stamped all over the interior, on the wheel and even in a super-cool embossed fashion on the head restraints.
It's telling that the Giulia, despite these issues, took second in the Luxury Sports Sedan Challenge this year. The driving experience of it really is that good, and as someone who can be won over by such things, the Giulia holds a special place in my heart.
This special sedan isn't for everyone. But if, like us, you love it just a little more than you hate it... you could learn to live with it.
's Editorial department is your source for automotive news and reviews. In line with 's long-standing ethics policy, editors and reviewers don't accept gifts or free trips from automakers. The Editorial department is independent of 's advertising, sales and sponsored content departments.