— Go to a drag strip and you'll see a lot of drivers doing burnouts just before the starting line. Those aren't for hijinks — or at least, they aren't only for hijinks. They also heat up the tires for better traction down the strip. The Ford Mustang's line-lock feature makes such burnouts easier, but until now, you could only get it on the V-8 Mustang GT. Not anymore: Ford announced today that it will make the feature standard on all versions of the refreshed 2018 Mustang.
The electronic feature locks the front brakes but releases the rears to facilitate easier burnouts.  Without it, you'd have to brake all four wheels, apply enough gas to overpower the rear brakes and heat your tires at the expense of the rear brake pads. In the Mustang, the burnouts are wear-free — well, besides tire wear, but that's the cost of any burnout. A line lock is especially useful in taking away the frantic footwork on manual transmission cars where you have three pedals to juggle.
Get 2017 Ford Mustang DetailsFind a 2017 Ford Mustang Near You
Ford says the line-lock feature comes on all 2018 Mustangs regardless of Used Engine or transmission. And that's not all: Get the Mustang's optional 12-inch digital gauges, and the line-lock feature shows an animation of a spinning tire, smoke and all, with a countdown timer and tachometer visualization for up to 15 seconds of burnout. That's how long the line-lock feature, engaged through a gauge menu and steering-wheel controls, locks up the front brakes so you can smoke (sorry, heat up) the rear tires.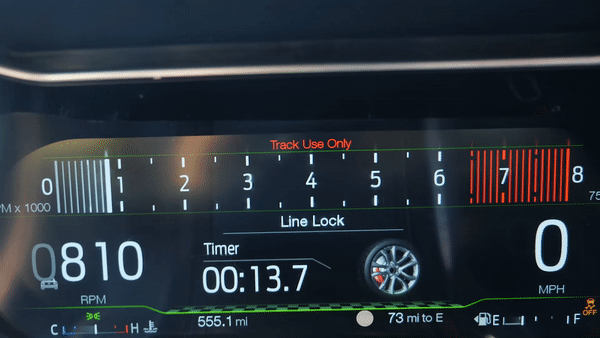 The 2018 Mustang hits dealerships this fall. Ford posted a video of Formula Drift champ Vaughn Gittin Jr. teaching novices how to use it at Southern California's Irwindale Speedway. Now that's a lot of smoke: