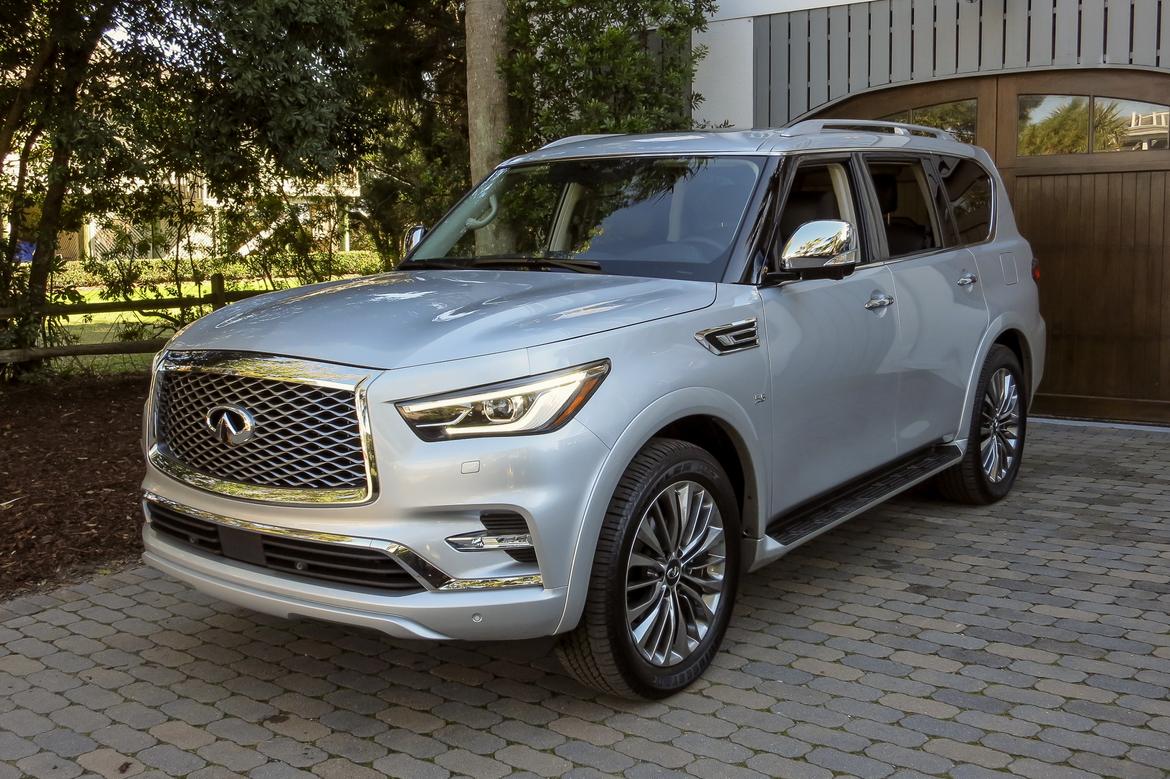 It's still big and brash, and better. Infiniti has kept what was good about its flagship QX80 SUV for 2018 and made some needed upgrades to try to better compete with rapidly improving competition.
Related: Infiniti QX50 Returns for 2019 With True Luxury Cred
Get 2018 INFINITI QX80 Details Find a 2018 INFINITI QX80 Near You
The changes aren't extensive, but the 2018 QX80 is less polarizing to look at, and it's nicer and quieter to ride in. The technology is improved, too, though maybe less than it could, or should, be. And Infiniti didn't tinker with what already works for the QX80: very competitive power and handling versus other XXL luxury SUVs. You can check out a full gallery below.
At an Infiniti-hosted national launch event, I tested an all-wheel-drive QX80 with a full load of option packages on city streets and on highways through the wetlands and islands of the South Carolina Low Country in and around Charleston. (Per 's ethics policy, we pay our travel and lodging expenses for such automaker-sponsored events.)
A More Upright Look
The imposing new front end is more upright and squared off — and much less eccentric — than the rounded sculpting of the 2017 model with its low headlights and high grille. The styling updates were inspired by Infiniti's Monograph concept, unveiled at the 2017 New York International Auto Show last spring. Among the design cues from the concept are a much more prominent version of the Infiniti grille (open wide!) and new headlights with LED eyebrows that sit higher and stretch around the corners. Infiniti says that everything forward of the windshield is new. The rear is more familiar, but the 2018 gets thinner LED taillights. Also familiar from the outgoing model are the slab sides and horizontal roofline with signature crescent-shaped rear pillar, a look shared with the Nissan Armada and Patrol, which is sold globally. The changes are subtle, but they work for a more upscale presence.
2018 Infinti QX80, photos by Fred Meier
How It Drives
Infiniti kept the burly 5.6-liter V-8 that puts out 400 horsepower and 413 pounds-feet of torque and is mated to a seven-speed automatic that goes about its business competently and unobtrusively. The powertrain has plenty of power to move the nearly three-ton SUV; Infiniti says it does zero-to-60 mph in 7.5 seconds. More important, the QX80 allows confident highway passing and merging, and it does so with a satisfying growl from the big V-8 that we're glad Infiniti has not filtered out. The seven-speed automatic is smooth and positive.
You pay a premium for the performance, literally. The 2018 has not yet have an official EPA rating, but Infiniti expects it to match the 2017's EPA ratings on premium gas of 14/20/16 mpg city/highway/combined with rear-wheel drive and 13/19/15 mpg with all-wheel drive.
The QX80's handing continues to perform above the norm for such big SUVs, not a few of which are floaty and boaty. By contrast, the QX80 drives smaller than it is. The steering is light but responsive, and the brakes inspire confidence with firm, linear response.
My test vehicle had the optional Hydraulic Body Motion Control suspension that provides more body control, and it proved to be very effective in controlling lean in corners as well as motion under hard braking or acceleration. The QX80 never felt top heavy.
For 2018, Infiniti also made some tweaks that improve the ride over the outgoing model. The shocks were retuned, and Infiniti also worked to provide more sidewall compliance from tires fitted to the optional 22-inch wheels. The result still is a little firmer than some big SUVs, but it feels confident and tied down. You are aware of road imperfections and expansion joints, but they aren't jarring.
The available rear-biased all-wheel-drive system operates automatically, with a computer shifting power to the wheels with more traction. The four-wheel drive is aided by brake-based traction control. The system also offers locked-in high and low settings for specific conditions — 4-High for light conditions, 4-Low for tougher situations. We weren't able to test the latter, and we suspect most buyers won't be climbing rocks, either.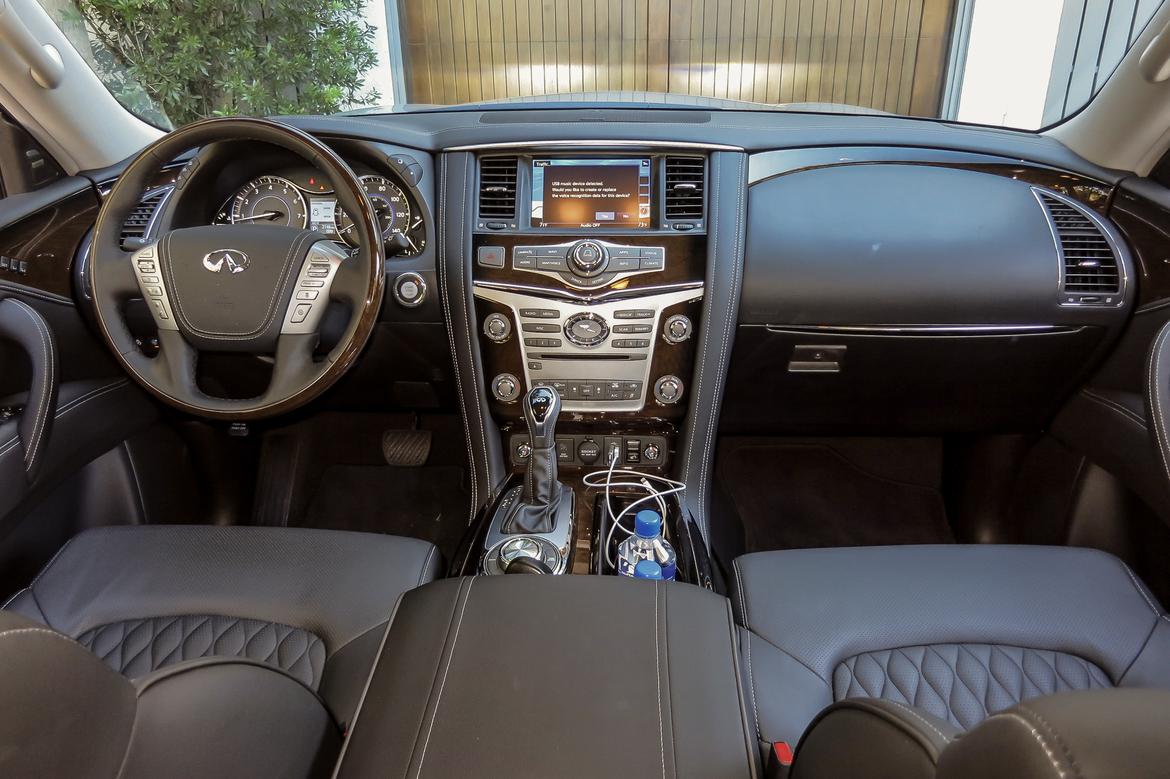 Redecorated Inside
The QX80 interior has a slightly more modern look for the dashboard and high-quality leather and wood trim in the first two rows, including availability of an additional color scheme and a very nice execution of the quilt stitching that's the current trend for luxury vehicles. Good news for family users is that for 2018, the leather upholstery gets a stain-resistant coating that also resists dye transfer, such as from sweaty denim jeans.
The QX80 has standard second-row captain's chairs and seating for seven; with the optional split-folding bench seat, it can seat a party of eight. With the captain's chairs, the second row gets its own console with a big covered bin, cupholders and a second, lower cubby to stash gear. The console is handy, though it cuts off that between-the-seats space as an alternative avenue to the third row.
The front seats are big, supportive and proved to be comfortable for a long day of driving, as are the second-row buckets. The driving position is high and commanding; and you need the standard (and wider for 2018) running boards and grab handles to gracefully get up there.
The second-row buckets tip up (power tilting is optional) for access to a third row that is tighter than you expect given the size of the QX80. The second-row seats also don't slide to allow legroom compromise with the third row. You sit low with your knees high, though a power recline helps you get comfortable and headroom is ample for taller adults. While the QX80 is admirably consistent in the quality of materials from the first row into the second, the third row gets hard plastic and no fancy quilting for the leather. No reading lights or power ports either, though there is a 12-volt outlet behind the seat in the cargo area. Check it out if you plan more than occasional use of row three.
And Quieter
One of the biggest interior improvements is not in what you see but in what you don't hear. editors consistently faulted earlier models for a noisier and busier interior than many rivals; for 2018, Infiniti added more sound insulation behind the dashboard and in the cargo area, as well as beefed-up carpeting. While it did not use such other sound tools as acoustic glass and noise cancellation, company data claims a 5 percent improvement in your ability to have a conversation. To my ear, the improvements translate into a noticeably quieter, less fatiguing cabin and add to the premium feel.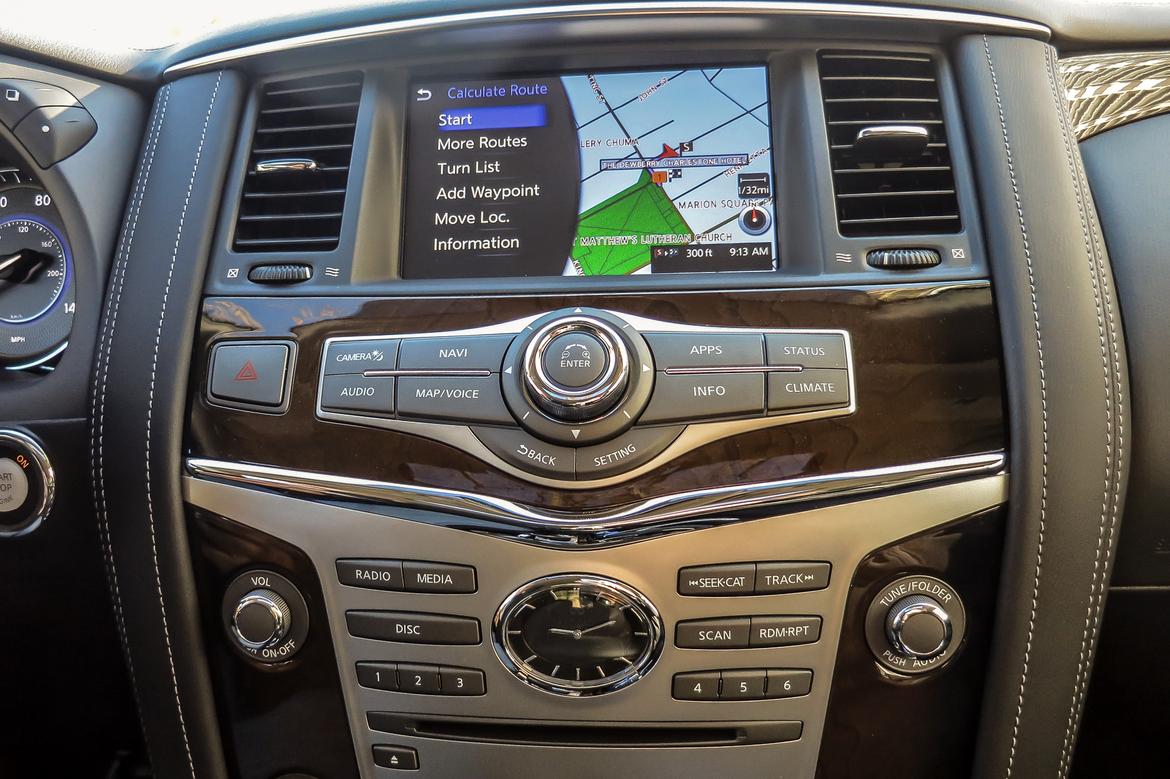 Multimedia Modernized, But Not Quite Modern
A revised dashboard still looks somewhat old-school. It still has a prominent central bulge — that's been an Infiniti thing — and is busy with buttons and knobs for the controls and multimedia as well as the 8-inch touchscreen. The screen got needed higher resolution and better graphics, though not the crispness and show-stopping graphic designs now showing up in the latest-generation German and high-end U.S. systems. Menus are improved and more intuitive, however, and Infiniti still offers you a choice of using the touchscreen or a dashboard knob-and-button controller to navigate the system. The physical controls were particularly handy for letting the passenger use some functions, such as navigation entry, that are blocked on the touchscreen when underway.
The oldest-looking touch is a monochrome driver information display between the gauges, but I didn't mind given its large, easy-to-find control buttons on the gauge hood that proved easier to find and more intuitive than more complicated systems. So on balance, for me, ease of use trumped a fancier look.
Harder to live with over time would be the lack of Apple CarPlay and Android Auto smartphone integration, if only for the continuously updated maps. This smartphone integration is migrating down to some of the cheapest cars and buyers are coming to expect them as they would Bluetooth pairing and power ports. The 2018 QX80 does have an enlarged "phablet-size" phone cubby in the front near a pair of front USB ports, but it's shallow, and the hard plastic lets your big phone jiggle. The lack of wireless charging is a notable lapse for a luxury vehicle.
The second row gets a pair of new 2.4-amp USB charging ports, as well as a third USB media port (for five USB ports overall) and 110-volt outlet with the available two-screen rear entertainment system. The system is upgraded for 2018 with an added HDMI port and higher-resolution 8-inch screens, up from 7 inches. They also now can display separate content on each screen and connect via Wi-Fi.
A nit to pick: The front seat heat/ventilation knobs offer no indication they are on, save for a tiny light you can barely see in daylight.
Mostly Optional Safety Tech, Driver Aids
The QX80 has not been crash-tested by the Insurance Institute for Highway Safety or federal regulators.
Standard safety technology includes a 360-degree camera system with moving object detection, as well as front and rear parking sensors — and all are a big help in docking this yacht.
Buyers may also want to opt for the newly available camera-based video rearview mirror, which we had in the test vehicle. The wide view helps to compensate for the high beltline, big back pillars, head restraints or cargo that cut rear visibility with the standard mirror or over your shoulder.
The 2018 offers a full suite of other safety technology and driver aids, but unfortunately not standard. You have to opt for the Driver Assistance Package ($2,900) to get them. But it's a full platter, including forward collision warning with automatic emergency braking and pedestrian detection. The QX80 also has automatic braking in reverse for 6 to 10 mph. It's an excellent family feature to supplement the backup camera, and in testing, it stopped the big SUV effectively, stopping before before I took out a pair of plastic trash cans not visible below the rear window.
Also in the package are adaptive cruise control (that works from 20 to 90 mph) and a Distance Control Assist, independent of cruise control, that reacts to slowing traffic down to 1 mph with braking and a resistance in the accelerator pedal. It worked as both a safety and fatigue assist in heavy traffic. Additional features are blind spot warning and intervention, lane departure warning and lane keep assist.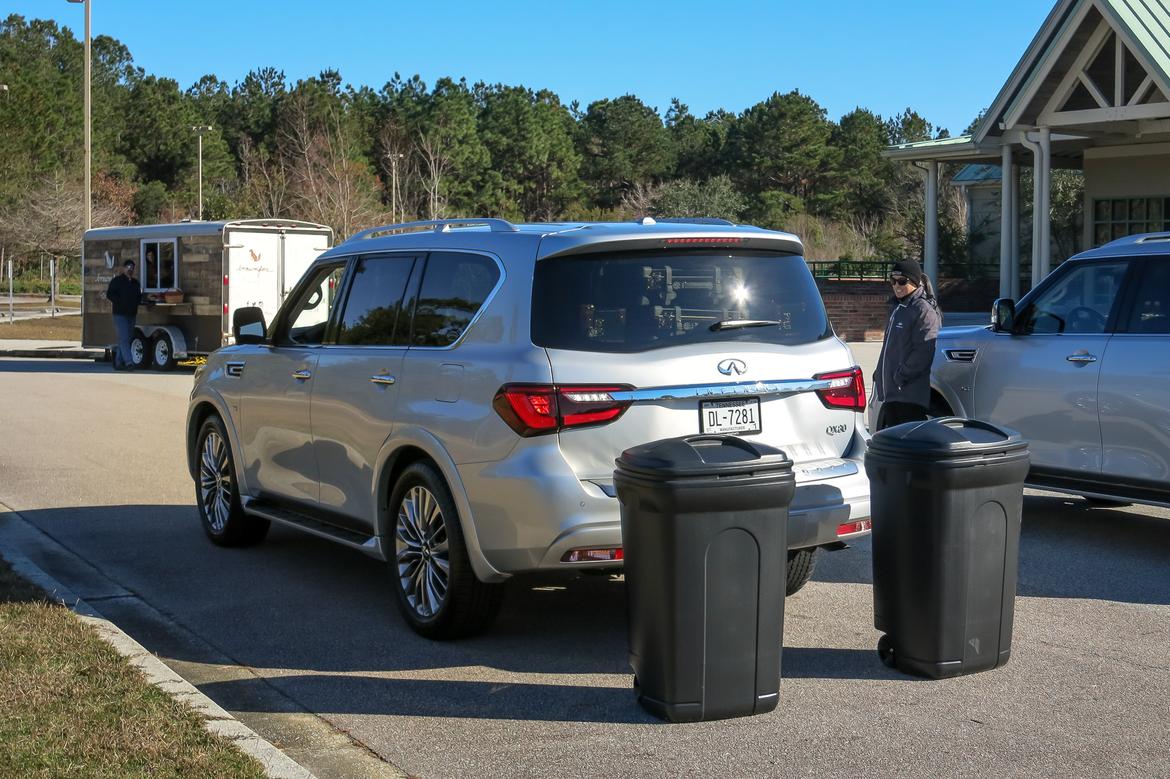 A Big Hauler
The QX80 can tow up to 8,500 pounds and has an auto-leveling suspension. Maximum cargo space behind the front row is a cavernous 95.1 cubic feet. If you need to use all three rows, there still is a useful 16.6 cubic feet behind the back row.
Priced to Sell
The 2018 QX80 is going on sale now in the U.S., starting at $65,745 (including a $995 destination charge) for the rear-wheel-drive model and $68,845 for all-wheel drive. Fully optioned, the QX80 ranges to $83,445.
The starting prices are each up $900 from 2017, but the 2018 improvements are worth it unless you get a super deal on the outgoing model. And the modest price increase lets the new QX80 keep one of its key appeals: It's a relative bargain among big luxury SUVs. A 2018 Lexus LX 570 with standard all-wheel drive, for example, starts at $91,175 with destination, and a rear-wheel-drive 2018 Cadillac Escalade starts at $75,290. Don't even ask about a Land Rover Range Rover. Its most revitalized rival will be the redesigned 2018 Lincoln Navigator that was 's Best in Show pick at the 2017 New York International Auto Show last spring, but it starts at $73,250 with destination.
's Editorial department is your source for automotive news and reviews. In line with 's long-standing ethics policy, editors and reviewers don't accept gifts or free trips from automakers. The Editorial department is independent of 's advertising, sales and sponsored content departments.