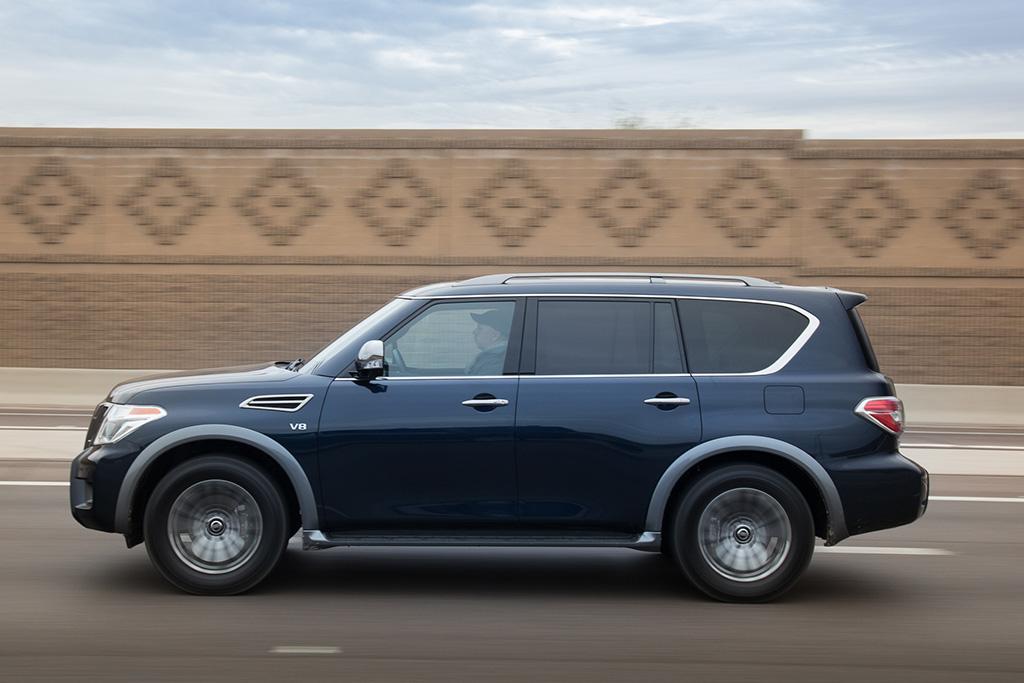 the 2018 nissan armada is a full-size suv that's designed to haul heavy loads, tow large trailers and carry more passengers than your typical suvie. its confident driving manners and strong value earned it second place in 's recent 2018 full-size suv challenge, behind only the all-new 2018 ford expedition. thanks to recent crash tests conducted by the national highway traffic and safety administration, we now also know how the 2018 armada fares when it comes to protecting occupants during an collision.
nhtsa has given nissan's full-size suv an overall safety rating of four stars out of a possible five. the armada, which was given a thorough update for the 2017 model year, has not been subjected to full federal crash tests since nhtsa revised its testing procedures back in 2011. that means that, while its large size implied strength and safety, the armada remained something of an unknown in terms of how well it would fare in a crash.
broken down individually, the 2018 nissan armada registered a perfect five-star rating for side-impact testing. in terms of its frontal-crash and rollover resistance, the armada's score lost ground, garnering just three out of five stars. all of these translate to an overall nhtsa crashworthiness rating of four stars out of five. it's worth noting that nhtsa tested the armada in both rear- and all-wheel-drive configurations, with identical results for each variant.
compared with key rivals, the armada's performance keeps it competitive among suvs like the 2018 chevrolet tahoe and 2017 ford expedition. the tahoe, for example, earned an identical four-star safety rating — though it scored higher five-star marks in both front- and side-impact crash tests. while there are no official nhtsa ratings for the brand-new expedition, the 2017 model registered an overall five-star rating, along with five-star scores in front- and side-impact evaluations across all tested variants.
other competitors, such as the toyota sequoia, have not been subjected to full testing by nhtsa or the insurance institute for highway safety.
's editorial department is your source for automotive news and reviews. in line with 's long-standing ethics policy, editors and reviewers don't accept gifts or free trips from automakers. the editorial department is independent of 's advertising, sales and sponsored content departments.