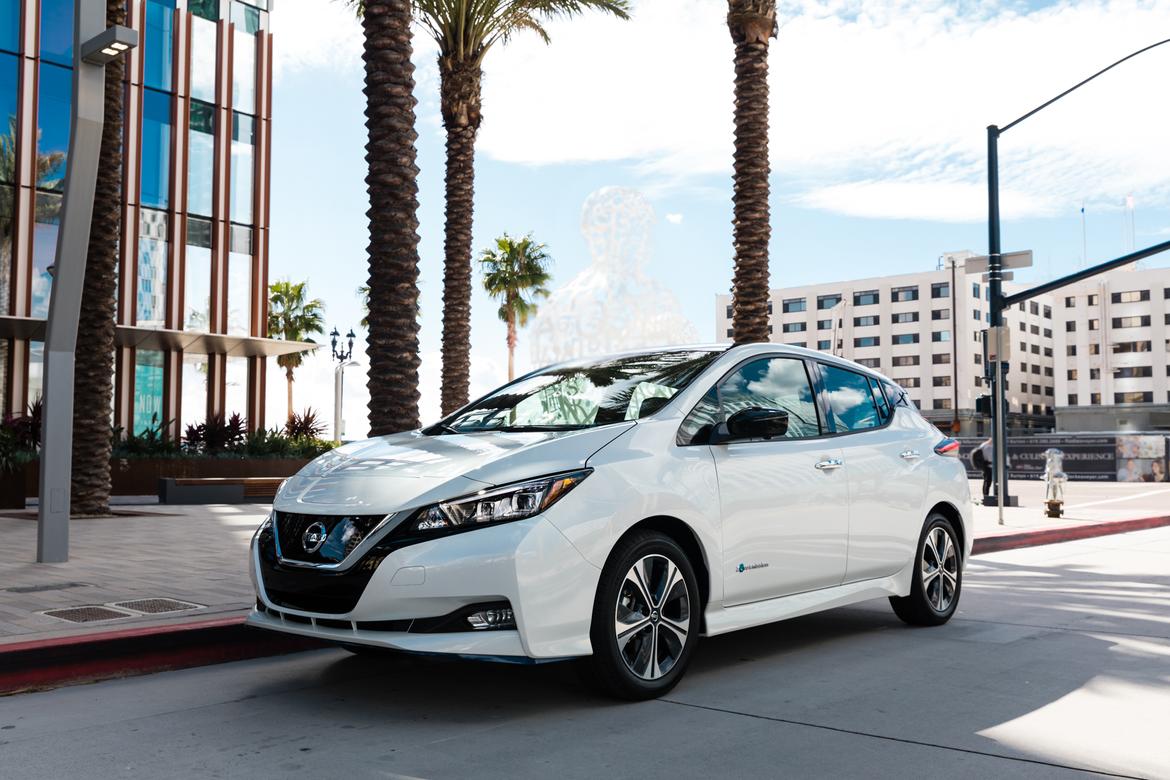 the 2019 nissan leaf plus — the longer-range version of the nissan leaf electric hatchback whose current generation dates back to early 2018 — will start at $37,445 before any tax incentives (all leaf pricing includes destination). it goes on sale later this month.



one of our chief complaints about the leaf over its two generations was less-than-stellar range, which increased over the years but has yet to eclipse a recent mendoza line of electric-vehicle range: 200 miles. nissan changed that for 2019 with the new leaf plus, an extended-range model with a higher-capacity battery that surpasses 200 miles in all trim levels. base s models will have 226 miles of juice, while leaf plus sv and sl models will have 215 miles, according to nissan-claimed epa numbers. (as of this writing, the epa has yet to publish range on the leaf plus.)
while s models of the leaf plus start at $37,445, the sv starts at $39,405 and the sl at $43,445. those are steep prices for a traditional compact hatchback, but once you apply the maximum $7,500 federal tax credit, the prices seem far more reasonable. state and local credits will vary by locale but can provide further relief. (nissan will also sell the non-plus leaf, whose epa-estimated range is 150 miles, alongside the leaf plus. it starts around $31,000 and is also eligible for the full federal tax credit.)

astute readers will note that the full federal plug-in credit remains intact for the first eligible 200,000 vehicles a given automaker sells before a winding-down process begins after the 200,000th sale — falling to $3,750, then $1,875 and finally nothing at all — over roughly a year and half that follows.

with no other plug-in vehicles in the u.s., nissan has sold some 130,000 leaf hatchbacks in the country since the first-generation car debuted in late 2010, a clip of roughly 16,000 sales per year. even with the leaf plus, it's unlikely u.s. leaf sales will eclipse the 200,000 mark in the near future to threaten the tax credit.
more from :
2020 kia soul gets mpg bump, 243-mile range for ev
tesla finally puts the (model) 3 in $35,000
2018 nissan leaf review: becoming more mainstream
more nissan leaf news
research the 2019 nissan leaf
competitors with similar range and pricing are limited. tesla just announced that it would begin sales of its model 3 at the long-rumored $35,000 price point with 220 miles of range. vehicles delivered by june 30 are eligible for the $3,750 credit, while those delivered between july 1 and dec. 31 will receive an $1,875 credit.

the other alternative is the chevrolet bolt ev, which for 2019 starts at $37,495 before the credit and offers 238 miles of range. bolt evs delivered before march 31 are eligible for the full $7,500 credit. from april 1 to sept. 30, the credit decreases to $3,750. it decreases again to $1,875 for vehicles delivered from oct. 1 to march 31, 2020, then phases out entirely thereafter.

kia has also announced a 243-mile range for its 2020 soul ev but has yet to release pricing.

's editorial department is your source for automotive news and reviews. in line with 's long-standing ethics policy, editors and reviewers don't accept gifts or free trips from automakers. the editorial department is independent of 's advertising, sales and sponsored content departments.