since it hit dealerships in september 2018, the redesigned 2019 forester has been subaru's best-selling nameplate for five months running. it's easy to see why: now in its fifth generation, the compact suv augments its all-weather capability with subtle refinements to interior quality and comfort, according to reviewer fred meier. it may not look all-new, but it's substantially improved.
the 2019 forester comes in five trim levels: base, premium, sport, limited and touring. meier drove sport and touring examples at a media preview in the fall, and we also evaluated a limited edition more recently at hq. here are four things we like plus three we don't.
things we like
1. out, damned (blind) spot!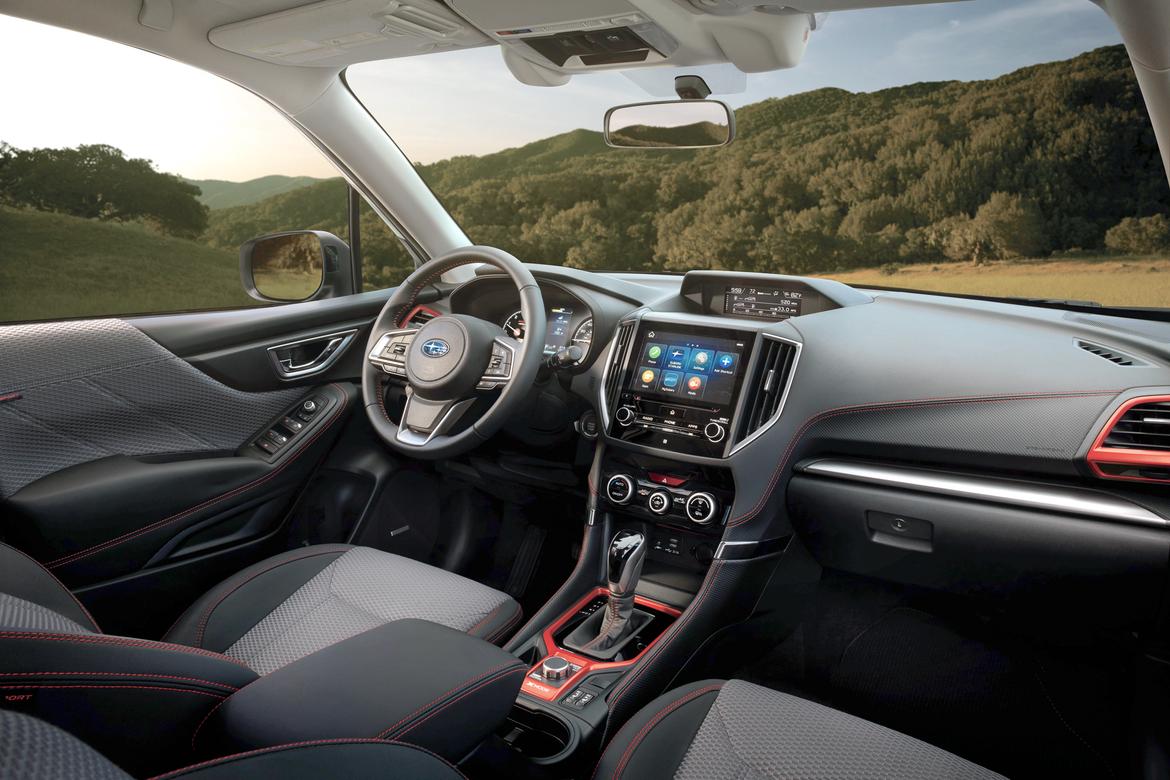 the forester might do little for lady macbeth's somnambulism, but at least it gets out the blind spot. that's no wonder given the forester is a three-time champion in our visibility comparisons among small suvs: first in 2009, then in 2014 and most recently in 2017. excellent visibility is a longstanding forester strength, and the fifth generation upholds that.
"the 2019 forester's pillars are slim by today's standards, the beltline is low and the windows are picture-window massive all around," meier wrote. "the windshield pillars are pulled back toward the driver, and the side mirrors are down on the doors, giving you an extra triangle window in the lower corners. the result is minimal blind spots compared with most new suvs."
2. no pavement, no problem
with short overhangs and 8.7 inches of ground clearance — more than rivals like the toyota rav4, honda cr-v or nissan rogue — the forester easily handles dirt, mud and snow. subaru's standard all-wheel-drive system is robust, with torque-vectoring capabilities and, on higher trim levels, selectable driving modes to optimize traction in snow, dirt or mud. the forester "can't rival some versions of the jeep cherokee for serious rock crawling," meier said, but "i'd go for it before other compact suvs for snowy roads as well as on sand or mud." in chicago, we tested the forester over snowbound inclines, and power transfer is excellent; even with one or more wheels stuck in ice or deep snow, the drivetrain transferred power to elsewhere and clawed its way uphill.
3. dressier cabin
cabin materials represent a clear upgrade over prior generations, with low-gloss padding in key areas — like the upper doors and knee areas — where cheap, hard plastics once thrived. sport models have attractive brushed-metallic finish on the climate controls and vents, while touring trims' top-level leather upholstery looks and feels rich.
"forester interiors have been like sensible shoes: bland but practical and long-wearing," meier said. "the 2019 forester has a lot less to apologize for."
4. bang for the buck
at $25,270 including destination, with a standard automatic transmission and awd, the forester's starting price is in line with its rivals' front-wheel-drive starting prices. given that subaru added its well-rated used engine ering/eyesight.html">eyesight suite of safety and driver assistance technology as standard equipment for 2019, the forester brings serious value to the table.
things we don't
1. cumbersome controls
materials notwithstanding, interior design drew plenty of criticism, from poorly located buttons to an extra dash-top screen that's unnecessary at best and distracting at worst. meier noted the interior design as "eclectic and perhaps a little busy." executive editor joe wiesenfelder expounded — or maybe just pounded.
"i don't understand why the controls for the new safety and other features are scattered all over the place," wiesenfelder complained. "there are hard buttons by your left knee and overhead for some aspects of some features, and both the instrument panel display and the supplemental display above the touchscreen have settings menus with press-and-hold access using different buttons on the steering wheel followed by cumbersome browse-and-select processes. i'm not saying every vehicle should have everything on a touchscreen, but once the vehicle does have one, why do all this other s---? where's the logic in how these things are divided? it's pretty baffling and not what i want to see in a full redesign."
2. a shade under
the forester has a retractable cargo shade that stows under the floor — a convenience on paper, but execution falters. users "have to remove two outboard flaps in addition to raising the floor, and the space isn't well-defined and tolerances are too tight," wiesenfelder said. "another example of a feature appearing on a list but failing to deliver as well as it does on competing vehicles."
more from :
3. distinction deficit disorder
styling is subjective, you might have a hard time telling the fifth-generation forester apart from its predecessor. we noted as much when the redesign debuted at the 2018 new york auto show, a factor that contributed to our mixed verdict. but even from a brand known for evolutionary redesigns, the forester moves the needle at glacial pace.
"if you liked the fourth generation, you'll like the new one better — you just might have trouble spotting it in a parking lot," meier said. "if you were hoping for trendy, swoopy new styling, you're out of luck."
's editorial department is your source for automotive news and reviews. in line with 's long-standing ethics policy, editors and reviewers don't accept gifts or free trips from automakers. the editorial department is independent of 's advertising, sales and sponsored content departments.