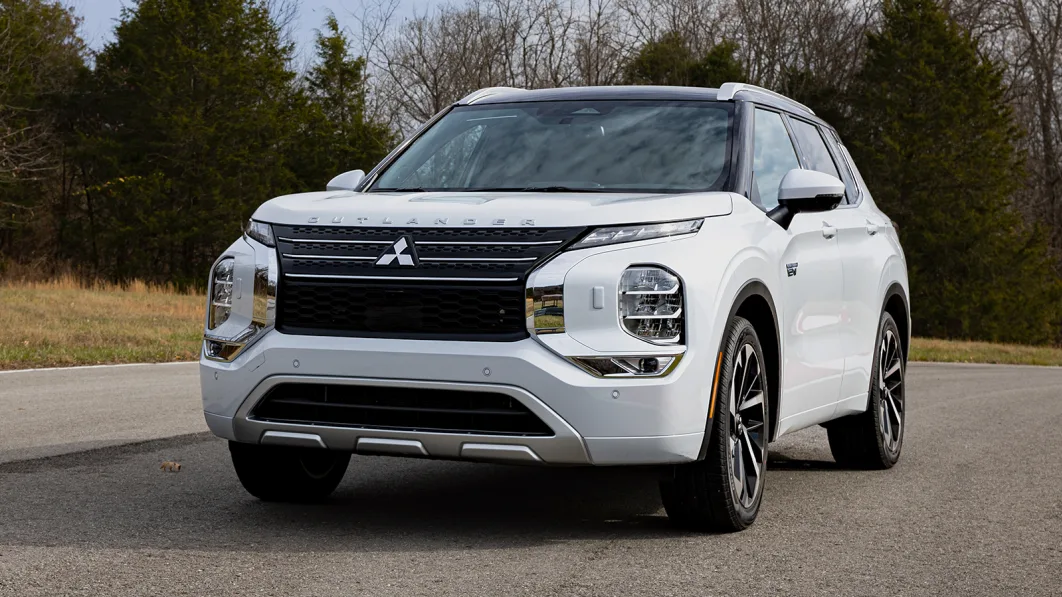 ---
the
mitsubishi
outlander was one of the first small, af
ford
able plug-in hybrid suvs, yet it lost ground in recent years with the introduction of strong offerings from
toyota
,
ford
,
hyundai
and
kia
. the main reason was that the regular outlander wasn't especially competitive, so once the phev finally had company, there was nowhere to go but down. well, there's an all-new and dramatically improved outlander now, and finally, its plug-in hybrid version is here to make up that lost ground. like the gas-only version, the new 2023
mitsubishi
outlander phev impresses with a stylish, spacious and suitably modern interior, and generally comfortable and quiet demeanor. the plug-in hybrid goes significant further, though, with more power and refinement, plus a strong electric range. there are a couple weak points that keep it from being best-in-class (like the gas-only version), but depending on your needs, the outlander phev could still be the green compact suv for you. the outlander phev has a powertrain that's extremely similar to its predecessor. a naturally aspirated 2.4-liter four-cylinder now makes 134 horsepower rather than the previous model's 148 horsepower. while it can provide direct power to the wheels, it's most often employed as a motor generator for the front and rear electric motors (much as a
honda
hybrid operates). both of those motors are also more potent than before. the front motor picked up 20 horsepower and 88 pound-feet of torque to make 114 ponies and 188 lb-ft. the rear makes 40 more horsepower for 134, though torque remains the same at 144 pound-feet. the result is a grand total of 248 horsepower and 332 pound-feet of torque. that's more than the
ford
escape phev, and more torque than the
hyundai
tucson and
kia
sportage plug-ins. the
toyota
rav4 prime's 302 horsepower bests them all. in addition to more power, the outlander phev can now go 38 miles on a charge –14 more than before thanks to a pack that has grown from 13.8 kilowatt-hours to 20 kwh. once again, that's more range than
ford
,
hyundai
and
kia
, though less than the
toyota
.
mitsubishi
also offers an unusual feature not available on those competitors: dc fast charging. we're not sure how necessary a dc fast charger is on a vehicle that can run on gas in a pinch, but if you'd like a topped-up battery and don't want to wait overnight to get it from the plug in your garage, why not? the only catch is that it utilizes the older chademo connector that's become the hd dvd (remember those?) player of ev charger options. dc fast charging is also only available on the sel trim and above, which also goes for the handy 1,500-watt auxiliary power port that lets you use the battery to power household appliances. despite all these improvements, the outlander phev has nevertheless gotten worse in one key spec: overall efficiency. combined fuel economy is 64 miles per gallon-equivalent or 10 mpg-e worse than the old model. that's also a major deficit against those rivals:
toyota
(94),
kia
(84) and
hyundai
(80). the
ford
achieves 105 mpg-e but is only available with front-wheel-drive. the outlander's disadvantage is likely due to the gas engine simply not being very efficient. numbers for the gas engine alone on the new one aren't available, but the old one only got 26 mpg, so the new one is likely worse. also, if you're looking for maximum efficiency, you'll need to evaluate your driving needs. if most of your driving can be served by the 38-mile range, the outlander will be great. if you're frequently logging more miles than that or can't charge as frequently, you'll want to look at the competition. that's enough of the powertrain specs, what is the outlander like in practice? generally quite good, with just a few gripes. with power coming mainly from the two electric motors, it's very smooth in delivery, and has great pickup at low speeds. on the flip side, it does start running out of motivation when closing in on highway speeds, particularly in full electric mode. when running in hybrid modes, the gas engine kicks in to help supplement the motors at those higher speeds. in addition to being very smooth, the electric motors have a nice power split that feels fairly even front and rear, with perhaps a little bias toward the rear. it feels a bit
subaru
-like powering through corners without as much understeer as you'd expect from your usual compact crossover with a front-drive-based all-wheel-drive system. the gas engine was quite loud after starting the outlander in the cold, with a high-pitched whine that changed volume based on engine rpm. it quieted down significantly as the car warmed up, becoming mostly unnoticeable, and indeed, the engine in general became notably quiet thereafter (or at least well-insulated from the cabin). given the generally low levels of other noise, the cabin was mostly serene once under way. the outlander offers a whopping seven drive modes, which affect power delivery and steering effort. you can also choose to run in ev, hybrid, battery save and battery replenish modes. we rarely complain about choice, but there are many caveats with these modes. if you want to drive in ev mode, you can't use the power or tarmac modes – they'll kick the outlander back into hybrid mode. also, to get maximum regen in ev mode, you must use the one-pedal mode (activated by a button next to the power mode button) as opposed to calling it up using the paddles as you can in various other phevs and evs, such as those of
kia
. instead, the paddles work more like choosing lower gears for going down hills, and it engages the gas engine. annoyingly, the one-pedal mode also reduces the regen dramatically approaching a stop. the purpose is to allow for creeping, but it makes for some awkward stops as you take over from the car. finally, because the power and tarmac modes can't be used in full ev, you can't have the heavier steering feel in that mode, since there's no custom or individual mode that lets you mix and match preferences. basically, there's a lot of choice, but they could be better choices. this does bring us to the outlander's ride and handling, which may be this suv's highlight. it's incredibly supple and smooth. i could carry shocking speed over the most rutted, cratered roads i could find, and do so comfortably, even on 20-inch wheels. and its aplomb over awful asphalt doesn't result in sloppy handling. the light, numb steering and moderate body roll doesn't build confidence right away, but once you learn to trust the outlander, you can enjoy the quick and accurate turn-in, neutral balance and impressive stability. it actually can be pretty fun. and then, there's the outlander's other big advantage: its interior. granted, our tester was a loaded sel premium, but there are many constants across the line-up that make it a great place to drive. the instruments and infotainment are shared from recent
nissan
s (the outlander is mechanically related to the
nissan
rogue), and they're bright, crisp and run quickly. large icons and simple menus make it particularly easy to use the screen. it's also backed up by a slew of convenient physical buttons for climate control, volume, tuning and shortcuts. the knobs in particular have lovely knurled textures and solid action. the handsome dash looks premium particularly on our test model that had contrasting orange leather, diamond stitching and even some real aluminum trim. the seating position is great, too. it's possible to sit surprisingly low, making the outlander almost car-like if you want, while still reserving the option for a high, commanding perch. thickly padded seats with ample lumbar and bolstering make for comfortable, fatigue-free driving, at least up front. the second row is similarly spacious to the front, though with flatter cushions. the third row is, well, extant. it's really not suitable for adults in almost any scenario, though kids could probably be reasonably comfortable provided the second-row occupants sacrifice their own legroom. it is at least easy to set up and take down the third row, but it would be nice if there was a third-row delete option. many customers would probably prefer having a bit more cargo space, or heck even a spare tire. in fact, that would be nice on the regular one, too, since the third-row is mandatory there, too, and no spare is available. that's not to say the outlander is small on the inside. it has the same cargo space as the non-hybrid, so that means 11.7 cubic feet behind the third row, 33.5 behind the second, and 79.7 behind the front row (78.3 on sunroof-equipped models). that maximum cargo space is greater than any other small plug-in hybrid suv. price-wise, the outlander phev is on the higher end of the spectrum starting at $41,190 – about $1,000 more than the
kia
and
ford
, and about $2,000 less than the rav4 prime. you also won't have access to federal tax credits since it's built in japan, unlike the american-made
ford
(the
toyota
rav4 prime may or may not be eligible in 2023). the
mitsubishi
outlander phev isn't an outright champion of the compact plug-in hybrid segment. its disappointing overall efficiency and some minor driving quirks hold it back. but there are still many reasons it could be a great fit for a buyer. if you're looking for loads of space, comfort and electric range, without sacrificing handling or paying too much, the outlander phev is well worth a closer look. perhaps more realistically, though, if you've struck out in your search for one of those hard-to-come-by phev rivals, don't be afraid to give the
mitsubishi
a look in the first place. you should be pleasantly surprised. related video:
source:autoblog.com