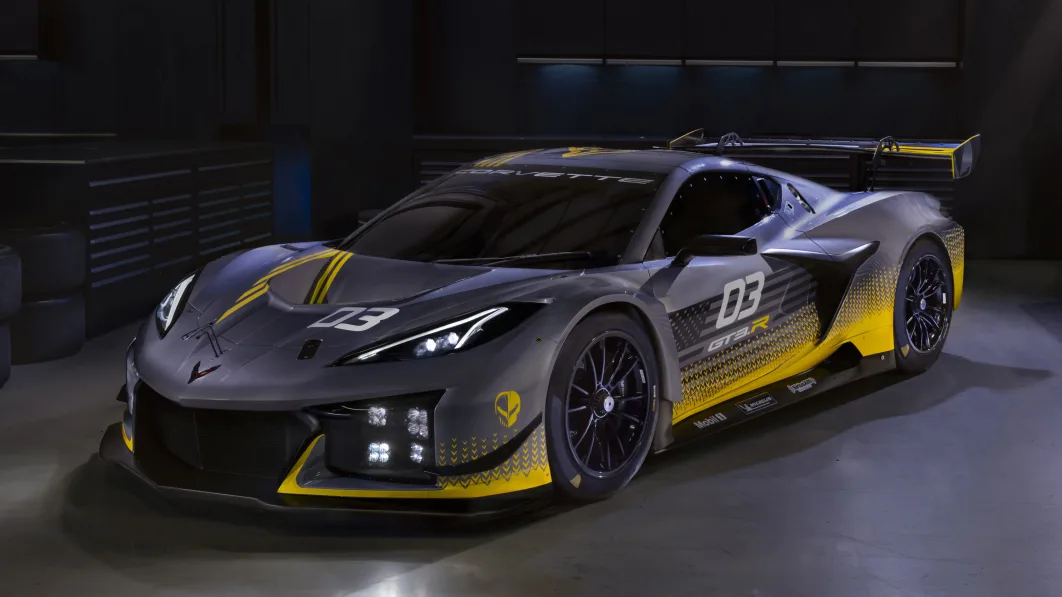 ---
at the time of writing, corvette racing has won 120 races, eight of those being class wins at le mans, 14 manufacturer's championships, and 15 team titles. it's likely the team will find a way to add at least one win this year, the modesty of that statement arising from the fact that the corvette c8.r won just once last year. come 2024, this is the beast that will bear the burden of adding to the trophy case, the 2024 corvette z06 gt3.r. the current c8.r was built to gt le mans /gt endurance pro specs then converted to the more restrictive gt3 spec last year when imsa and the fia eliminated gtlm/gte. the new racer is the first corvette to be designed for gt3 competition, and we expect it to get jake back to regularly winning ways when it enters competition at next year's rolex 24 at daytona. despite the wholly changed name, this is a reworked present c8.r, that car always having been a close sibling to the production z06. an aluminum frame from the corvette assembly line in bowling green gets shipped to longtime partner pratt & miller engineering to be fitted with the roll cage and carbon fiber bodywork. there's still a 5.5-liter v8 with a flat-plane crank behind the cabin that's also built at bowling green, output maxing out at the 600 horsepower cap mandated by the regulations. there's a six-speed sequential transmission just like on the c8.r. a double wishbone suspension shares the same architecture as the z06 road car but fits motorsports-specific springs and dampers. six-piston front calipers pair with four-piston rears to push race-specific pads on race-specific rotors. the switch to gt3 racing means
chevrolet
motorsports enters a new era of working with customer teams, something not seen during the last 25 years of factory-backed gtlm and gte cars. gt3 means the ability to run in more series', so on top of appearances in the imsa weathertech sportscar championship in the gtd pro and gtd classes and fia world endurance championship in the gt3 class, cars might also show up in the fanatec gt world challenge, intercontinental gt challenge, sro america, and the intercontinental gt challenge.
chevrolet
motorsports says it will provide broad support for customer entries, including a parts truck with full spares at the track on race weekends, and
chevrolet
engineers for setup, pre- and post-race documentation assistance, and data analysis. teams can level up to "full engineering, race strategy, and other items" on the support menu if teams have the budgets. by the time customer deliveries begin in q3 this year, the z06 gt3.r will have two years of development behind it, one of those on the track.
chevrolet
didn't mention price, that number likely going public closer to launch.
source:autoblog.com