— The Porsche 911 Carrera and Chevrolet Corvette Grand Sport I drove recently have a lot of similarities: They cost $90,000-plus, have rear-wheel drive with seven-speed manual transmissions and are an absolute blast to drive. They also both came in shocking yellow paint jobs, which both companies interestingly call Racing Yellow.
Get 2017 Porsche 911 DetailsFind a 2017 Porsche 911 Near You
The ultimate American sports car and the ultimate German sports car take widely different approaches to both styling and performance. Though they have similar prices, these vehicles sit at very different places in their respective model hierarchies. The 2017 Corvette Grand Sport coupe starts at $66,445 (including destination charges), and this particular example piled on about $25,000 worth of options, including magnetic ride control, carbon-ceramic brakes, a performance data recorder that stores videos of hot laps and carbon-fiber accents all over the place.
The 2017 911 Carrera I drove actually retails for more than the Corvette Grand Sport at $97,010, but it doesn't have much beyond a sport exhaust and some four-way powered sport seats... which you have to move forward and back manually. Things it's also missing: Bluetooth audio, advanced safety features (except for front and rear parking sensors) and cupholders, although those fold out of the dash as a clear afterthought.
In many ways, the Corvette Grand Sport represented a more advanced, technological and futuristic take on hardcore performance — especially the active rev matching and that suspension, which is some kind of voodoo magic. The 911 Carrera offers similar features on its higher trim levels, but in this form is more of an analog machine. It did not suffer for it, though; the setup of a base 911 allows its natural balance and superb steering feel to shine through.
This dichotomy carries over to how they look. The Corvette is angular, with nooks and crevices that serve the dual purpose of helping the car's aerodynamics and making it look futuristic (and downright cool). The 911 is simple and elegant; its shape has not really changed over the years for a reason. Smooth curves wrap the fenders and the passenger cabin, which makes the car appear not to sprint around so much as glide.
The question of which wore it better is a question not just of that Racing Yellow paint job, but one of philosophy. Do I prefer the futuristic Corvette with its stripes, brashness and confidence-inspiring technology? Or the throwback 911 Carrera, which is the more rewarding car to drive?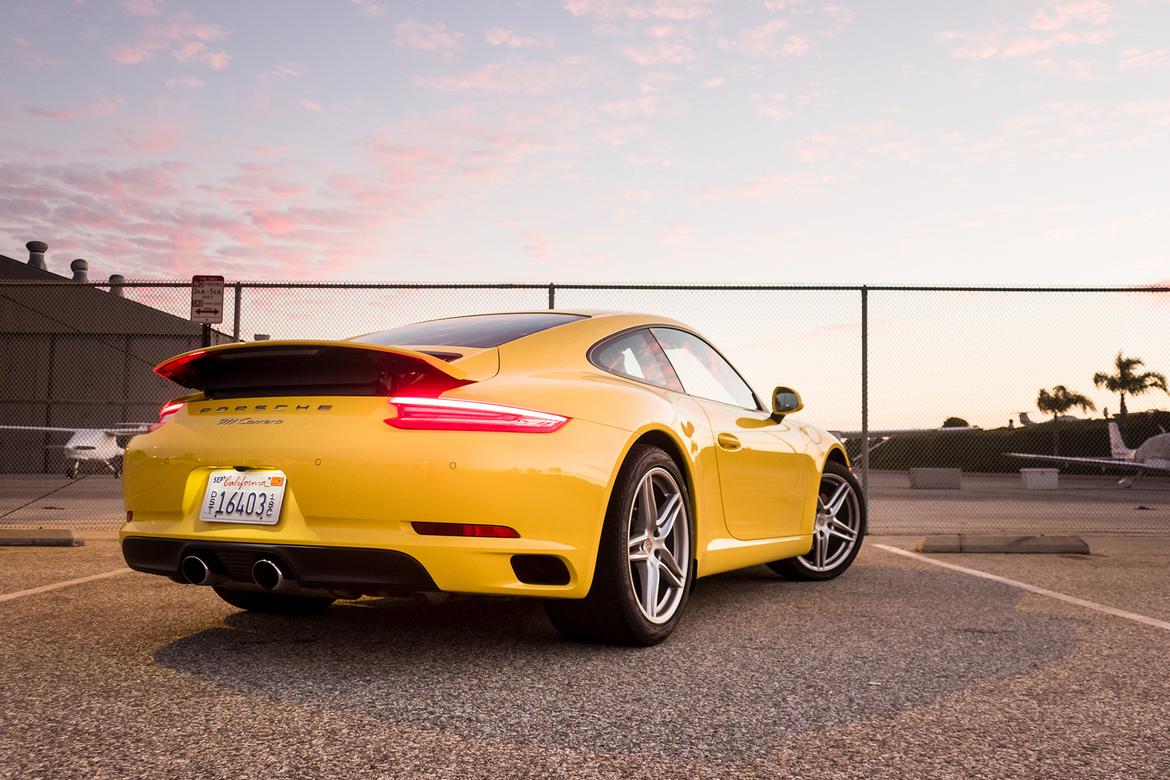 You can't go wrong with either, but for me, I am taking the Porsche. If I lined them up, the brashness of the Corvette Grand Sport with its stripes and angry nose would win some days, but the simple elegance of the 911 would win more of them. It also has the better manual, with notchy gates that lock in gears with a satisfying click — although I will miss the 'Vette's V-8 howl and the extra grip from those super-wide tires.
... On second thought, I guess I'll have to clean out room in the garage for both.