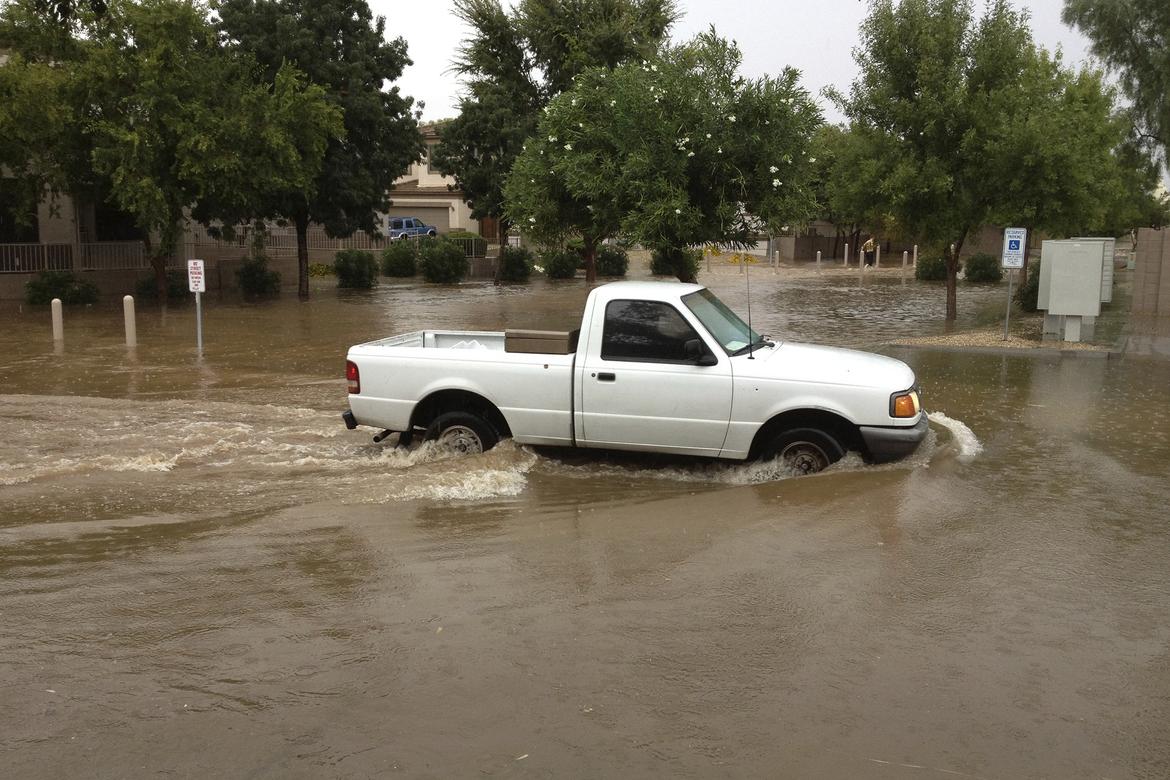 The Weather Channel is reporting that Hurricane Florence is making landfall, walloping the Carolina coast with 75-mph-plus winds and catastrophic rains. Safety agencies are predicting the storm will only get worse from here, including the possibility of a life-threatening storm surge and flash floods.
Rain is in the forecast for the next several days, and with it, flooding, which the National Oceanic & Atmospheric Administration notes is the most common and widespread of all natural disasters — and the agency says flash flooding is most dangerous, as it occurs with little or no warning. Rain presents special challenges for drivers, both during and after the storm.
How to Handle Hydroplaning
So, it may be raining only a bit, but it doesn't have to be a flash flood for treacherous conditions to exist on the road. Driving on slick pavement during or after rain also can be dangerous. The Federal Highway Administration reports that wet pavement is a factor in around three-quarters of weather-related crashes, and rain causes about half — accounting for thousands of deaths and hundreds of thousands of injuries.
Hydroplaning — when your tires lose contact with the pavement due to water on the roadway — often causes a loss of vehicle control. It takes only a small amount of water and a speed of around 35 mph to hydroplane, and once that happens, you could wind up in a skid, which could put you off the road or in the path of another car. Read these tips before hitting the road.
Caught in a Flood?
It's easy to misjudge the depth of floodwater, particularly at night. When in doubt, don't try to drive through it. According to the Federal Emergency Management Agency, it takes only 6 inches of water to reach the bottom of most cars, which could cause loss of control and steering; 1 foot of water can cause many vehicles to float away, and 2 feet is enough to carry an SUV or pickup truck away.
What if you're stuck? Heed these do's and don'ts if you find yourself trapped in your car in fast-rising water.
Beware of Flood-Damaged Cars
Hurricane Florence will likely disrupt the lives of hundreds of thousands of Americans and leave in in its wake hundreds of thousands of water-damaged vehicles, which could lead to a flood of water-damaged vehicles that scammers will try to unload in dishonest and even illegal used-car sales.
The National Insurance Crime Bureau warns used-car shoppers to be wary of too-good-to-be-true deals in the months after major flooding and recommends following these steps to avoid getting scammed with a water-damaged car.
's Editorial department is your source for automotive news and reviews. In line with 's long-standing ethics policy, editors and reviewers don't accept gifts or free trips from automakers. The Editorial department is independent of 's advertising, sales and sponsored content departments.