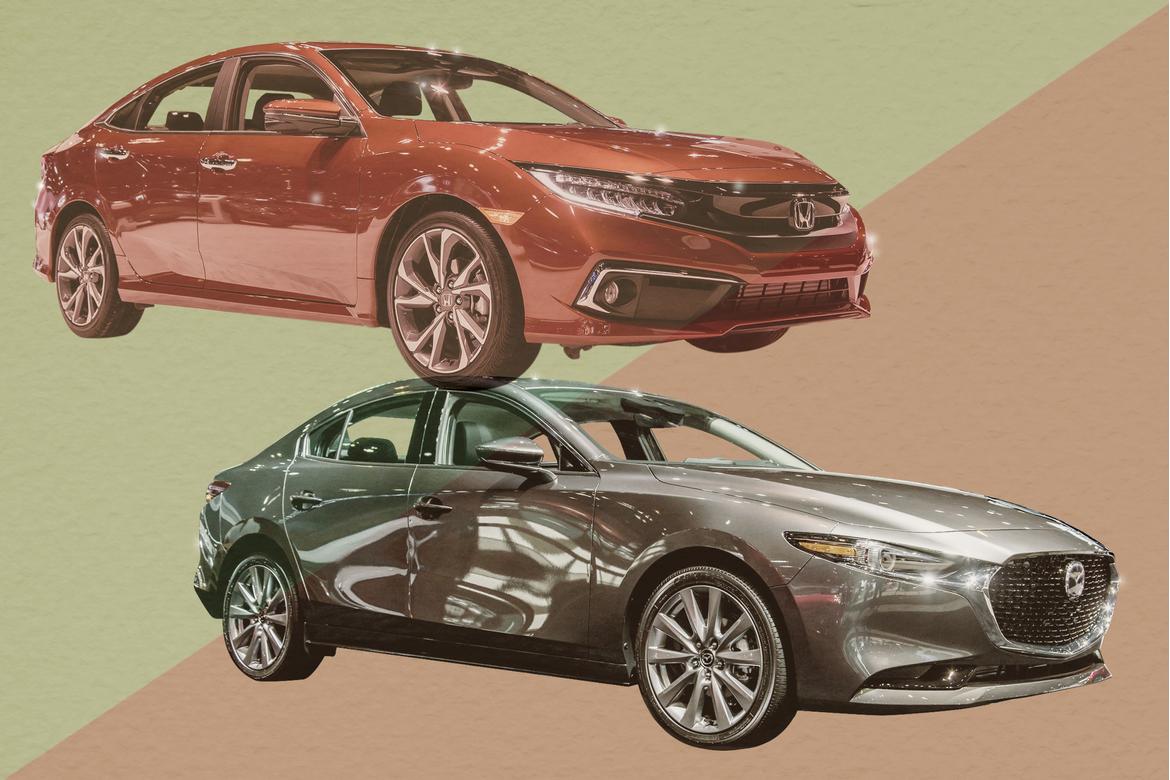 comparing the updated 2019 honda civic sedan to the redesigned 2019 mazda3 sedan isn't the sexiest comparison we could make at the 2019 chicago auto show. as nice as the new mazda3 hatchback looks, the sedan is still a bit stubby-looking, and there's no mazdaspeed version that competes with a civic si or type r. but when top trims of each sedan — touring for the honda and premium for the mazda — showed up in chicago, it seemed like a good time to see how the redesigned mazda3 sedan stacked up against the winner of our last compact sedan comparison. here's how they fared in three key areas.
backseat comfort: civic
as a decent first vehicle for a young family, transportation for yourself and friends — or as a fuel-efficient way to drive for uber or lyft — backseat passenger comfort is crucial, and the civic handily takes this category. with the driver's seat in the preferred driving position for my 6-foot, 1-inch frame, i was at least semi-comfortable in the civic. the backseat bottom is still a little short and angled such that my knees were raised higher than i would like for a lengthy trip, but my knees also weren't firmly planted into the seatback like they were in the mazda3. my feet also had more room in the civic and weren't under the driver's seat — also a big plus, as my size 13s need space.
multimedia controls and ergonomics: civic
this is a tale of two different approaches. while both cars situate the same basic controls on the steering wheel, the civic uses a touchscreen with buttons and a volume knob. the mazda3 places its multimedia controls on the center console behind the gear selector, with a clunky dial as the method of navigating the infotainment system. neither system is perfect — give us a tuning knob, honda! — but the civic's setup is more user-friendly. the mazda's knob-based interface can more easily take a driver's eyes away from the road as they make sure they've rotated to highlight the correct selection. i also strongly prefer a touchscreen for inputting addresses when using native navigation systems — as in the honda — to selecting each letter or number with a dial.
2019
mazda
3; phots by christian lantry
2019
honda
civic; photos by christian lantry
cargo-area design and layout: civic
cargo specs don't always tell the whole story and aren't the defining factor here. instead, the civic's cargo opening is wider along the top, allowing for easier loading of larger, awkwardly shaped items. additionally, while neither car hides the arms of the trunk lid to prevent them from intruding into the usable cargo space, the civic's thinner arms will be less intrusive than the mazda3's. finally, the mazda3's wheel wells extend closer toward the trunk opening, reducing the amount of flat floor surface available.

both vehicles were similarly priced — the civic touring sedan starts at $28,220 with a continuously variable automatic transmission, while the mazda3 premium sedan starts at $28,795 with its six-speed automatic (prices include destination) — and felt very much alike inside. that's especially notable because mazda's been pushing for more of a premium, near-luxury feel in its vehicles, yet the civic wasn't noticeably deficient to me. of course, mazda also prides itself on the driving experience its vehicles provide; we'll see if that makes the 2019 mazda3 stand out in march when we expect to get behind the wheel of one.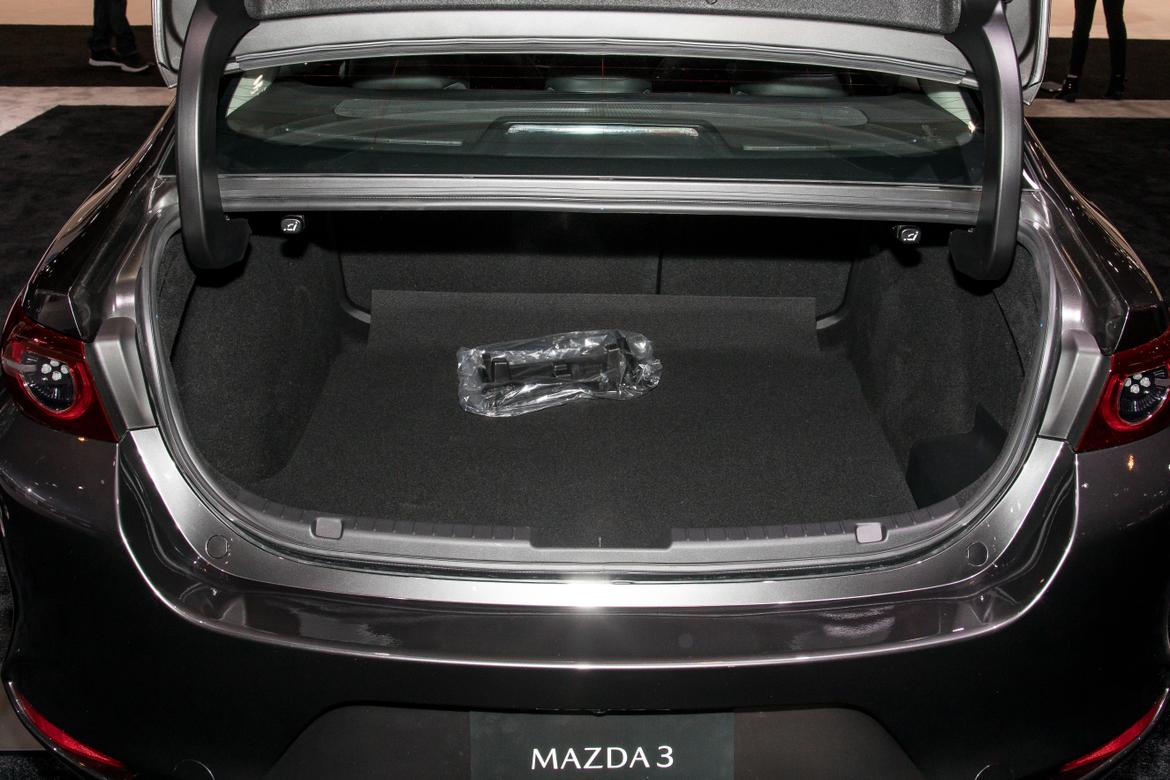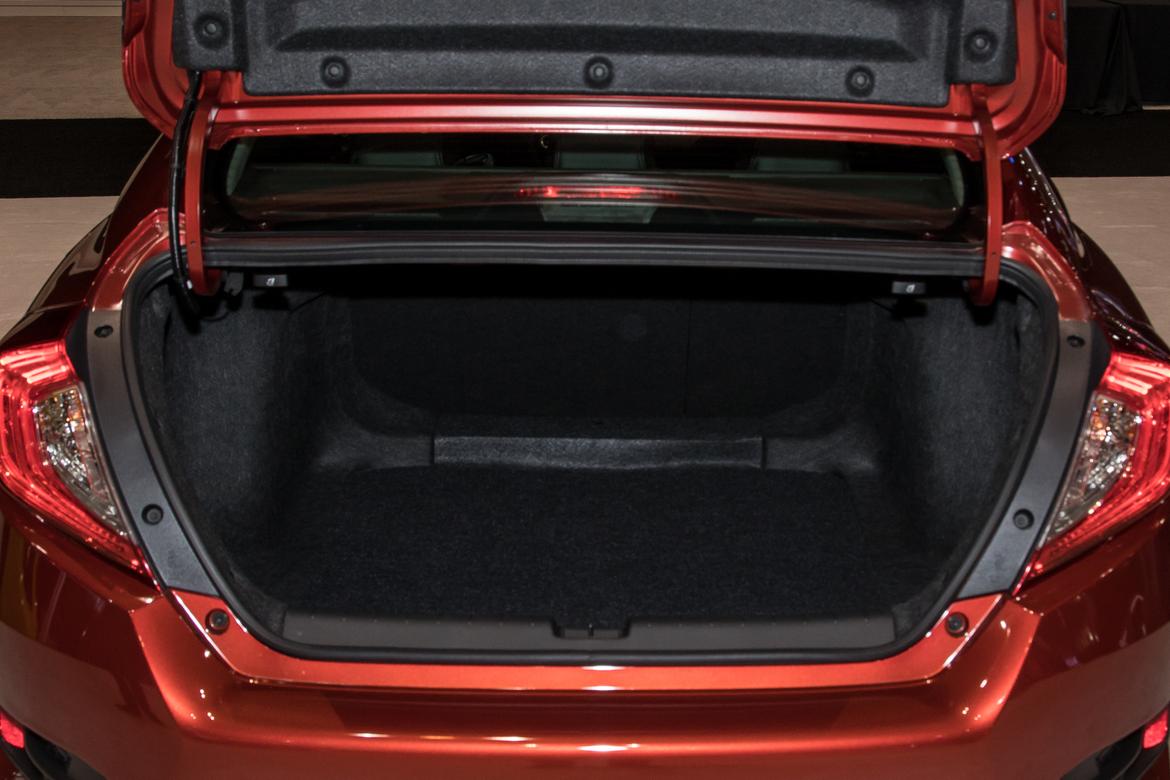 more from :
what does it cost to fill up a 2019 honda civic?
which 2019 honda civic trim level should i buy: lx, sport, ex, ex-l or touring?
report: headlights improving, but most base models still in the dark
2019 mazda3 gets sharp new look and steep new price to boot
redesigned 2019 mazda3 simplifies look, introduces hybrid
's editorial department is your source for automotive news and reviews. in line with 's long-standing ethics policy, editors and reviewers don't accept gifts or free trips from automakers. the editorial department is independent of 's advertising, sales and sponsored content departments.