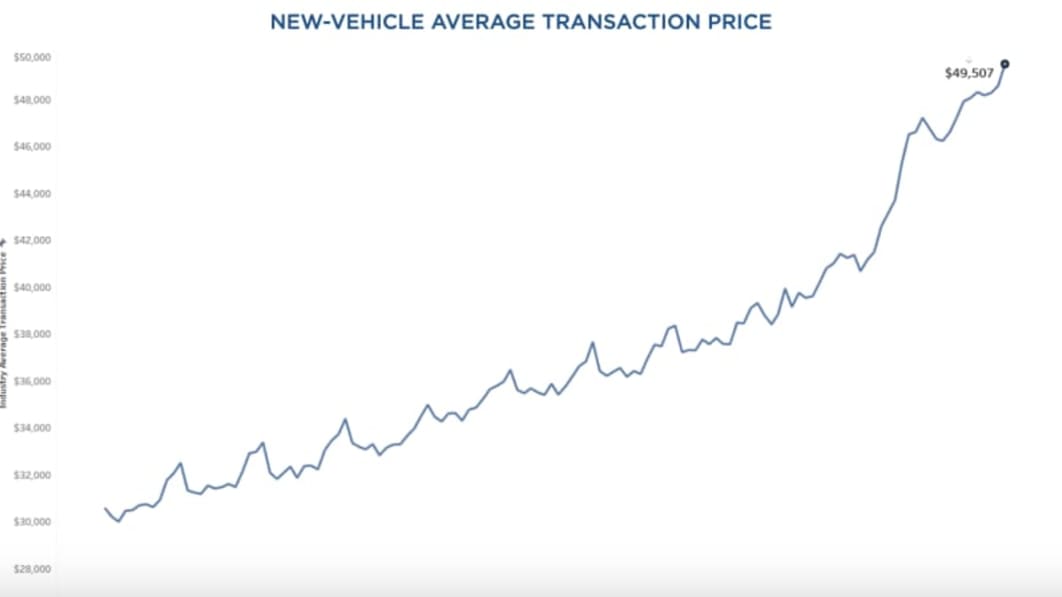 ---
elevated prices for products and higher borrowing rates led to record high transaction prices for new vehicles in december, with the average cost in the u.s. rising to a record $49,507, according to data from kelley blue book released today. the report notes that atps — average transaction prices — have climbed above suggested retail prices — msrps — for more than a year. sales volumes were up in december on a year-over-year basis by more than 5%, a situation kelley attributed to improved supply. overall sales for 2022, however, were off 8% year over year. "the transaction data from december clearly indicates overall prices showed no signs of coming down as we headed into year-end," said rebecca rydzewski, research manager of economic and industry insights for cox automotive. "luxury prices fell slightly in december, but non-luxury transaction prices were up. truck sales were particularly strong last month, and with many trucks selling for more than $60,000, a new record was all but inevitable." industry analysts claim the most obvious headwinds in the new car market are generated by higher interest rates, forced by the federal reserve's rate hikes intended to tame inflation, and by generally limited inventory. a recent report from j.d. power showed that the average monthly payment for a new vehicle loan in december was $718, up $47 from a year ago. but 16% of consumers in december took out loans with monthly payments of over $1,000. consumers think vehicles, and electric vehicles especially, are way too expensive. fortunately, manufacturers' incentives, all but extinct in the past two years, are returning, especially in the electric-vehicle and luxury market, the kelley data suggest. plus, "with the new tax credits on the way, electric vehicle atps will drop lower for qualifying vehicles," rydzewski said. non-luxury brands, such as
honda
and
kia
, showed particularly strong performance in december, with the average price paid at $45,578 — a record high and an increase of $994 month over month. meanwhile, the average luxury buyer paid $66,660 for a new vehicle last month.
mercedes
-benz and
land rover
showed the most price strength in the luxury market, transacting between 2.6% to 6.5% over sticker price. but luxury brands
audi
,
bmw
,
infiniti
,
lexus
,
lincoln
, and
volvo
showed the least price strength with some discounting in effect, selling 1% or more below msrp in december, according to the survey.
source:autoblog.com