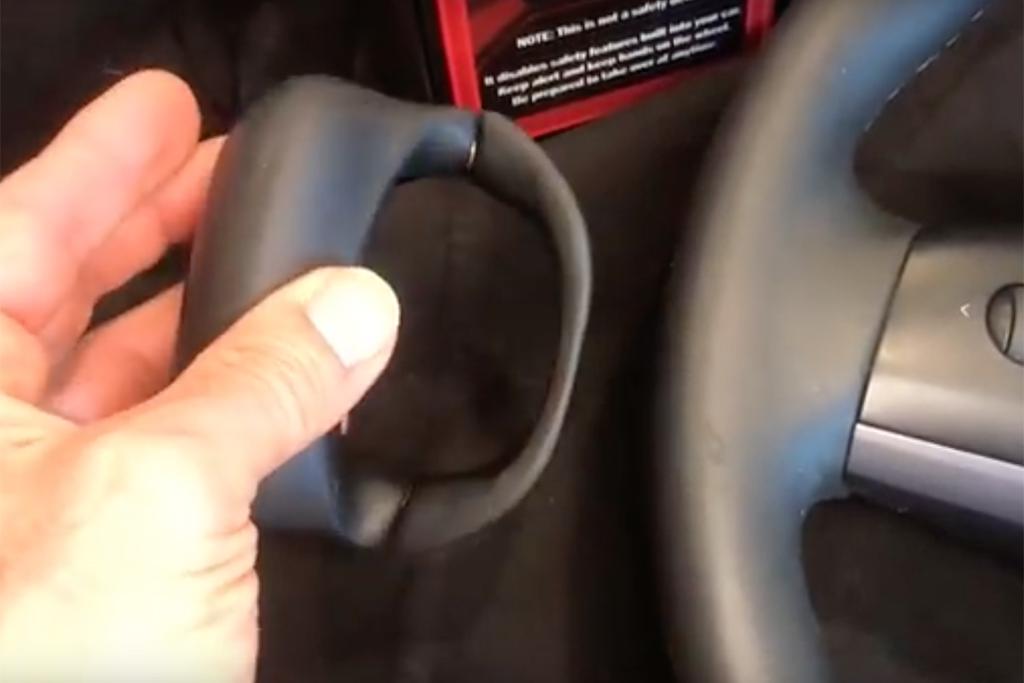 Regulators have moved to stop the distribution of an aftermarket device that could enable hands-free driving on Tesla vehicles. Tesla owners know recent over-the-air updates have stepped up the alerts from the automaker's semi-autonomous Autopilot system to keep your hands on the wheel — something the system technically advised all along, though early versions allowed plenty of hands-free driving. Now, a device called Autopilot Buddy purports to bring back the good old days by reducing the frequency of so-called "nagging reminders" from Autopilot to keep your hands on the wheel.
And the Feds ain't having it.
Essentially a custom-fitted magnetic ring that attaches to the steering wheel of your Tesla to add weight on the rim, Autopilot Buddy "restores the use of 'Autosteer' on Tesla vehicles to earlier Firmware 7 capabilities," according to the product website.
A Valencia, Calif., firm called Dolder, Falco and Reese Partners LLC makes Autopilot Buddy, claiming no affiliation with Tesla itself. It's hard to fathom anything but antipathy from the automaker: Despite numerous warnings from the product manufacturer that Autopilot Buddy isn't intended to facilitate hands-free or attention-free driving, it's clear as a California sunset that Autopilot Buddy could enable a lot of just that.
The sunset could be nigh for Autopilot Buddy. Amid regulatory scrutiny over Autopilot, the National Highway Transportation Safety Administration announced today that it filed a cease-and-desist letter to Dolder, Falco and Reese Partners LLC regarding production of the aftermarket device.
Claiming that aftermarket products like Autopilot Buddy constitute motor vehicle equipment under NHTSA's regulatory purview, deputy administrator Heidi King said in a statement that "a product intended to circumvent motor vehicle safety and driver attentiveness is unacceptable," and Autopilot Buddy "disables an important safeguard, and could put customers and other road users at risk."
Autopilot Buddy's website says the $199 device is intended for track and not street use — a warning some users appear to ignore, though one notes its utility to keep Autopilot on because the current system, he claims, goes through a warning-and-deactivation sequence even with his hands on the wheel.
It doesn't appear the government is buying it. The product manufacturer has until June 29 to respond and certify that "all U.S marketing, sales and distribution of the Autopilot Buddy has ended," NHTSA said.
Given the geographic murkiness of internet marketing, it's difficult to say what that entails. As of today, Autopilot Buddy's website said it's "not taking orders inside the USA at this time." Still, if you click to buy the device, it takes you to DFRP's PayPal page — and my login allowed me to ship one to my home address in suburban Chicago. I didn't go so far as to order it, so it's possible a geographic restriction applies at that point.
Efforts to reach DFRP received no response. But in an emailed statement, Tesla said it "support[s] NHTSA's action regarding this product."
's Editorial department is your source for automotive news and reviews. In line with 's long-standing ethics policy, editors and reviewers don't accept gifts or free trips from automakers. The Editorial department is independent of 's advertising, sales and sponsored content departments.