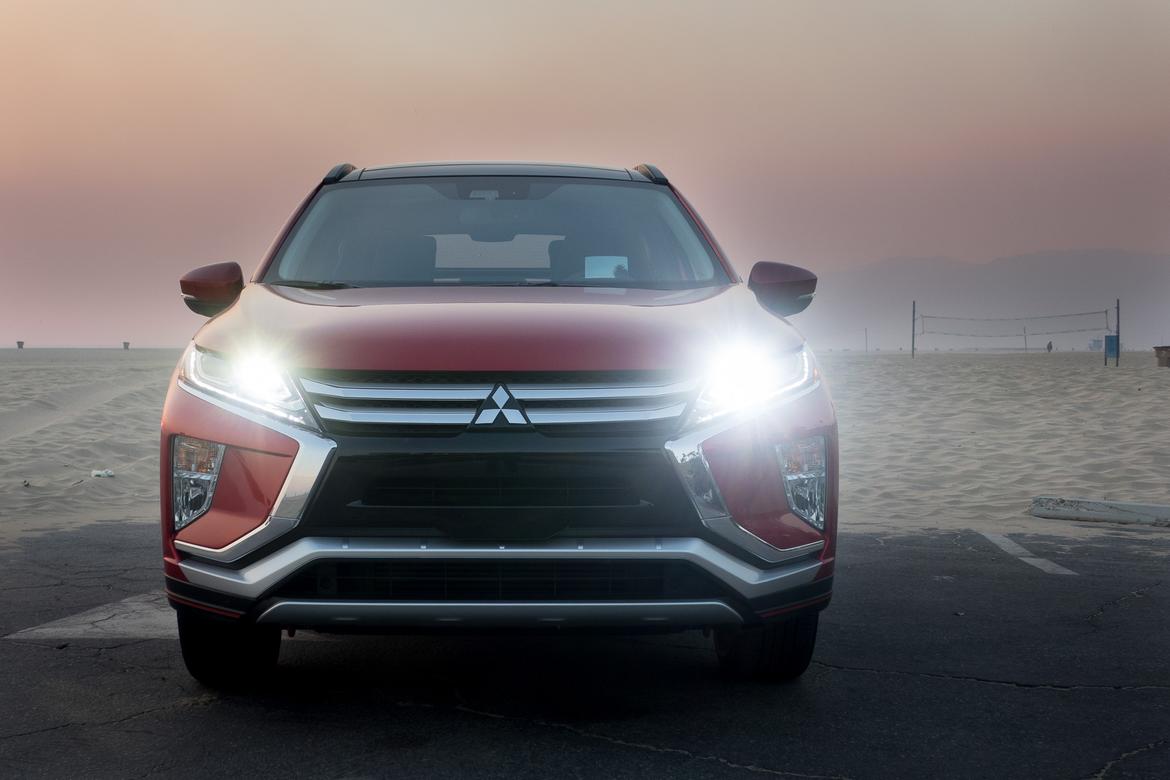 — The 2018 Mitsubishi Eclipse Cross just made its debut at the 2017 Los Angeles Auto Show and I've now driven the new compact SUV. This is a very important vehicle for Mitsubishi as compact SUVs continue to sell in droves. Mitsubishi expects Eclipse Cross sales to surpass its larger Outlander and smaller Outlander Sport SUVs right away. But can it compete with class staples like the Honda CR-V and Toyota RAV4?
Related: 2018 Mitsubishi Eclipse Cross Is a Mixed Bag
The most compelling feature of the Eclipse Cross is its styling. It's defined by the high, upward slanting beltline and a kink in the rear that breaks up the rear glass. Though the kink isn't my favorite — I think the rear styling ends too abruptly — I can see it appealing to some folks who are tired of what is becoming a homogenized class when it comes to styling.
The 2018 Eclipse Cross is offered across four trim levels: ES ($24,235; all prices include destination), LE ($25,835), SE ($27,335) and SEL ($28,835). I tested an SEL, which also added the SEL Touring Package for an additional $2,500. There's only one Used Engine option, and it's new to Mitsubishi: a 152-horsepower, turbocharged 1.5-liter four-cylinder that makes 184 pounds-feet of torque. It's mated to a continuously variable automatic transmission and all-wheel drive in the SEL Touring I tested.
Acceleration and Handling
ES models are the only ones offered with front-wheel drive; AWD is available for $600. Otherwise, it's standard on the LE, SE and SEL. Fuel-economy estimates aren't available yet, and Mitsubishi expects to announce those closer to the Eclipse Cross's arrival in March 2018.
I was happy with the responsiveness of the powertrain. Combining a small four-cylinder Used Engine (regardless of turbocharging) with a CVT can be a recipe for sluggishness, but the Used Engine 's revs happily climbed and responded to the throttle without delay. The Eclipse Cross is down on power to many of its competitors and acceleration wasn't great, but it was nevertheless refreshing to get a linear throttle response from the combo.
Things are less positive in ride and handling. Usually, an SUV sacrifices ride for better handling or vice versa (not including the Mazda CX-5), and I would have been fine with either compromise in the Eclipse Cross. But it rode busily even on well-paved roads and exhibited body roll in the canyon roads Mitsubishi included on our drive route. The result was a weird middle ground where the Eclipse Cross didn't ride comfortably or sportily very well.
Technology
The Eclipse Cross offers a full-color head-up display and Mitsubishi's new multimedia system, with a 7-inch touchscreen mounted high up on the dash and a touchpad controller on the center console. The HUD, standard on the SEL, was excellent and easy to manipulate, with a dedicated switch to raise and lower the display height for easier viewing, plus a button on the steering wheel to change display information. Instead of being projected on the windshield directly, it shows up on a plastic display that raises above the instrument panel (as in many Mazdas). You can see the display even with polarized sunglasses on, an uncommon feature.
My experience with the multimedia system was not as positive. There were things I liked as well as things that confused or annoyed me. The screen is bright and offers decent resolution, though it's not as sharp as the new screen found in the 2018 Volkswagen Tiguan, which sets the standard for the class now. But Mitsubishi's screen has enough resolution to make Android Auto and Apple CarPlay look good. The screen is placed high up on the dashboard and uses capacitive controls on either side — but doesn't include knobs for volume or tuning, which drives me nuts.
Mitsubishi offers a partial solution by adding a touchpad on the center console next to the gear selector. I've yet to find a touchpad I've liked, and that remains the case here. The touchpad actually worked well with Apple CarPlay; it was quick and responsive but seemed to lag slightly with the touchscreen. Take note: The touchpad doesn't work at all with Android Auto. The touchpad does incorporate helpful gesture controls to make it more useful, including dragging up or down on the pad with two fingers will raise or lower the volume, while going left and right jump tracks or tunes to the next station.
Mitsubishi added the touchpad because the touchscreen's placement can make it hard to reach; I had to lean forward a decent amount while driving to reach the opposite edge of the screen. The touchpad's presence did little to enhance the multimedia experience.
Mitsubishi Connect is being introduced on the Eclipse Cross. It ties into a smartphone app and comes with a free two-year subscription. There's a safety package that includes features like roadside assistance and stolen vehicle tracking, and a remote services package with remote climate control, remote door lock/unlock and parental controls (geofencing, speed alerts and curfew alerts).
Utility
The Eclipse Cross is smaller than competitors. At 173.4 inches, it's around 7 to 10 inches shorter than the Toyota RAV4 (183.5 inches) and Honda CR-V (180.6 inches). This also means much less cargo room, as the Eclipse Cross has 22.6 cubic feet of cargo room, which is poor for this class considering the CR-V has 39.2 cubic feet and the RAV4 has 38.4 cubic feet.
There is, however, a roomy backseat with good headroom and legroom, and a reclining seatback to stretch out a bit. The backseat also gets nearly 8 inches of back-and-forth travel. It can slide forward all the way to nearly hit the front seats, which opens a bit more cargo space. Just be wary of the gap that opens between the back of the seat and the cargo area.
Safety Features
My biggest qualm with the Eclipse Cross is how safety features are packaged. A rearview camera is standard and SE models add blind spot warnings, while the SEL gets an around-view camera system. But to get forward collision warning with automatic braking, buyers have to jump all the way up to the top SEL trim level and then add the Touring Package, which includes forward collision with auto braking, adaptive cruise control, lane departure warning and automatic high beams. And it's just lane departure warning, not an active steer assist that helps keep the car in the lane. So, if you want those advanced safety features... you're looking at paying $31,335 because they aren't offered on lower trim levels.
This sticks out like a sore thumb in a field where Toyota is offering most of those safety features (except blind spot warning) standard on the RAV4 and other competitors at least offer them, if not include them, on multiple trim levels. The lack of availability for safety features perturbs me — safety shouldn't be something so constrained. I understand that some buyers may not want to pay for those features. Fine, but make them optional rather than standard, and at least make them more widely available.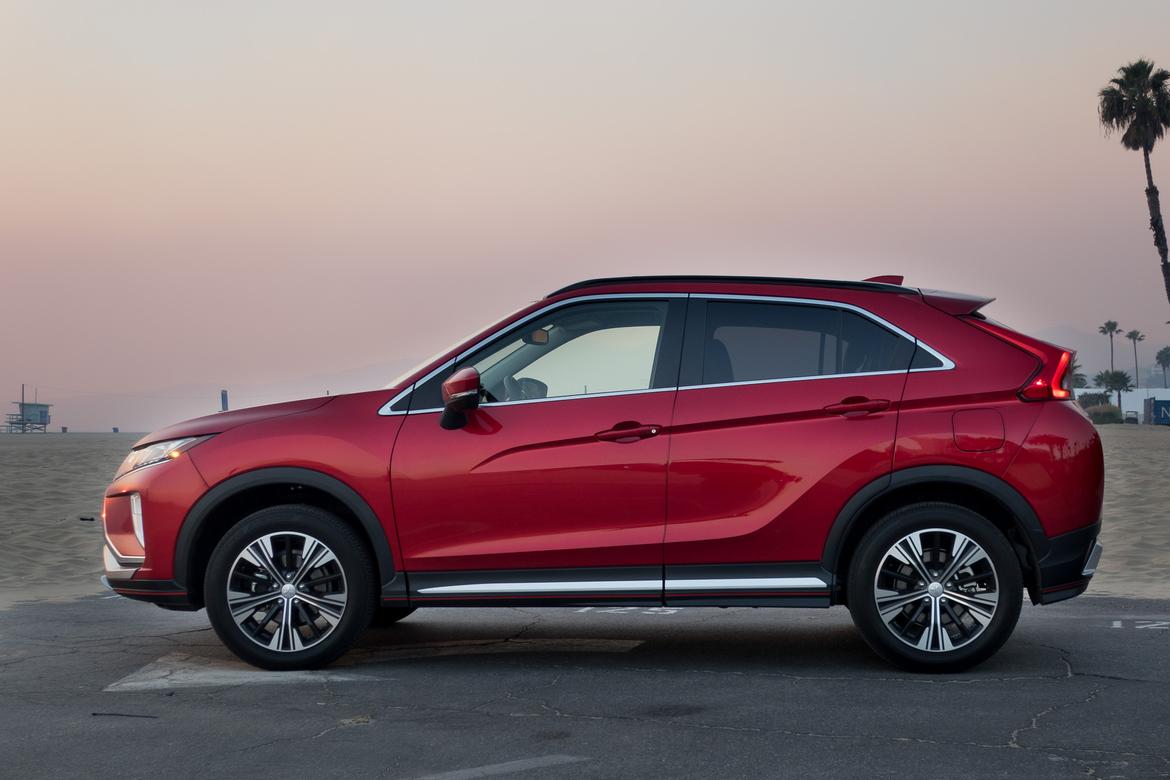 Why Eclipse Cross?
In my day with the Eclipse Cross, I'd find something I liked or that was intriguing, then immediately run into something I didn't. I enjoyed the throttle response, but the ride quality was a letdown. I liked the HUD, but the multimedia system has no knobs for anything. The second row is comfortable and expansive, but the cargo area is small for this class. On and on.
What I ultimately struggle with is that the Eclipse Cross's strengths don't paint over its weaknesses, and it doesn't offer a compelling reason to buy over the competition unless you are really enamored with its styling. Going for the Eclipse Cross isn't going to be a wrong choice; it just doesn't feel like the most right.
's Editorial department is your source for automotive news and reviews. In line with 's long-standing ethics policy, editors and reviewers don't accept gifts or free trips from automakers. The Editorial department is independent of 's advertising, sales and sponsored content departments.