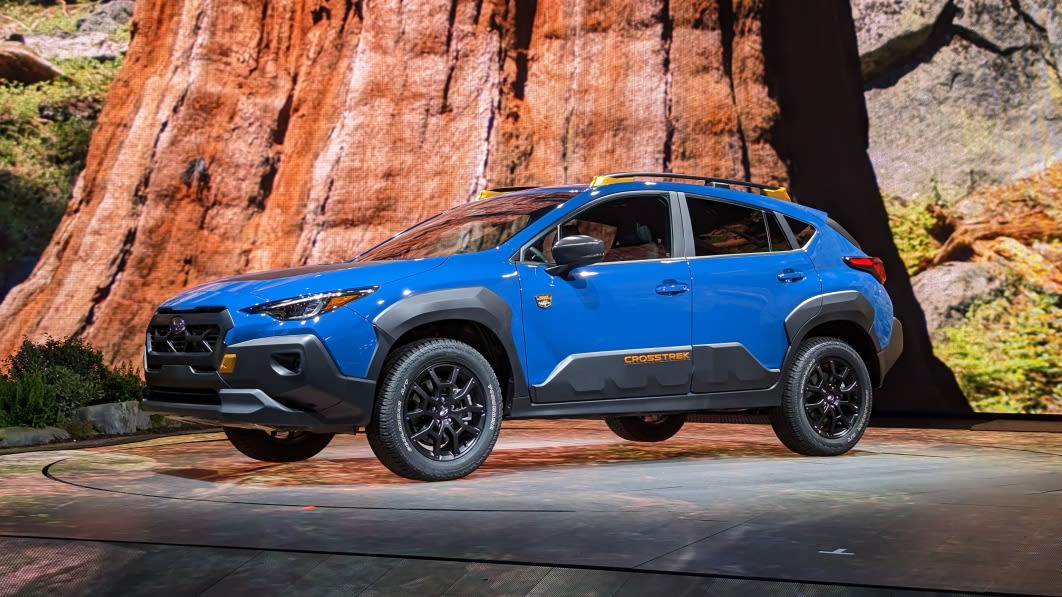 ---
here in america, we like our steaks juicy, our tax subsidies to go to sports stadiums and our suvs and crossovers to look as if they could venture into the wilderness and dominate the landscape at a moment's notice. maybe it's anxiety from years of being cooped up inside during the height of the global pandemic. or maybe it's just more automakers desperate to follow the runaway sales success at
subaru
. either way, automakers are keen to tap into this profit-pumping 21st-century version of manifest destiny. the trend was on display at the 2023 new york international auto show, where the show floor was dotted with crossovers and suvs that look rugged, tough and ready to off-road -- even if the vast majority of those vehicles never will. body cladding, increased ride heights, maybe some all-terrain gizmos and adventurous-sounding names (trailsport! wilderness! peak edition!) were all hallmarks of an otherwise very di
mini
shed auto show in the big apple. this was even true with electric vehicles, which played a more prominent part of this show than ever before. with debuts like the large, three-row
kia
ev9 and the hulking ram 1500 rev, it's all proof that the ev race too will be a contest of trucks and suvs. image credits: patrick george some of the vehicles on display were new debuts, like the all-new 2024
subaru
crosstrek wilderness. it's a new trim level that draws on the massive success of the crosstrek (now in its third generation) and the wilderness trims on the outback and forester. the latter two, which debuted in 2021 as 2022 models, have been big hits for
subaru
. "since we launched the wilderness line a year and half ago we have sold 75,000 wilderness products with outback and forester in a time where we have been limited by supply chain issues,"
subaru
spokesperson do
mini
ck infante told techcrunch today. he added, "and to be honest, we are following the lead of our customers. they have been customizing their crosstreks with lifts and more aggressive tires for years." now the small crosstrek gets the same treatment too, with 9.3 inches of ground clearance (more than half an inch over the regular crosstrek), larger coil springs and shock absorbers, wider approach and departure angles for off-roading and various traction modes to better deal with snow, mud and dirt. it starts at $31,995, a healthy increase over the base $23,645 crosstrek. the opportunity to expand profit margins with a bit of cladding and a lift may be why other automakers are chasing this trend. american consumers have long demanded the trappings of ruggedness and off-road capability from their suvs, even if many of them were just car-based crossovers that looked tough but couldn't back it up when the road ended. the focus on suvs, crossovers and pickup trucks is no surprise. the american car market has drastically shifted away from sedans and small cars over the last decade and automakers have responded in kind. data from the international energy agency shows that even amid sales challenges with the pandemic-driven chip shortage, suv sales are on the rise globally. that's not necessarily great news for the climate, as these bigger and heavier vehicles are still responsible for more carbon emissions than smaller ones. but the new york auto show proved how incongruent it all feels. as automakers pledge to electrify their fleets and reduce their overall carbon footprints, they're paying for it by selling big trucks and suvs designed to conquer nature. or to at least look the part. and while it's true that modern ice cars are more efficient than they've ever been before and have more electrified options, the path to "going green" is through big vehicles with big swagger. image credits: patrick george
jeep
, of course, has a major presence at the show this year, showing off the updated 2024 wrangler with several new trim levels. wrangler sales have shot up in recent years, and the wrangler 4xe also happens to be america's best-selling plug-in hybrid car; that says a lot about our love of outdoor exploring, or at least looking like we can. to be fair, wrangler owners are certainly more into off-roading than most. and both the
jeep
wrangler and
subaru
crosstrek can more than take care of themselves when the pavement gets questionable. for others, it's more about looking like they can do that more than anything else. take the 2024
volkswagen
atlas peak edition, a trim level that debuted at the new york show. it's a rugged-ish visual update for vw's midsize family-hauling crossover, which has been on the market since 2017. here, vw clearly seems to be running the
subaru
playbook: it's got what the automaker calls a more "rugged" front fascia, 18-inch black wheels, all-terrain tires and orange "peak edition" badges inside and out. vw showed off a concept called "basecamp" in 2019 and later turned that name into an accessory package that inspired the peak edition, but make no mistake here: this atlas won't be climbing many peaks anytime soon because it's just an appearance package. or take the
honda
pilot and passport in trailsport trim. neither of those made their debuts in new york, but the cars are onstage to entice buyers who demand a bit more ruggedness (or the appearance of it). only one of those, the pilot, gets a lifted suspension; car and driver calls these packages "mostly theater." but for the crossover shopper who sees them inside new york's javits center amid various
jeep
s,
ford
broncos and
subaru
s, they seem to fit right in. there's a reason all of these automakers keep doing this: it seems to be working. and though it's easy to poke fun at crossovers that look built for the apocalypse but are more at home at an outdoor mall than the actual outdoors, we do keep buying them. and we should expect to see more of them.
source:autoblog.com