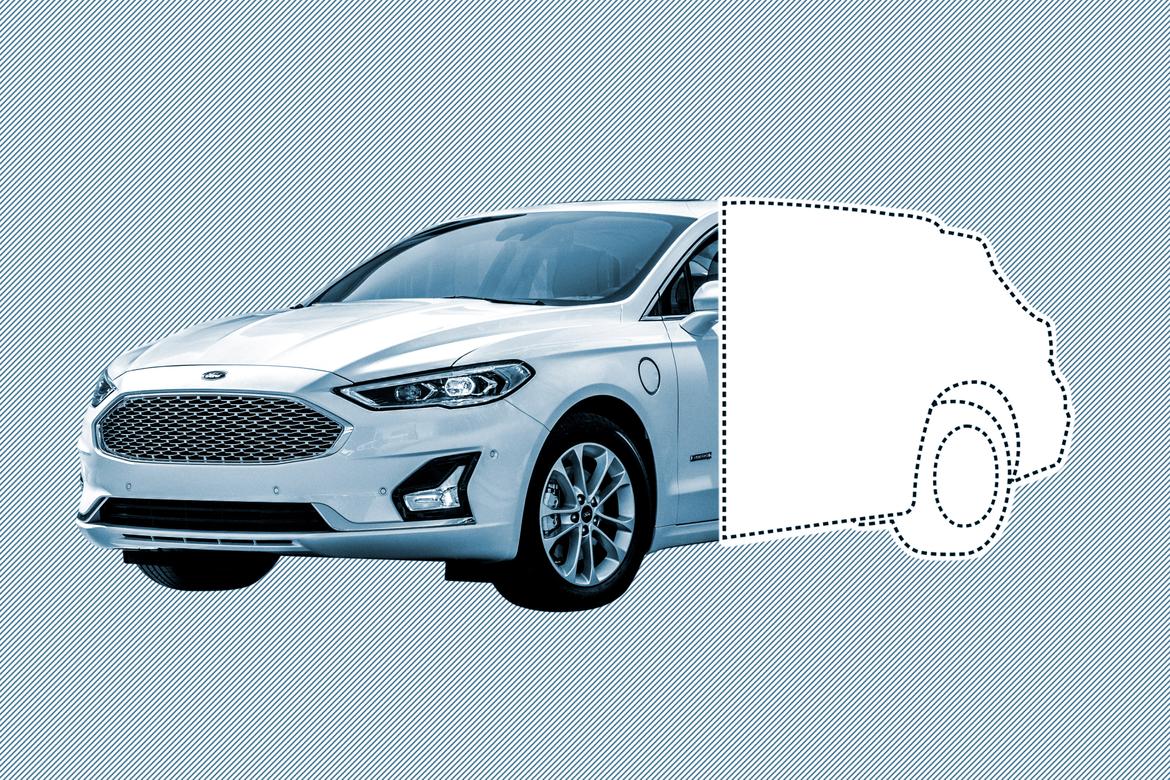 remember back in the aughts, when ford threw the taurus nameplate on a refresh of its wagonish freestyle crossover? called the taurus x, the zombie freestyle was a half-decent car. a decade later, ford could pull a similar move on another family sedan. the automaker announced plans in april to eventually stop selling all sedans in the u.s. as it transitions to an suv- and truck-centric lineup. but bloomberg news, citing two unnamed sources, reported earlier this week that the fusion nameplate will live on as a "high-roofed hatchback built on the same mechanical underpinnings."
ford hinted at the nameplate's longevity, if not its body style. asked about the bloomberg report, the automaker told that "current ford fusion production ends in a few years," but it will "likely continue to use the name because of its awareness, positive imagery and value with consumers. however, it's too soon to speculate on what that new vehicle may look like."
like parents to their adult children, we have a pile of unsolicited advice: pay off your credit card every month; stop renting; less ale, more kale ... wait, not that kind of advice. fusion advice! if it becomes a hatchback or crossoverlike wagon, here's what editors want to see.
three rows: if the fusion becomes a bona fide wagon, it ought to have a roomy third row like the freestyle-turned-taurus x. that ethos lived on in the flex, but big wagons with three rows are largely extinct these days. it would give ford a trump card over other mid-size wagons like the buick regal tourx and subaru outback, and families who need a third row would have a smaller — and unique — option. — me
suv-skewing: "it probably goes without saying that they need to make it look like an suv as much as possible, complete with the high seating position, while avoiding the suv downsides like space inefficiency. the appealing-wagon approach is a needle that's too hard to thread; some people still consider the outback a wagon, but most view it as an suv. i wouldn't use it as an example of a successful 'wagon.' " — joe wiesenfelder, executive editor
don't gild the lily: "give it the requisite extra ground clearance and all-wheel drive, but fight the urge to add excessive body cladding in the name of making it look tough. better yet, skip the body cladding entirely. one-up the subaru outback's versatility with a third-row seat option for the kids. make them rear-facing like the mercedes-benz e-class wagon's third row. make a raptor-esque version with unique styling, a desert-running suspension, knobby tires and the 400-horsepower, twin-turbo v-6 from lincoln." — mike hanley, senior research editor
infuse it with fun: give it "350-plus horsepower, all-wheel drive and a drift mode. oh, and winter tires and wheels available right from the dealer when you purchase it." — brian normile, production editor
get creative: "i'd like to see ford do something a little different (which means it won't happen), but if they offered different packages or even trims specially focused for different parts of the country or even different activities, that could work to rebrand the boring nameplate. they could offer a cold fusion with extra interior insulation and snow tires, hot fusion with extra tinted windows and high-performance air conditioning, and even a foodie fusion package with special navigation screens to allow for extra restaurant scrolling.
"the fusion name already means combining at least two things, so it seems perfect for a crossover — all of which try to be both car and suv — but they'll need to be clever this time around. the taurus x was a disaster of marketing and misunderstanding of what buyers want (hello, only auto writers and quirky weirdos like station wagons). crossovers mean something nowadays, so it better be good and offer more than what everyone else has." — mark williams, pickuptrucks.com editor
wagon? what wagon?: "as an outback owner, i think part of its success is that it doesn't scream 'wagon.' [the future fusion] needs to be a wagon that's dressed like a beefy suv. outside of automotive journalists, there are few clamoring for a traditional wagon. ford should focus on delivering the cargo capacity of a wagon, but little else." — jenni newman, editor-in-chief
ax the x: "if this scrabble guide from merriam-webster is to be believed, there are some 6,933 words that start with 'f' in the english language; couple that with the possibilities coming from other languages, and ford has a veritable glut of options for naming its vehicles — none of which has to be 'fusion x.' please don't make this branding transition for an already wagon-averse public more painful than it has to be. and while 'fusion x' has a terrible ring to it, you know what doesn't? 'fusion rs.' imagine putting drift mode to good use and scaring the hell outta your kids. family road trips will never be the same." — patrick masterson, copy editor
indulge enthusiasts: "would i like to see a fusion wagon? yes, but not if it's a pedestrian, four-cylinder, front-wheel-drive-based snoozer with plastic body cladding. the fusion wagon i'm daydreaming about is a wagonized four-door mustang with rear-wheel drive and a 460-hp, 5.0-liter v-8. delusional? yes, but a boy can dream." — joe bruzek, managing editor
well, ford, that about does it for this piece of parental guidance. you're welcome. let us know if you're coming out for thanksgiving this year. we know it's a long drive, but your grandmother would really love to see you.
's editorial department is your source for automotive news and reviews. in line with 's long-standing ethics policy, editors and reviewers don't accept gifts or free trips from automakers. the editorial department is independent of 's advertising, sales and sponsored content departments.