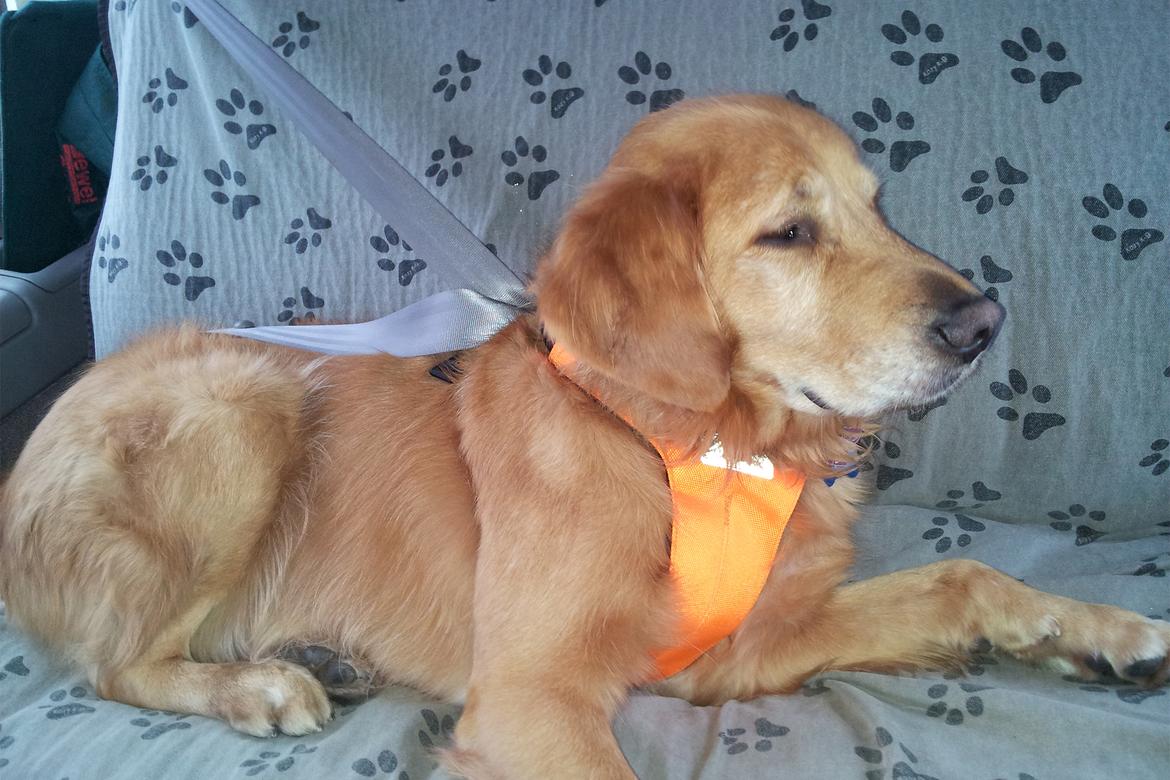 Were you the recipient of a furry four-legged gift during the holidays? If so, congratulations on the addition to your family! Just as with human family members, it's important to consider safety when traveling with your new canine or feline companion. Not sure what will work for you? Not to worry: Our staff of pet lovers has you covered.
There are lots of pet travel products on the market, but they are not all created equally. Many are never tested to see whether they actually protect pets in a crash. And it's important to make the distinction between products that keep your pet from becoming a distraction while you drive — such as wire crates, wire cargo dividers, booster seats or unsecured carriers — and those that will protect your pet, you and other passengers if there's a sudden stop or accident.
Related: Video: Ensure Your Pet Travels Safely in the Car
When shopping for pet travel products, read the fine print:
Was the product crash-tested?
Who tested it? Accredited crash-test technicians from an independent third party are the best bet for objective results.
How was it tested?
Is there a website where you can watch a crash-test video, and does that video show acceleration, impact and impact aftermath?
A good place to start is the Center for Pet Safety, a pet-advocacy nonprofit that has created crash-testing protocols for crates, carriers, travel harnesses and booster seats. Click on the CPS Certified dropdown menu to check out the products that have been tested, some of which we've tested here at . To get started on your research, read on.
Travel Basics
Don't let a pet roam freely in a vehicle; loose pets become projectiles during hard stops and accidents. And while a dog in a car's front seat or the bed of a pickup truck is an iconic American image, don't put Buddy in either place. Airbags can injure pets during an accident, and pets and carriers can jump or fly out of the bed of a pickup. Never leave a pet in a parked vehicle in the heat, even with the windows cracked; heat stroke can be deadly and can happen in minutes. Ditto with extreme cold temperatures: Despite the fur, pets lose body heat and can become hypothermic — especially very young and old pets. Keep a pet first-aid kit in your vehicles and vaccination records in the glove box. And make sure your pet is microchipped; that makes it easier to find a cat or dog who escapes from a vehicle. Check out other travel basics along with pet-travel accessories for vehicles and other automotive considerations.
Crates and Carriers
Crates and carriers are popular ways to transport pets. To effectively protect pets, crates must be made of durable material that can withstand significant impact. They also must have doors that remain closed in a crash, and you should be able to anchor them to cargo tie-downs so they don't become projectiles. Top performers in CPS tests were Gunner Kennels' G1 Small and G1 Intermediate crates. If you're considering a crate, find out the weight rating for your vehicle's cargo tie-downs, and measure both the crate and the cargo area for compatibility.
Carriers are ideal when traveling with small dogs and cats. But there is a caveat: Only carriers designed to be used with seat belts should be belted. Carriers that are not designed to be used with seat belts will provide the most protection if they are placed on the floor between two rows of seats. Sleepypod manufactures several different types of carriers designed for use with seat belts, and four of them have earned CPS certification.
To find out how other carriers and crates performed during initial CPS testing, click here.
photos by Jen Burklow; manufacturer images
Travel Harnesses, Car Seats
Travel harnesses and car seats offer the most flexible ways of traveling safely with your pets, along with small carriers. All three can be easily transferred between vehicles. Sleepypod also makes harnesses that earned CPS' highest rating of five stars: the Clickit Sport and Clickit Terrain harness. We've tested the Clickit Sport and found it both easy to use and comfortable for dogs to wear. Both double as walking harnesses. CPS offers a primer of what to look for when shopping for a pet-travel harness.
Also earning CPS' highest rating is the ZuGoPet Rocketeer Pack, a clever and unique device that serves as both a car seat and backpack for carrying pets. It's designed for pets 25 pounds or lighter, so it works for dogs and cats.
Other car seats worth consideration are rear-facing seats made by PupSaver; we tested the PupSaver 45 and found it easy to install and use. It works with a compatible harness (purchased separately) that can double as a walking harness when traveling, and it's been independently crash-tested by MGA Research Corp., which does testing for the National Highway Traffic Safety Administration and the Insurance Institute for Highway Safety.
's Editorial department is your source for automotive news and reviews. In line with 's long-standing ethics policy, editors and reviewers don't accept gifts or free trips from automakers. The Editorial department is independent of 's advertising, sales and sponsored content departments.