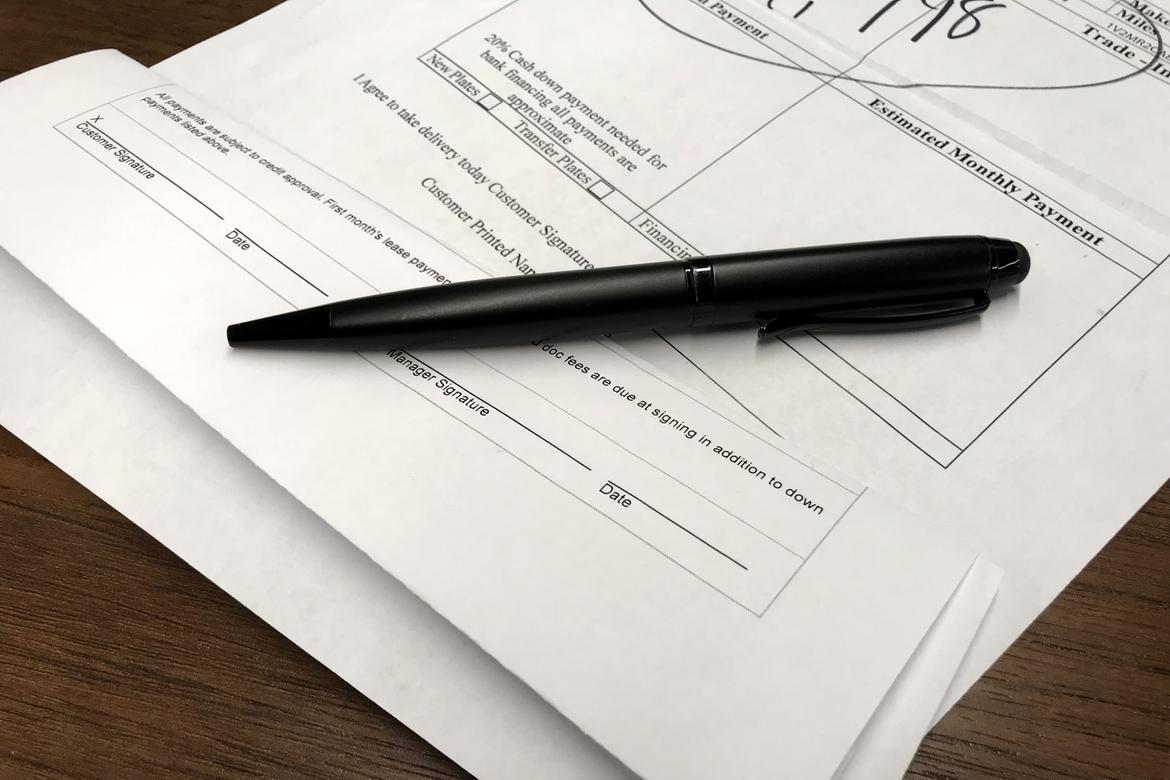 — Worried you won't get that plum interest rate if you put off car shopping a few months? If you've got a good credit score, we wouldn't lose sleep over it. A new forecast from Bankrate.com predicts interest rates will creep up as the year wears on, but competition will temper the rise for shoppers with higher credit. Those with lower credit, however, could see a steeper climb.
Related: How to Win the Car Financing Game
Greg McBride, Bankrate's chief financial analyst, expects average rates to hit 4.85 percent by year's end on a 60-month new-car loan. That's up from the current 4.44 percent — an increase that's "a lot relative to what we've seen in the past couple of years," McBride told . He predicts average rates on a four-year used-car loan, meanwhile, should end the year at 5.35 percent; that's up from the current 4.99 percent.
"We didn't see much change in auto-loan rates over the last couple of years, even as the Fed was raising interest rates," McBride said. "It's kind of been like water building behind the dam. This year some of that spills over into higher car-loan rates."
After nearly a decade without a hike, that benchmark rate — the federal funds rate, or the rate at which banks charge other banks to loan money held at the Federal Reserve — has increased five times since late 2015. The Fed reportedly expects three more increases in 2018.
Those increases will affect auto-loan rates, but McBride doesn't expect lenders to distribute the gains evenly. Those with sterling credit should still find plenty of low-interest offers as there "continues to be a lot of competition for top-credit-quality consumers," McBride said.
But subprime borrowers, or those with poorer credit, could take it on the chin. After automotive credit became "overly easy" in recent years for subprime borrowers, delinquencies went up, McBride notes.
"The chickens are coming home to roost a little bit," he said. "If you have weak credit, auto credit's actually going to be tighter rather than looser, and it's going to be more expensive."
Average interest rates have some bearing on what you can get, of course, but so do myriad other factors. Some general tips:
Check Your Credit Before You Go
Many services allow you to run your own credit report, which will show any limiting factors. At minimum, you'll know what sort of interest rates to expect.
Line Up Financing Before the Dealership
Before you hit the local auto mall, shop third parties like banks or credit unions for preapproved financing on the amount you plan to spend. Have the best offer in writing on hand when you negotiate. That keeps the focus at the negotiating table on the final price of the car. Agree on that, and most dealers will compete for your financing business afterward.
Focus on the Final Price
The vast majority of shoppers finance their car, a practice that lends itself to fixation on the monthly payment. Instead, calculate how much car you can afford based on conservative loan estimates, then shop by the "out-the-door" price, including sales tax and all fees. Negotiate on that price alone. If you line up third-party financing beforehand, the financing should take care of itself.
Lower Interest Rate or Lower Price?
Automakers often advertise low-interest loans in lieu of cash rebates or, at most, offer considerably smaller rebates in conjunction with low-interest offers. Do the math. Unless you're approved for the advertised rate — and that rate is significantly lower than the normal financing you'd secure through the automaker or a third-party lender — you'll often come out ahead to negotiate a lower price instead.
Ultimately, the uptick in rates shouldn't spawn a premature purchase. Even with the proliferation of six- and seven-year auto loans, interest rates don't affect a car payment as much as, say, a mortgage payment. Consider: Moving from 4.25 percent to 4.5 percent on a 30-year mortgage for $300,000 adds $44, or about 3 percent, to your monthly payment. But the same rate change on a 72-month auto loan for $25,000 adds only about $3, or less than 1 percent, to each payment.
"If you're in the market for a car loan sometime in 2018, I wouldn't lose sleep over what's happening with interest rates," McBride said. "A quarter point move doesn't impact your bottom line much."
's Editorial department is your source for automotive news and reviews. In line with 's long-standing ethics policy, editors and reviewers don't accept gifts or free trips from automakers. The Editorial department is independent of 's advertising, sales and sponsored content departments.