it's hard to let go of the things we love, like kids ... or cars. but let them go we must. such was the case for me and my husband when we (actually, he) finally admitted it was time to bid farewell to our 2004 gmc safari minivan. to give you an idea of the depth of love we had for the safari, it was our second one. the first lasted 10 years and survived a run-in with a deer at highway speeds — while towing a boat; the second was a staple in our driveway for 14 years (because who uses their garage for a car?).
get 2017 ford expedition el detailsfind a 2017 ford expedition el near you
yep, for 24 years, we ferried our four daughters and too-numerous-to-number pets locally and throughout the midwest in a gmc safari, often with our 17-foot boat in tow. the safari took entire girl scout troops on camping trips and moved kids to college and back — and then to their first apartments. friends and neighbors borrowed it to haul things. it was an extension of us. i like to say we could parallel park it with our eyes closed. (relax; we didn't.)
letting go
at the start of 2018, it was clear that our once-dependable conveyance was no longer dependable — it was time to let the safari go. amazingly, our needs hadn't changed much in 24 years: we still tow a boat; we currently haul four dogs to forest preserves, state parks and lake vacations; and the four kids have blessed us with eight grandchildren. so, if gmc were still making a safari (which was discontinued in 2005), i'm sure my husband would have voted for buying a third, so strong was his love for that van.
if you haven't shopped for a vehicle in 14 years or more, it's a whole new world filled with technology and a plethora of shopping choices — some good, such as starting your vehicle search online rather than in a dealership lot being hounded by salespeople.
starting the search
as our online research began — using , of course — we were dismayed by the fact that boxy, truck-based minivans no longer exist, forcing us to consider other options.
we quickly discarded pickup trucks as a prospect. although it's hard to beat their towing capability, limited seating capacity and covered storage areas make them impractical for our needs. full-size passenger vans that can carry 12 seemed over the top — although we could fill one, if not two. and most euro-style passenger vans don't offer the payload or towing capacity we need. so, we settled on three-row suvs.
heeding 's advice, we used the chicago auto show to comparison shop three-row suvs. overwhelming? yes. but it did help us narrow contenders to truck-based, full-size suvs.
narrowing the field
the next question: new, used or certified pre-owned? our budget pointed us to cpo suvs that were a year or two old, with price, cargo space, towing/payload capacity, a multizone climate system (something the safari sorely lacked and wayback passengers frequently bemoaned) and odometer mileage being the main considerations ... well, and seat comfort. much as we loved our gmc safari, we were looking for more legroom for the driver and front-seat passenger — meaning the two of us — something that van skimped on.
initial contenders were the chevrolet suburban and tahoe, ford expedition and expedition el, gmc yukon and yukon xl, and nissan armada. nerd that i am, i created a spreadsheet that compared most of the considerations above. that helped us narrow our choice down to two: the suburban and expedition el. they offered the payload, towing and cargo capacity we were looking for.
match made
with an account i had already created on , i set up searches and alerts for 2016-17 cpo suburbans and expeditions, and settled back to watch the information pour into my personal email inbox. we spent a few weeks watching, reading, sifting, deleting, and finally were down to two expedition els. the one already equipped with the heavy-duty towing package called to us, and once its price began to drop significantly, we sent an inquiry to the dealer through . the dealer responded within a few hours, and the rest is history: within a week, we'd traded in our beloved 2004 gmc safari for a shiny black, new-to-us 2017 ford expedition el.
it's loaded with more creature comforts and conveniences than we've ever had in a vehicle. my husband refers to it as our presidential motorcade car. love is blooming already, and i'm having visions of granddaughters' girl scout troops filling the cabin.
follow me on twitter @jenniferburklow for news about pet travel safety, older driver issues and the occasional grandchild brag.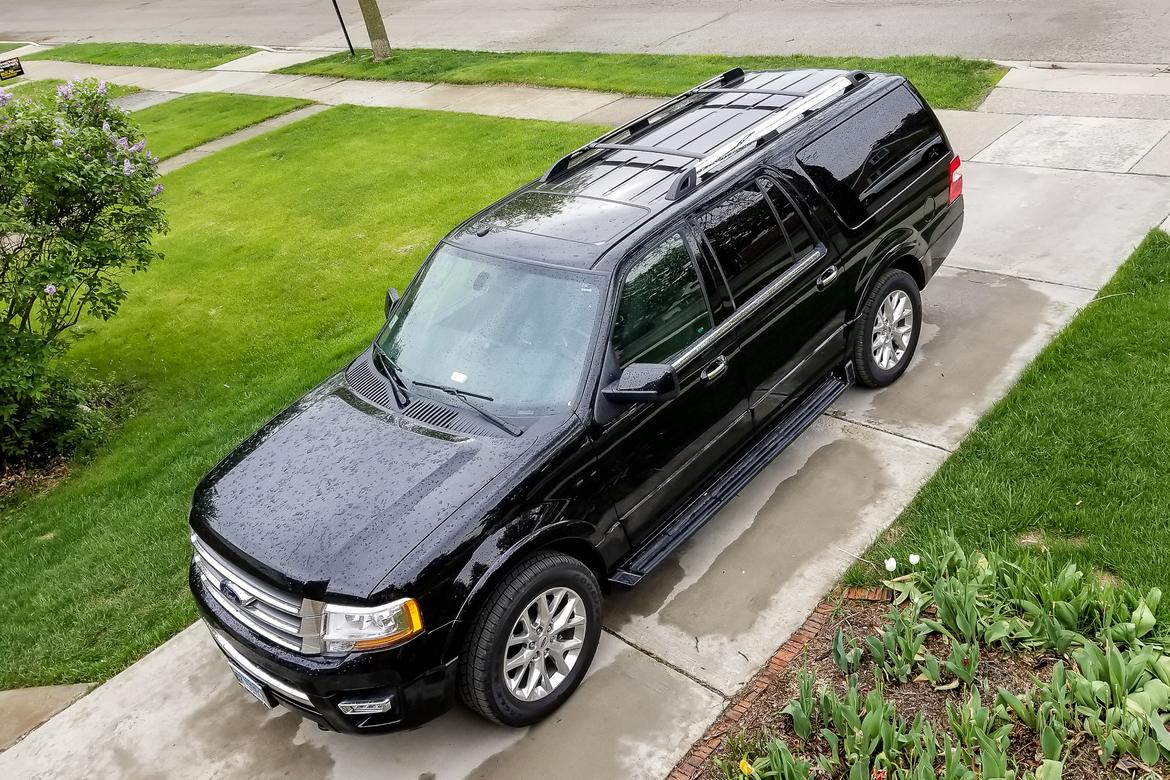 's editorial department is your source for automotive news and reviews. in line with 's long-standing ethics policy, editors and reviewers don't accept gifts or free trips from automakers. the editorial department is independent of 's advertising, sales and sponsored content departments.