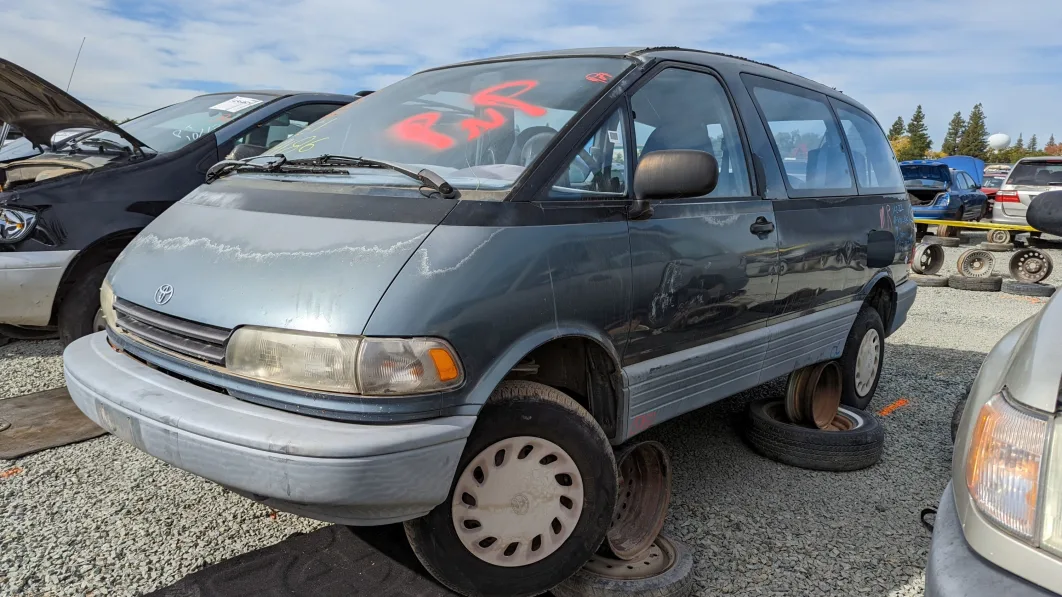 ---
toyota
has been selling the sienna
mini
van for just about a quarter-century now, and it's a well-built, substantial machine with its engine in the expected location. its much smaller predecessor, however, was designed with the japanese market in mind and had its engine mounted sideways under the front seats. this was the estima, badged as the previa in north america, and these vans were bolted together so well that they became commonplace in the big car graveyards i frequent during only the past few years. today's junkyard gem is an early previa with a final odometer reading that's very impressive even by previa standards, found in a northern california self-service yard a few months ago. this isn't the highest-mile previa i've ever found in such a place (that honor belongs to a supercharged '94 previa that i found in a colorado boneyard with 376,407 miles), and actually the fourth 300k-mile-plus previa i've found (just edging out a 318,601-mile all-trac '91 previa with a five-speed manual transmission and a 304,211-mile all-trac '96 previa). for what it's worth, the biggest odometer reading i've ever found on a discarded
toyota
was in a 1988 tercel 4wd wagon with 413,444 miles; my all-time junkyard odometer champion right now is a 1990
volvo
240 with 631,999 miles. though the early sienna looked a bit like the previa, it was designed with the american market in mind and built in kentucky (and you still can't buy siennas in japan, where they have the alphard/lm300 instead). the 1991-1997 previa was an americanized version of a van optimized for the streets of japan, and so it seemed small and weird to potential buyers of, say,
chrysler
mini
vans of the era. first of all, the previa had the engine amidships, a straight-four tilted nearly 90° sideways in a compartment under the front seats. it was available with rear-wheel-drive or with
toyota
's all-trac all-wheel-drive system (which also went in celicas, camrys and corollas). a five-speed manual was base equipment, and a surprising proportion of previas sold here had three pedals. this van is a rear-wheel-drive version with automatic transmission. the emissions tag shows that this one was a california model, rather than a "49-state" version; presumably, it spent most or all of its life in the golden state. the 2.4-liter 2tz-fe engine was rated at 138 horsepower, which turned out to be a problem here; that's not much power for a van with a curb weight over 3,700 pounds hauling a large family at american highway speeds, and the weird engine location meant that there was no practical way to install a v6. during the 1980s,
nissan
tried to solve a similar problem with its americanized version of the vanette (badged as the "
nissan
van" here, in line with the naming systems for the "
toyota
van" and "
mitsubishi
van") by shoehorning a big engine into its restrictive engine compartment. the result was chronic overheating and engine fires, resulting in legal unpleasantness that forced
nissan
to buy back and crush nearly every example sold here.
toyota
, wishing to avoid such a disaster, upgraded engine power for the 1994-1997 previas by installing a small aisin-made roots-type supercharger to get an extra 20 horses. the blower is mounted on the hard-to-reach supplemental auxiliary driveshaft rig (aptly referred to as the sad by the mechanics who had to work on it) behind the front bumper. the supercharger solved the power shortage well enough in the later previas, but lots of the early ones were sold despite being on the poky side. presumably, previa buyers didn't mind the strange-looking egg shape and lack of power, because they wanted
toyota
build quality and big interior space on a small footprint. because of the goofy engine placement, the previa's interior was quite spacious. the chassis layout made the previa handle startlingly well, too. here's a '91 all-trac model looking good on an arizona race track. welcome to… previa adventures. as the tv commercials in its homeland showed, it was really a formula 1 car inside an egg.
source:autoblog.com