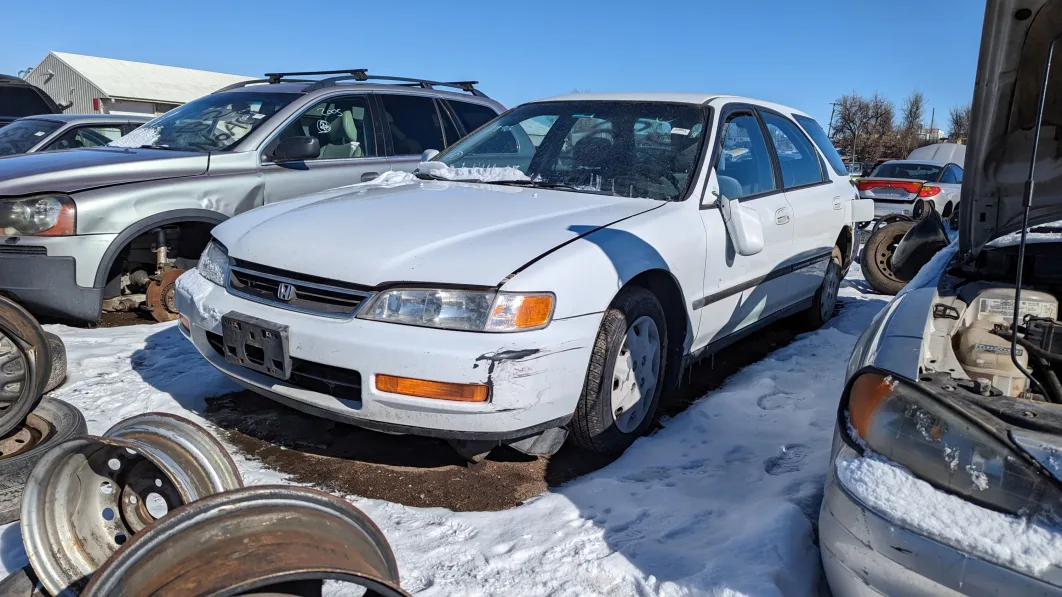 ---
the american
honda
motor company started selling a wagon version of the accord for the 1991 model year, four years after
toyota
introduced the camry wagon here. while the long-roof accord gained a devoted following of american owners, sales were never very strong; the introduction of the new cr-v here in 1997 coincided with the accord wagon getting the axe in north america (production of a wagon version for other markets continued for quite a while after that). here's one of the last of the american accord wagons, found in a yard just south of denver. there are 326,197 miles on the odometer, which is impressive for an accord of this era (though i've found four discarded accords with better than 400,000 miles on the clock: an '88 with 626k, an '88 with 513k, a '91 with 435k, and an '83 with 411k. as is usually the case with high-mile cars in junkyards, this one has a well-cared-for interior. why is it here, then? the main reason is this crash damage on the right front, which looks like a t-bone incident that probably damaged the right front suspension. there's rust, too, which probably helped convince the insurance company to just total this car. high plains colorado isn't a very rusty place, since road salt is seldom used here and the humidity tends to be in the single digits, but this car appears to have spent some time in a more corrosive environment. the engine is a 2.2-liter straight-four, rated at 130 horsepower and 139 pound-feet. if you want your interference engine to last, you must be punctual about timing belt changes. this one, last replaced in 2016, wasn't due for more than 43,000 miles. though a five-speed manual transmission was base equipment on the 1996 accord lx wagon (the more upscale ex got a four-speed automatic), this one has the optional (for $800, or about $1,538 in 2023 dollars) two-pedal setup. if you do the maintenance on the dot, as i'm sure was the case with this car, an automatic will hold together just as long as a manual (and it never needs a new clutch). americans are good at building cars, and this ohio-built accord is the proof. the msrp on this car with an automatic transmission was $19,790 ($38,042 after inflation). the cheapest 1996
toyota
camry wagon with two pedals cost $21,198 ($40,748 now). meanwhile, your
ford
dealer would sell you a new 1996 taurus gl wagon for just $19,680 ($37,830 today), with automatic and v6 engine.
ford
kept selling taurus (and
mercury
sable) station wagons through the 2005 model year, but
honda
and
toyota
were out of the american-market midsize wagon business after 1997 and 1996, respectively.
mazda
sold the
mazda
6 wagon here all the way through 2007, though, and you could get a manual transmission on one until the very end. i'm independent. you can drive your brand-new right-hand-drive jdm accord wagon from new york city to the beach without getting hassled by "the man" over your alternate-universe license plates, it seems.
source:autoblog.com