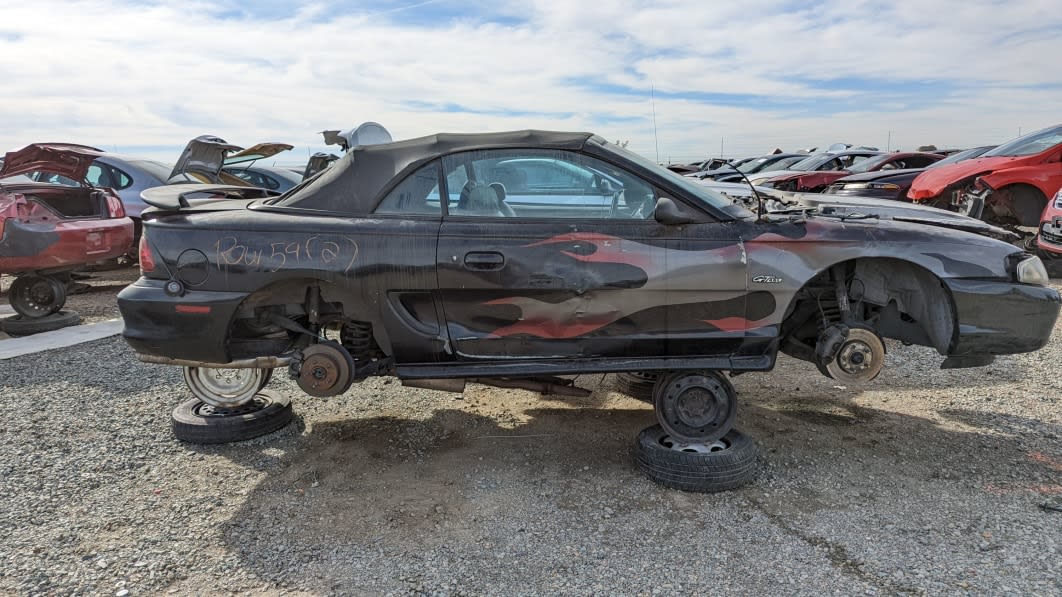 ---
the
ford
mustang is now in its sixth generation since lee iacocca signed off on the first falcon-based '64s, with a seventh coming soon. though i still find the occasional first-generation mustang these days during my junkyard explorations, along with some later mustang iis and fox mustangs, most examples you'll find in your local ewe pullet right now come from the fourth generation, spanning the 1994 through 2004 model years. today's junkyard gem, found in a northern california yard, looked great with its devil-may-care soft top and airbrushed flames … until the day of the crash. the big news in the mustang world in 1996 was the retirement of the venerable windsor pushrod v8 (in mustangs, that is; you could still get an old-timey 5.0 aka 302 in new
ford
explorers and australian-market cars until the early 2000s). it was replaced by the overhead-cam 4.6 modular v8. the 4.6 began its career in the 1991
lincoln
town car and is best-known for powering all those jillions of p71 police interceptors that you still see on the road to this day. this one was rated at 215 horsepower and 285 pound-feet. members of the modular family still power new mustangs today.
ford
was rightfully proud of the 4.6 modular, and so the 1996-1998 mustang gts got these badges. the real gone cats got sturdy tremec t-45 five-speed manual transmissions in their '97 mustang gts, but the reality of daily commuting no doubt inspired this car's original purchaser to get the four-speed automatic. the msrp on this car was $23,985, or about $44,880 in 2022 dollars. the cheapest v6 mustang coupe started at $15,335 that year ($28,695 today), while the more powerful svt cobra convertible cost $28,135 ($52,645 now). believe it or not, air conditioning wasn't standard equipment in the 1997 mustang gt. the original buyer of this car probably opted for the $1,685 ($3,153 after inflation) preferred equipment package, which included a/c, an am/fm/cassette
audi
o system, power windows, and abs. not much beyond 100,000 miles on the odometer. the driver's seat upholstery is a bit tattered, but otherwise the interior looks good. why is this car here? here's why. it appears that the car hit a glancing but solid blow into something made of concrete. the airbags did their job. let's hope that the occupants had their belts on. as they say, this car "drove to the wreck" and so its powertrain components should be appealing to junkyard shoppers. lots of good interior bits in here, too. i will rock the boat, and everything else. the 1990s were a strange time. not since mr. ed has a horse spoken so clearly.
source:autoblog.com