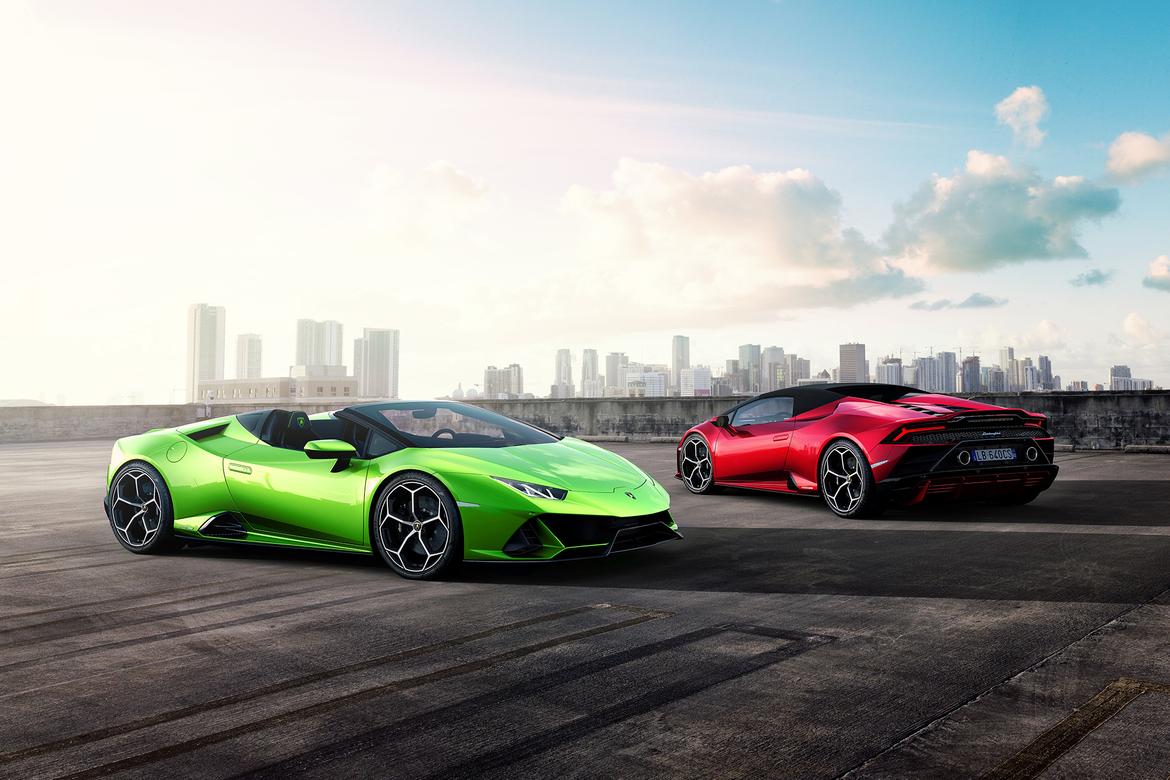 lamborghini's huracan coupe got a special-edition evo model in january that takes the performante's v-10 used engine , rated at 631 horsepower and 443 pounds-feet of torque, and puts in a slightly more pedestrian — well, as pedestrian as anything lamborghini can be, which isn't, really — coupe. the evo also came along with revised aerodynamic bits, a new 8.4-inch touchscreen infotainment system and four-wheel steering. now it's gone and done the same thing to the spyder convertible version of the car, set to debut at the 2019 geneva international motor show, creating a monster droptop that will really let its owners see and be seen.
just beware that some of that "being seen" might involve being just a loud and blurry shape, like bigfoot. (do i mean the cryptid or the monster truck? you decide.) here are five things you need to know about the lamborghini huracan evo spyder:
1. it's slower than the coupe by this much
lamborghini claims the evo spyder will have a zero-to-62-mph time of 3.1 seconds, two-tenths of a second slower than the coupe. do me a favor: turn on the stopwatch feature on your phone and see if you can tell when two-tenths of a second have elapsed. that may not feel like much, but physics dictates that each tenth of a second matters at such low timeframes.
top speed is a claimed 325 kph, which converts to just about 202 mph — same as the coupe. it's unclear if that top speed can be achieved with the top down or if it's limited in a similar fashion to the mclaren 600lt spider, which can hit 201 mph but only 196 mph if the top is down.
2. it's heavier than the coupe
all the mechanicals to make the powered top retract on its own, plus the beefed-up chassis stiffening needed to keep the v-10 from bending the car without its roof in place, add up. in this case, it's an extra 265 pounds or so; that's an entire lebron james plus 15 pounds.
3. it's pricey. duh.
the evo coupe has a starting price of just over $261,274 before taxes and fees, and you'll have to add a bit more than $26,000 — nearly the cost of the new 2019 volkswagen jetta gli — to get into the evo spyder, which starts at $287,400 (also before taxes and fees).
more from :
us: "the 600lt spider is as sick as it gets!" mclaren: "hold our beer"
2019 lamborghini urus first drive: supercar cattle-prodding an suv
top 5 reviews and videos of the week: meet the 2018 porsche 911 turbo s
research lamborghini
lamborghini huracan evo spyder; manufacturer images
4. it can get much, much pricier
there are a number of customization packages available from the factory, including ones that reduce the added weight of the evo spyder using carbon forged composite materials and lamborghini's patented carbon skin, a flexible form of carbon fiber used in upholstery. and then, of course, there's lamborghini's ad personam program, which will let you customize your car to your heart's content and your bank account's contents.
5. it's on its way
after making its debut in geneva, the first customer deliveries will happen shortly after in the spring.

's editorial department is your source for automotive news and reviews. in line with 's long-standing ethics policy, editors and reviewers don't accept gifts or free trips from automakers. the editorial department is independent of 's advertising, sales and sponsored content departments.