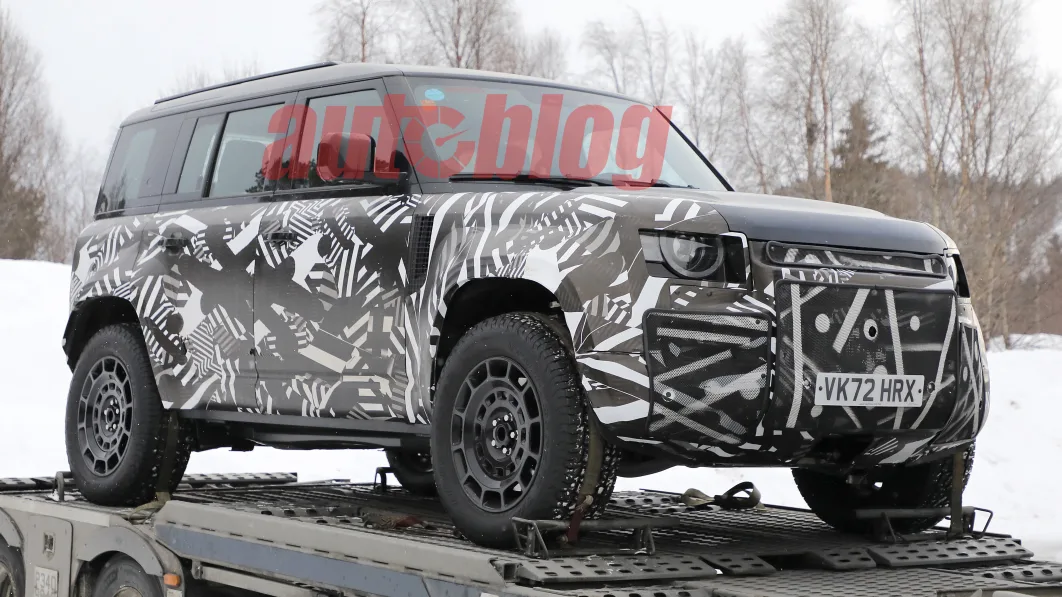 ---
more versions of the
land rover
defender keep hitting the block, but this one spied testing at the arctic circle may be the coolest of the bunch. we don't have an official name from
land rover
yet — rumors have suggested svx — but from these photos, the idea looks similar to a bronco raptor or wrangler 392. the formula on display here should lead to big grins off-road. this camouflaged defender is clearly rocking a v8 engine with its quad exhaust pipes out back, but it's the massive fender flares, lifted ride height and chunky tires that have our attention. unlike the more staid-looking defender 110, this defender looks designed for gnarlier off-road duty. a wider track and upgraded off-road suspension push those wheels out and fill the big fender flares — it's not quite bronco raptor levels of obnoxiousness, but this defender is way wider than typical. the tires filling those slots are impressively beefy bf goodrich all-terrain tires.
land rover
didn't go so far as to fit uniquely small wheels to this more extreme model — they're still 20-inch wheels — but the rubber protecting those off-road style wheels looks much more suited to the trail than any stock option today. when
land rover
launches this mega-defender, expect it to be the most expensive of the bunch due to it being powered by a v8. a 2023
land rover
defender v8 will run you $112,775 today, and that's before options. in that case, maybe think of this defender as more of a
mercedes
-benz g 550 alternative than bronco raptor rival. we'll be eagerly awaiting its reveal.
source:autoblog.com