— Buying and owning a car for the first time is an exciting rite of passage for young drivers, but the first years of owning a car can be full of lessons learned the hard way. To help first-time car owners avoid the classic mistakes, we asked our editors to think back to their first cars and share their hard-earned wisdom.
Some of our editors have fond memories of their first cars, and some are still driving them. Regardless of how long it's been, we all remember well the lessons our cars have taught us, be they pragmatic or sentimental. Below are a few tips gathered from the newsroom to help you take care of your first car:
Keep It Clean
"A thing to do? Clean. Be it windows, the interior or between the wheel spokes, an important but relatively easy aspect of maintenance ingrained early on in my time as a driver was to keep my car tidy - and not just because, aesthetically speaking, it's harder to make a black paint job look nice than any other color. There are practical reasons, too: Brake dust can eat away at a clear coat and eventually corrode the metal of your wheels. Road salt (and, I'm guessing, cheese curds — though I can't speak from experience there) can also eat away at your wheel wells and cause long-term damage. Unwashed windows diminish visibility. All of this stuff is easy to manage but can be a major distraction or impediment to better driving if left unchecked, which is the last thing any first-timer needs.
"A thing not to do? Get the first Matchbox 20 album stuck in the CD player for three months. The longer you leave it in there, the more awkward it gets — for everyone. When I say clean, I mean clean everything." — Patrick Masterson, copy editor
Know Your Fluids
"My tip: Know what fluids need to be paid attention to and fill them when they need filling! More times than I'd like to admit, I found myself out of washer fluid in the winter in Minnesota. I'd have to hop out of my 1995 Honda Civic to throw snow on the window for moisture to get the salt and grime off my windshield. Spoiler alert: There's salt in the snow on the roads, so I never did myself any favors." — Melissa Klauda, multimedia editor
If you find yourself using water (or snow) instead of wiper fluid to clean your windshield, you may chalk it up to concern for the environment since most wiper fluids contain toxic ethanol or methanol. Water or homemade solutions, though, may freeze during winter — especially a Minnesota winter. Standard wiper fluids won't freeze until 20 degrees below zero or colder, and they will more effectively remove the windshield grime that can impair your vision and create a safety hazard.
Go to the Dealership Prepared
"Negotiate as much as possible by email. It keeps you out of a high-pressure situation at the dealership, and you have a paper trail to back up any quoted figures. Even if you plan to finance the purchase, get to the brass tacks of an out-the-door price — including local sales tax and license, title and doc fees — as early in the process as possible, and negotiate on that number alone.
"Also, research any local advertised incentives beforehand and start from there. If the automaker is giving you $2,000 off, don't take the discount and call it a day. Treat the lower price as a new starting point for negotiations, not a reason to avoid them." — Kelsey Mays, consumer affairs editor
For more tips on getting the best deal at the dealership, check out our first-time car buying coverage here.
If You Love Something, Let It Go (But Then Try to Get It Back)
"My beloved first car was a 1990 Toyota Pickup SR5 named Mabel. It had a five-speed transmission, K&N intake, 31-inch BFGoodrich A/T tires, 3.0-liter V-6 Used Engine , four-wheel drive and a removable moonroof. I added some serious air horns, a Polk Audio sound system and a backup alarm off a dump truck (don't judge me). I loved this truck but had to sell it to help pay the bills in college. I loved this truck so much that in the spring of 2013, I used the vehicle identification number to try to track it down so that I could buy it back. My trail went cold in Walkerton, Ind." — Eric Rossi, managing editor of multimedia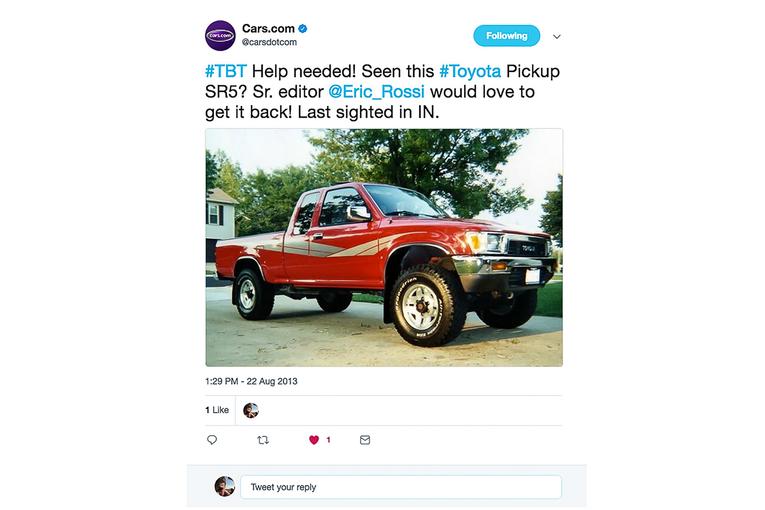 The lesson here is that no matter how much you love your first car, you won't be able to keep it forever. With the proper care and maintenance, however, it might just be college that ends your first car love story — in proper '90s rom-com fashion — instead of expensive repairs or a breakdown.