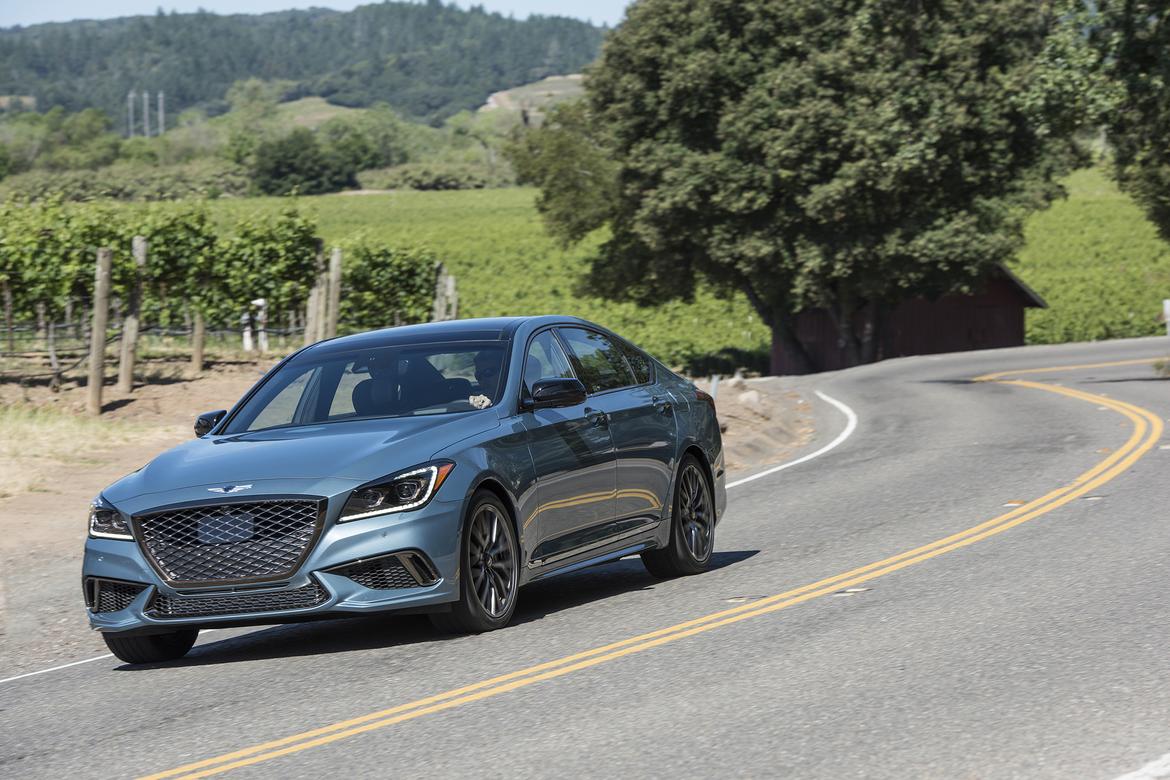 genesis, hyundai's nascent luxury brand, topped j.d. power and associates' latest initial quality study — and hyundai itself, plus affiliated brand kia, filled out the podium. at the other end, two affiliated brands came up at the bottom: jaguar and sister brand land rover ranked nos. 30 and 31, respectively, on j.d. power's 31-brand ranking.
2018 genesis g80 specs & reviews find a 2018 genesis g80 near you
still, 21 of those 31 brands saw quality improvements from 2017 to 2018, j.d. power notes.
the study measures problems experienced in the first 90 days of new-car ownership, based this year on a 233-question survey from nearly 76,000 owners of 2018 model-year cars. overall problems, expressed as "problems per 100 vehicles" or pp100, averaged 93 pp100 for 2017 — down from 97 in the 2017 iqs.
iqs measures problems both in terms of things that break and aspects owners simply dislike. the porsche 911, a frequent iqs awardee, ranked as the most problem-free car for 2018 with just 48 pp100. that's the best score for any individual model in the current iteration of iqs, the firm said.
jaguar and land rover, sister brands under india's tata motors, had opposite results: 148 pp100 for jaguar and 160 pp100 for land rover. both trailed third-lowest-ranked volvo (122 pp100) considerably.
here's how each brand ranked:
2018 j.d. power initial quality study
1. genesis: 68 problems per 100 vehicles
2. kia: 72
3. hyundai: 74
4. porsche: 79
5. ford: 81
6. chevrolet: 82
7. lincoln: 83
8. lexus: 84
9. ram: 84
10. nissan: 85
11. bmw: 87
12. cadillac: 90
13. mini: 90
14. infiniti: 92
15. mercedes-benz: 92
industry average: 93
16. buick: 95
17. jeep: 96
18. toyota: 96
19. dodge: 98
20. acura: 99
21. gmc: 99
22. mazda: 100
23. honda: 102
24. volkswagen: 103
25. audi: 105
26. chrysler: 111
27. mitsubishi: 111
28. subaru: 115
29. volvo: 122
30. jaguar: 148
31. land rover: 160
"some vehicle owners are still finding problems," dave sargent, vice president of global automotive at the firm, said in a statement. "as vehicles become more complex and automated, it is critical that consumers have complete confidence in automakers' ability to deliver fault-free vehicles."
a frequent source of problems for iqs — multimedia systems — saw improvement for the third consecutive year as consumers reported fewer problems with voice-recognition systems, according to the firm. problems with driver-assistance technology, however, are on the rise. j.d. power notes that although that category still only represents a sliver of overall problems, it's increased about 20 percent a year over the past three years. as self-driving features proliferate among today's cars, it's something to keep an eye on.
"avoiding problems with safety and driver assistance technology is critical," sargent said. "in an era of increasingly automated vehicles, vehicle owners have to be comfortable using foundational technologies like lane keep assistance and collision avoidance. otherwise, automakers will not easily overcome consumer resistance to fully automated (driverless) cars."
here are the segment winners for initial quality, all for the 2018 model year:
kia rio
small premium car: acura ilx
compact car: toyota corolla
compact premium car: bmw 4 series
mid-size car: nissan altima
mid-size sporty car: ford mustang
minivan: dodge grand caravan
mid-size premium car: lincoln continental
large car: nissan maxima
large premium car: genesis g90
small suv: hyundai tucson
compact suv: buick envision
compact premium suv: lincoln mkc
mid-size suv: kia sorento
mid-size premium suv: bmw x6
mid-size pickup: nissan frontier
large suv: ford expedition
large light-duty pickup truck: chevrolet silverado 1500
's editorial department is your source for automotive news and reviews. in line with 's long-standing ethics policy, editors and reviewers don't accept gifts or free trips from automakers. the editorial department is independent of 's advertising, sales and sponsored content departments.