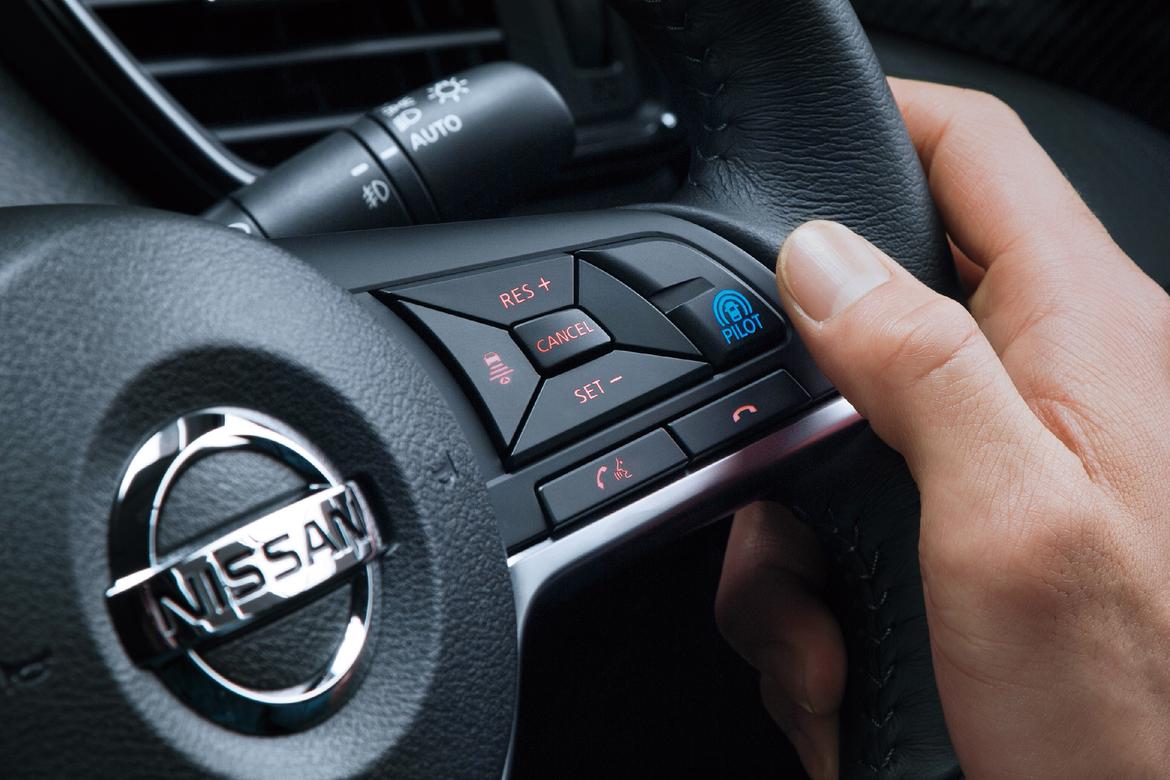 nissan's excellent propilot assist semi-autonomous driving system is going to see an expansion this year, as two more models join the 2018 nissan leaf and 2018 nissan rogue in offering the safety technology. the redesigned used engine -safety-tech-upgrades-1420699535240/">2019 nissan altima and rogue sport, the model year for which was still unspecified, will both add the system as an available feature by the end of the 2018 calendar year.
propilot assist functions as an enhanced version of safety technologies available in many different models, combining adaptive cruise control and lane keep assist for single-lane operation on highways. the system can also take the car down to a stop and then resume, so it's good in stop-and-go traffic as well. when reviewer fred meier tested the system earlier this year, he found it impressive and worth ponying up the extra cash for in the 2018 nissan rogue.
the expanded availability is part of nissan's plan to bring the technology to 20 models in 20 markets by the year 2022. that got us thinking: which nissan models need to add this technology next? i came up with three vehicles, for a variety of reasons, and here they are:
1. maxima
the maxima is nissan's flagship, the biggest and most expensive sedan in its lineup. it should have the commensurate technology to match its status, and having propilot assist would help the maxima to feel luxurious as well as sporty.
2. pathfinder
kids are great, but they can be pretty distracting (or so i hear). family-oriented vehicles such as the pathfinder suv are ripe for the addition of safety technology to keep all the occupants safe and as an additional protection measure for distracted drivers (and everyone around them). propilot assist won't solve all of those problems, but as an additional safety blanket for a family vehicle it makes a lot of sense.
3. titan
this is more of an off-the-wall suggestion, but it would give the titan some cachet among the half-ton pickup trucks. competitors like the 2018 ford f-150 already offer adaptive cruise control and lane keep assist as options, while toyota has added those same features as standard on the 2018 tundra. the 2019 ram 1500 added the same optional features in its redesign (no word from chevrolet on safety tech in the redesigned 2019 silverado 1500 yet), so it's time for the titan to not only play catch-up but to leapfrog the competitors. if propilot assist makes it to the titan, it gives the truck some added distinction that could go a long way in such a hotly competitive market.
the 2019 altima heads to dealerships in the fall, and we'll be sure to update you on the rogue sport when more information becomes available.
's editorial department is your source for automotive news and reviews. in line with 's long-standing ethics policy, editors and reviewers don't accept gifts or free trips from automakers. the editorial department is independent of 's advertising, sales and sponsored content departments.