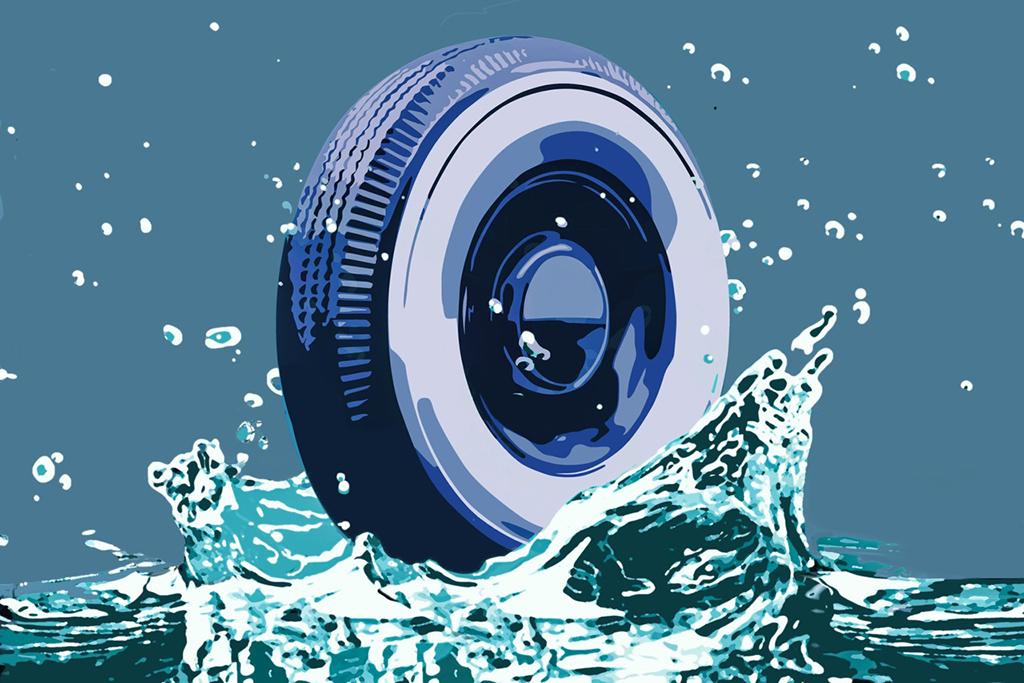 if you're due for new tires and are guilty of putting it off, those worn wheels could cause you major trouble on wet roads. according to a just-released report from aaa, driving with relatively worn tires in wet road conditions can increase average stopping distances by 43 percent — a whopping 87 feet, the length of a semitrailer.
"aaa's testing demonstrates the impact that tire tread has on safety," said megan mckernan, manager of the automobile club of southern california's automotive research center, in a statement. "if tested side by side at 60 mph, vehicles with worn tires would still be traveling at an alarming 40 mph when reaching the same distance it takes for vehicles with new tires to make a complete stop."
the study also found that car tires worn to a tread depth of 4/32nd of an inch also experience a 33 percent reduction in handling ability. in wet conditions, tires with a lower tread are also more likely to hydroplane, which is when tires lose contact with the road and skid.
john nielsen, aaa's managing director of automotive used engine ering and repair, said in a statement that even the most advanced safety systems rely on a tire's ability to maintain traction.
"with newer cars going longer intervals between routine maintenance at automotive service facilities, drivers may not become alerted to the fact their tires are too worn until it's too late," nielsen said.
according to aaa, current industry guidelines and state laws and regulations frequently recommend that drivers wait until tread depth reaches 2/32nd of an inch to replace tires, but that this puts a driver's safety in jeopardy. instead, aaa recommends beginning to shop for tires when the tread depth reaches 4/32nd of an inch.
however, you don't need to take a trip to the mechanic to figure out if your tires are worn. the simplest way to check? grab a penny and place it upside down in your tire's tread. if you can see the top of abraham lincoln's head, it's time to change your tires. aaa recommends inspecting them once a month.
aaa's research found that, while tire performance can vary by brand, price is not necessarily an indicator of quality and should not be relied upon for purchasing decisions. all tires tested, including those at a higher price, showed deteriorated performance with worn tires. before buying a new set of tires, you should read consumer reviews and understand how tire ratings work to find the best tires for your vehicle.
in addition to keeping track of your tires' tread, aaa recommends keeping your tires properly inflated and rotating them on a regular basis. and if you know your tires are worn and haven't made it to the shop to have them replaced, here's how to help prevent disaster:
slow down and avoid hard braking and sharp turns.
increase following distance from other cars in case of sudden stops.
avoid the use of cruise control to ensure a quick response in case of traction loss.
's editorial department is your source for automotive news and reviews. in line with 's long-standing ethics policy, editors and reviewers don't accept gifts or free trips from automakers. the editorial department is independent of 's advertising, sales and sponsored content departments.