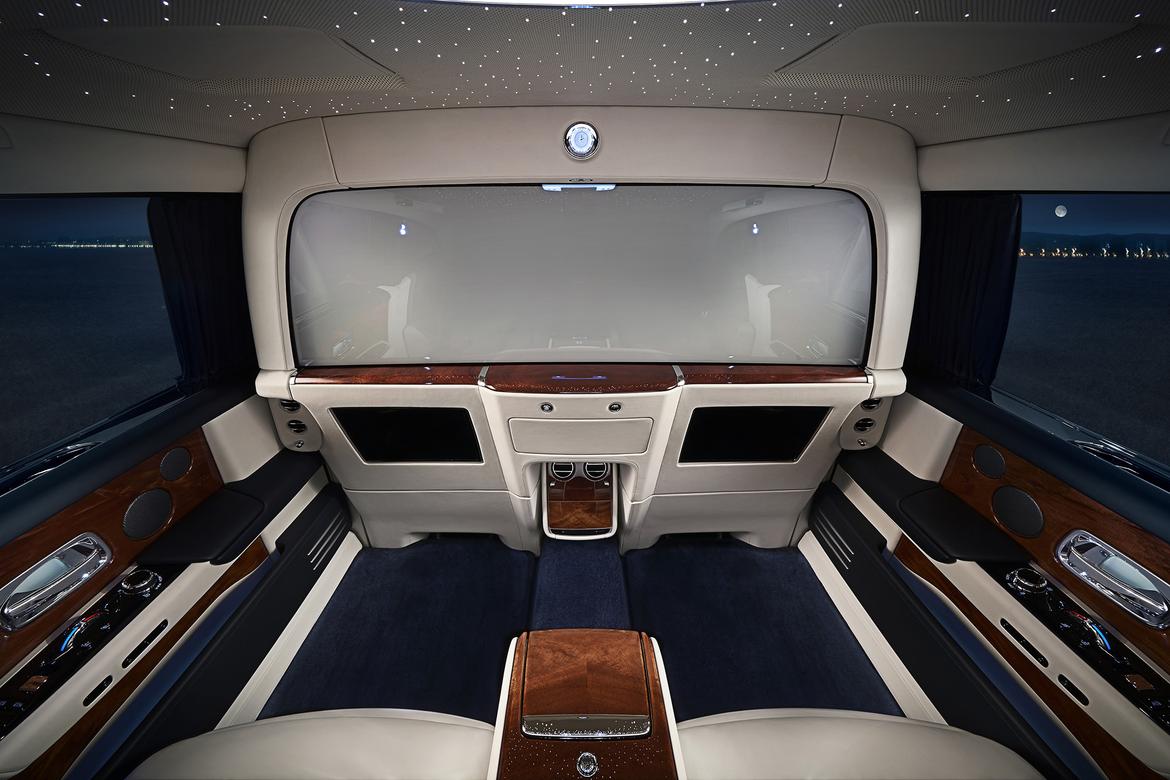 The latest special feature from Rolls-Royce, introduced at the 2018 Chengdu Motor Show, is an incredible leap forward in technology designed to eliminate the presence of anyone below your status as a member of the ultra-rich. Available on the extended-wheelbase version of the Phantom sedan, the "Privacy Suite" is, essentially, a covered and soundproof palanquin that will allow you to remain completely isolated from the horrors of The Unwealthies and their mundane lives, presented in the most gloriously oblivious language, which I will be quoting liberally.


2018 Rolls-Royce Phantom Specs & Reviews Find a 2018 Rolls-Royce Phantom Near You
Here are the highlights (lowlights?).
1. You Don't Have to Look at Your Driver ...
The extended-wheelbase Phantom is intended to be a chauffeur-driven car. Thanks to an electrochromatic glass partition, at the push of a button, the rear passenger can make the partition opaque and isolate themselves from the driver, "providing a highly sophisticated and absolute level of privacy."
2. ... or the People Outside
This isn't a huge technological leap, but rear window curtains can be drawn to block out the outside world, as well. (I mean, what if you're, like, planning the first Purge or something?). Rear privacy glass sits on the other side of the curtains, so even if you want to look outside, people can't see in easily.
3. In the Privacy Suite, No One Can Hear You Scheme
Rolls-Royce already did an amazing job of creating quiet interiors, but a new "frequency-specific compound" actually works to prevent sound from traveling from the rear cabin to the front. After all, your driver can't testify to what he or she can't hear.
4. There's an Intercom if You Simply Must Speak to the Driver
You don't need my commentary for this one: "[... A] fully integrated intercom system allows communication on demand. Controlled by the rear passenger, the intercom system can be used to open a direct line to the driver at the press of a button whilst the driver is able to 'call' the rear occupants, who can choose to answer or reject the communication." (That "whilst" is delicious.)
5. A 'Bespoke' Rear Entertainment System Is Part of This, Too
The "bespoke" here seems to be implying that this system could be designed to function with highly complex and secure personal devices used by government officials or the wealthy people whose company they keep. The cabin also has a Starlight Headliner and a "Bespoke Clock." Why? Why not, really? You said you wanted "a peerless ambience," didn't'cha?
6. There's a Pass-Through From Front to Rear for ... Documents? Huh?
This is where I went off the rails. The partition separating the front and rear cabins has an illuminated pass-through for "documents or other objects" to be transferred from front to rear. Honest question for those reviewing documents handed to them by their driver: Is this a thing that happens? (I've never been ultra-rich or important, and if I stick to automotive journalism, I almost surely never will.) Anyway, illumination allows the rear occupant to "ensure passengers are satisfied with the nature of the documents or objects before they receive them."

Those are Rolls-Royce's exact words and I have no idea where this would be useful. If you're conducting your important and/or shady deals in the soundproof, isolated rear cabin of your Rolls-Royce, aren't you and your negotiation partner sitting together? Is the illumination so you can make sure that — so help you — your driver ordered the correct meal for you at the drive-thru? Does the driver ask for the Grey Poupon now?

That the Privacy Suite is being revealed right before the U.S. holiday celebrating workers is just kiss-your-fingers perfect. Members of the public are invited to look at the thing they can never buy from Aug. 31 to Sept. 9 at the Rolls-Royce booth, H918, in Hall 9 at the Chengdu Motor Show.

's Editorial department is your source for automotive news and reviews. In line with 's long-standing ethics policy, editors and reviewers don't accept gifts or free trips from automakers. The Editorial department is independent of 's advertising, sales and sponsored content departments.