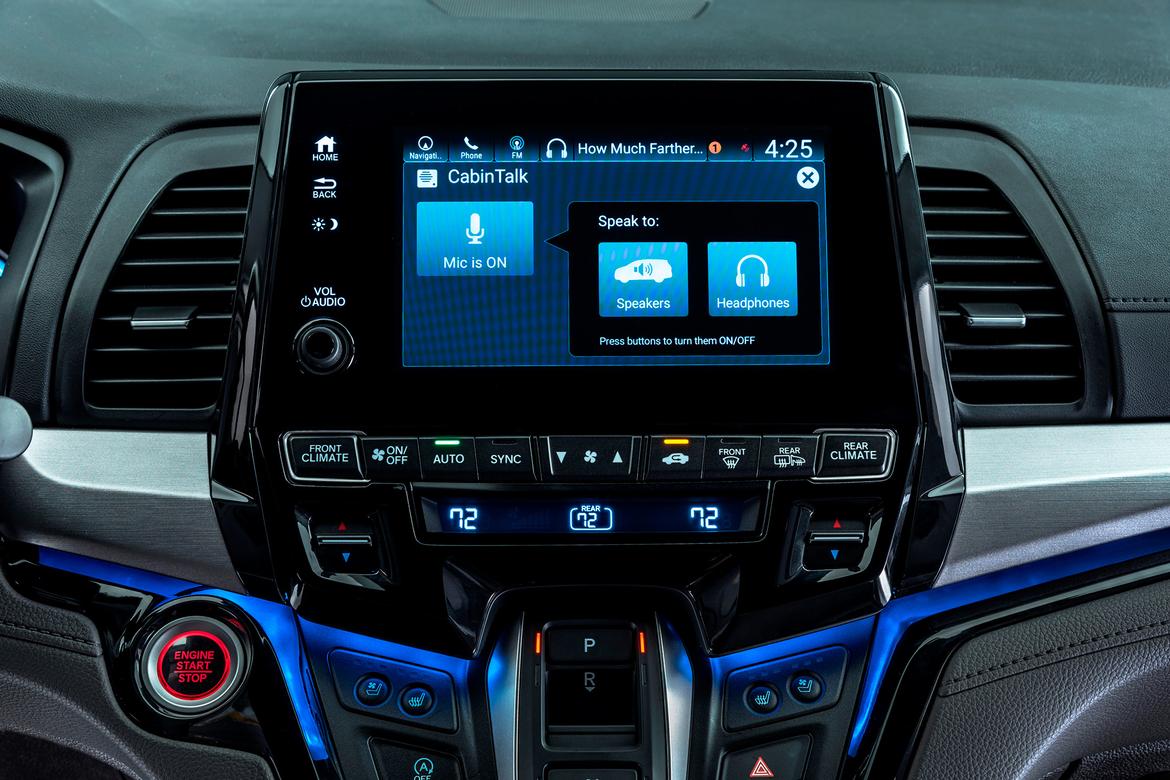 In 2014, Toyota introduced Driver Easy Speak. Available in the Highlander and Sienna models, this feature uses the car's built-in speakers to amplify the driver's voice through the rear speakers. It's turned off and on via the infotainment touchscreen, and it offers four volume levels.
Related: 2017 Chrysler Pacifica Vs. 2018 Honda Odyssey: Minivan Matchup
Get 2018 Honda Odyssey Details Find a 2018 Honda Odyssey Near You
As often happens with current affairs and major events, my favorite coverage of this feature's unveiling came courtesy of satirical news site The Onion and its deadpan headline, "New Toyota Driver Easy Speak Feature Helps Parents Yell at Children in Back of Car."
There's almost always a kernel of truth in humor, isn't there? At the time, I had visions of my voice raining down on my unruly spawn, with an unprecedentedly booming volume and vocal omnipresence that would immediately cast everyone into submission.
The reality was decidedly less dramatic.
Speak Easy With Easy Speak
Driver Easy Speak — in 2014 and now — operates much like one of those oversized plastic microphone-looking toys that toddlers like to use because the echo and amplification effect makes them sound bigger. That is to say, it definitely amplifies the driver's voice, but it's not a booming-into-submission kind of sound.
It's cool, a little louder than normal and helpful in that it comes through the speakers. However, it's not life-changing — and chances are, your children may still ignore you.
CabinTalk Tested
For 2018, Honda has gotten in on the voice amplification game and offers its version of this feature, CabinTalk, on higher-level-trim Odysseys. I tested Driver Easy Speak and CabinTalk in a back-to-back trial to see if one spoke to me more than the other.
I tested each under similar circumstances: with my three elementary-school-aged children in the car, both on the road home from school in the afternoon and on a stretch of nearby highway in early evening. I tested while the kids were watching a movie on the rear entertainment systems as well as when they weren't.
Commanding Attention
CabinTalk operates almost identically to Driver Easy Speak, but the main difference is that CabinTalk gives you the option of playing your voice right into the rear entertainment headphones. This is a game changer.
Over the speakers, it's just like Driver Easy Speak — an amplified voice that sounds kind of cool but that everyone may still ignore. In the headphones, it pauses the kids' audio if they're playing a game or watching a movie back there and speaks directly into their impish little ears. Those ears perk up as a result.
You're getting in their heads, and that changes things. They're forced to pay attention to what you're saying.
Price Comparison
CabinTalk is available starting on the 2018 Odyssey EX-L with Navigation and the rear entertainment system, which starts at $40,335 with destination. I tested it on the Elite trim, the highest level, priced at $47,645.
Toyota's Driver Easy Speak is available on the Sienna SE trim (which starts at $40,720 with the SE Preferred Package) and higher. I tested it on the 2017 Toyota Sienna Limited Premium trim, which came in around $50,000.
Of course, if it's merely attention that you want, either Driver Easy Speak or CabinTalk can help. For example, if you just want to be the loudest one in the car when everyone is singing along to a favorite song (as one of The Onion's "American Voices" respondents indicated is his preferred use of the feature), either vehicle's voice-amplification system will indeed make you heard — and everyone in the car will take notice.
's Editorial department is your source for automotive news and reviews. In line with 's long-standing ethics policy, editors and reviewers don't accept gifts or free trips from automakers. The Editorial department is independent of 's advertising, sales and sponsored content departments.