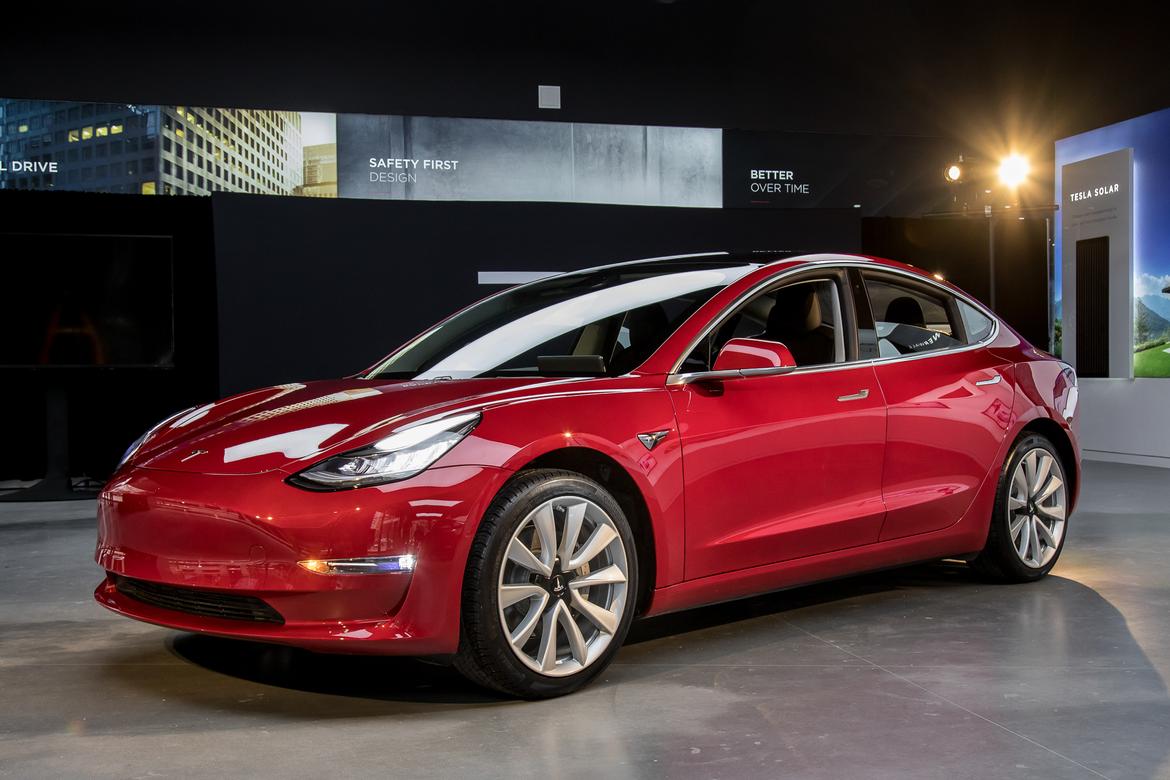 elon musk's twitter feed is one of the most reliable places to find tesla news, and it delivered a string of doozies late last week. musk's tweets revealed some vital stats on the forthcoming all-wheel-drive versions of the tesla model 3 and several other newsworthy bits to boot.
get 2017 tesla model 3 details find a 2017 tesla model 3 near you
you read that right: versions — plural. there will be two awd versions of the model 3, one "normal" version and the other a performance-focused version. musk didn't include powertrain specifics or output from the dual electric motors that both versions will feature, but he did state some important specifications and details for both.
multiple motors
the dual-motor model 3 sedans will have one motor up front and another in the rear, according to musk. the front one will be an ac-induction front motor while the rear is a switched-reluctance, partial permanent magnet rear motor with silicon-carbide inverters. translation: one motor is optimized for performance and the other for range.
musk also stated that the "car drives fine even if a motor breaks down," implying that the other motor can take over in these situations and allow the vehicle to continue on its journey.
performance, price
musk claims normal versions will go from zero-to-60 mph in 4.5 seconds and have a top speed of 140 mph. it will cost $5,000 to add the awd option, and musk projects range to be 310 miles. for some perspective, the fastest rwd versions of the model 3 can spring to 60 mph in 5.1 seconds, and those with the largest battery also have 310 miles of range.
the performance version ups the ante; it will be more powerful, but we don't know by how much yet. it still has 310 miles of range, but zero-to-60 mph passes by in just 3.5 seconds and top speed has been increased to 155 mph.
musk also specified that the performance versions will include a carbon-fiber spoiler, 20-inch performance wheels and a black-and-white interior. how much will one of these babies cost? $78,000, with all options included except autopilot.
hurry up and wait
though the zero-to-60-mph time has improved, the factory-to-your-driveway time will still be long — between four months and a year, depending on which version of the model 3 you order, according to tesla's website. those who have pre-ordered awd versions of the model 3 will receive their vehicles starting in july, musk also tweeted.
on-the-spot service
for current tesla owners, there was another titillating tidbit: you will soon be able to request service from your phone, and tesla will come to you to take care of the car. so, no need to bring it in to a service center yourself and (the trees are cheering) no paperwork.
i take much of what musk says with a grain of salt. within his tweets from that night, he also claimed that the awd model 3 had the "second-best driving feel of any car in the world [in my opinion], apart from model s." i don't think that i quite buy that, but another comparison he made later on caught my eye a bit more ...
model 3 versus m3
musk specifically called out a "competitor" to the performance version of the model 3: the bmw m3. musk said the model 3 is "15 percent quicker [than the m3] and with better handling. will beat anything in its class on the track."
he has a point about the quicker part, but the m3's dynamics and refinement put it at the top of the performance sedan heap. but hey, if you're going to go after something, why not take on the best? it's an aspirational mantle to claim, but definitely one that we look forward to testing out ourselves in time.
's editorial department is your source for automotive news and reviews. in line with 's long-standing ethics policy, editors and reviewers don't accept gifts or free trips from automakers. the editorial department is independent of 's advertising, sales and sponsored content departments.