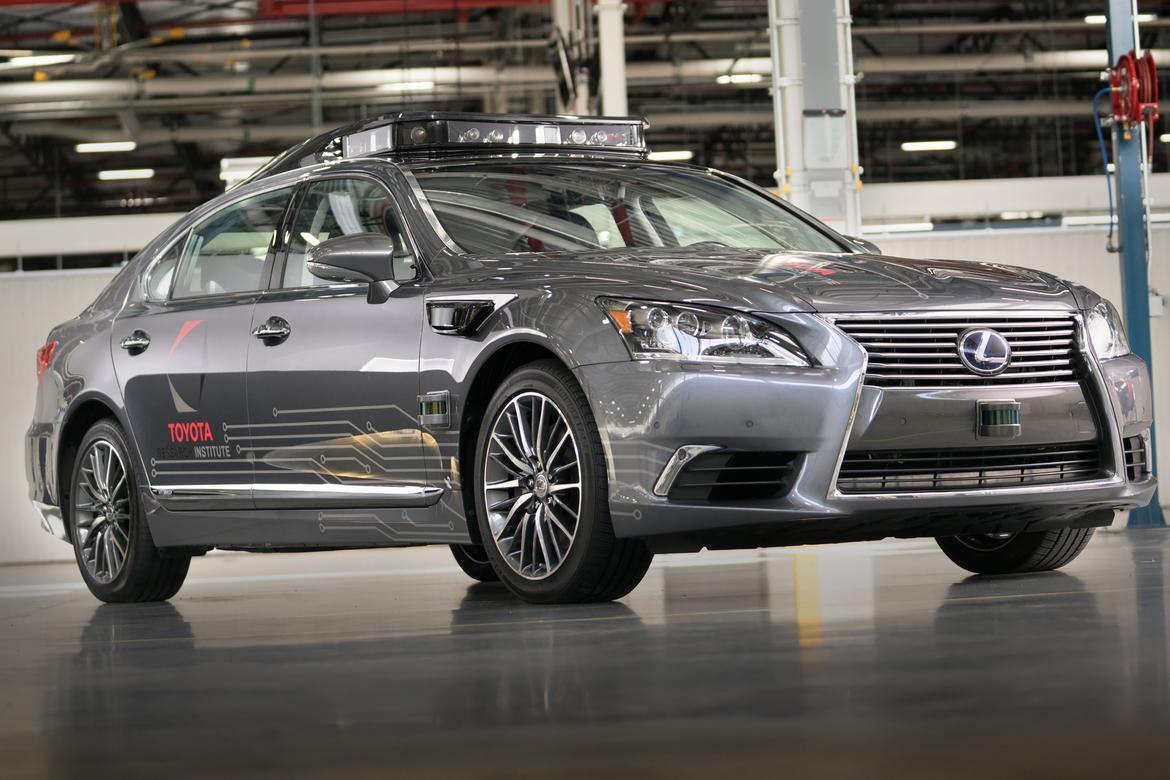 Toyota Research Institute will display its next-generation autonomous vehicle, dubbed Platform 3.0, beginning Tuesday at the 2018 Consumer Electronics Show in Las Vegas. The latest autonomous prototype, based on the Lexus LS 600hL version of the big sedan, features an upgraded sensor array and capabilities, but it also was designed with the help of Toyota's CALTY Design Research studio to look more like a car and less like a science project.
Related: 2019 Audi A8 Has High Self-Driving Capability — Are We Ready?
The company said the goals for the new prototype were to improve sensing capabilities, better integrate all the gear into the vehicle design and package the technology in a way that would make it easier to build a fleet of test vehicles.
The centerpiece of the sensing is a new roof-mounted lidar system from Luminar that can "see" 200 meters in all directions around the vehicle, creating a more accurate picture of the environment, including in the dark. The previous version only looked forward that distance.
And there is no big, bolt-on lidar dome on the roof. The system uses four high-resolution lidar scanning heads, packaged along with cameras, under a new temperature- and weatherproof roof panel that blends into the rear styling and is embellished with chrome trim. The design also makes use of space that normally would be the sunroof compartment to further lower the profile.
Get 2016 Lexus LS 600h L Details Find a 2016 Lexus LS 600h L Near You
Additional, shorter-range lidar sensors are positioned low and mounted on each side of the Lexus, along with one each on the front and rear bumpers. These detect smaller and lower-level objects near the car, such as road trash or kids.
Toyota also says the space needs for the autonomous system's computer gear have been shrunk to fit in a small box in the trunk. The previous hardware nearly filled a trunk.
The company plans low-volume production of the Platform 3.0-modified Lexus LS vehicles this spring at its research-and-development headquarters in Michigan. The cars will be built with the same sensor array but two different cockpit configurations. Some will have the dual-cockpit-control layout TRI unveiled last summer and will test its "Guardian" approach to automated driving, experimenting with ways to transfer control between a human driver and the automated system while maintaining a safety driver as a backup. The others, including the one shown at CES, will be single-cockpit vehicles that will test TRI's "Chauffeur" design for full vehicle automation.
Toyota Research Institute Platform 3.0 autonomous vehicle prototype; Manufacturer images
's Editorial department is your source for automotive news and reviews. In line with 's long-standing ethics policy, editors and reviewers don't accept gifts or free trips from automakers. The Editorial department is independent of 's advertising, sales and sponsored content departments.