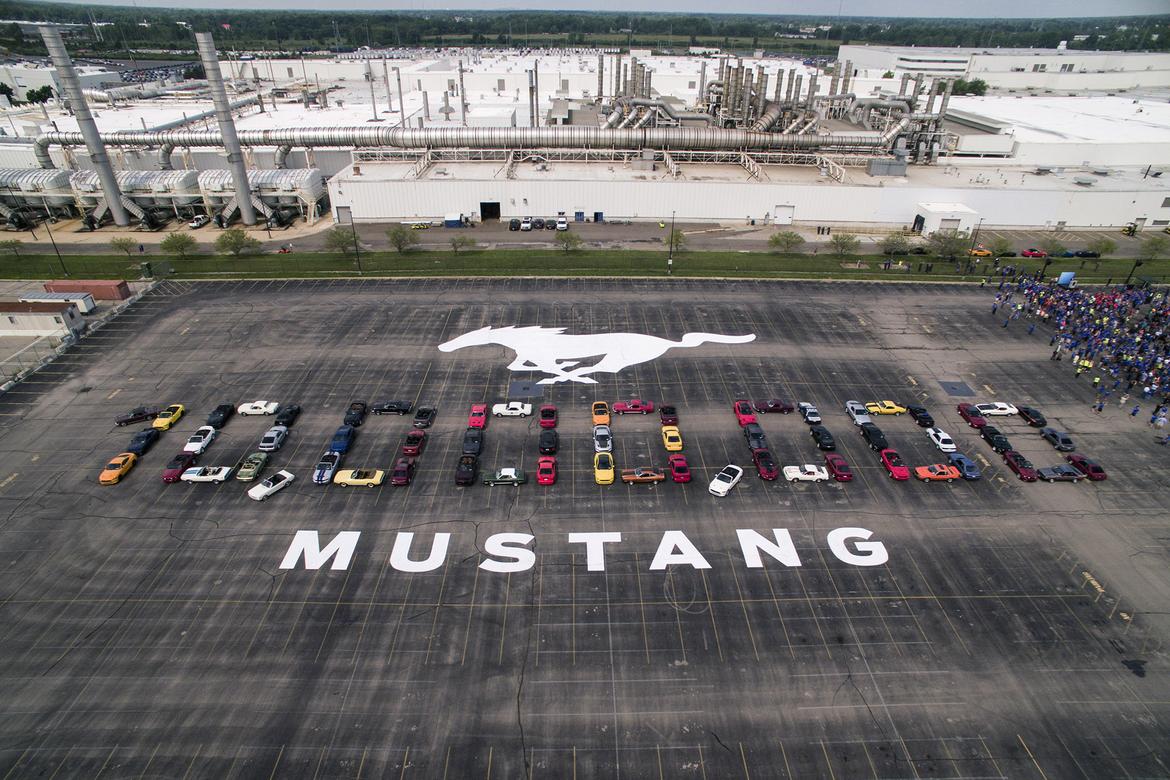 the 10 millionth mustang ford has built since the iconic pony car debuted in 1964 rolls off the assembly line today, a wimbledon white gt convertible with a six-speed manual transmission — identical to the first production mustang in color, trim and transmission type, although the '64 model only had three speeds instead of the modern six. the cars' v-8s differ, as well: the 2019 mustang gt's v-8 has 460 horsepower, while the model-year 1964.5 v-8 had 164 when new.


get new models find models near you
let's take a look back at key moments in the mustang's storied history:
1964: mustang debuts
1965: shelby gt350 and fastback body style arrive
1968: "bullitt" hits theaters, starring a mustang 390 gt and some guy named ... *checks notes* ... steve mcqueen?
1969: boss 302 and boss 429 versions are released. nice.
1970: ram-air "shaker" hoods are first offered
1974-79: absolutely nothing happened. nothing. (ok, the mustang ii debuted at the height of the gas crisis. this wasn't a good period for any american sports car.)
1979: "fox" body mustang debuts, is beloved by high school jocks for decades after
1982: mustang gt returns after 12-year absence
1984: mustang svo arrives, powered by a turbocharged 2.3-liter four-cylinder
1993: first appearance of the mustang svt cobra
1996: 4.6-liter v-8 replaces 5.0-liter v-8 in gt and svt cobra models
2000: mustang svt cobra r race version returns in a limited run of 300 models, wins over my 14-year old heart in "gran turismo 3"
2003: mustang mach 1 returns to the lineup
2004: production switches to flat rock, mich., plant after 40 years at dearborn assembly plant
2007: california special is an option package once again
2008: mustang bullitt edition reappears after seven-year absence
2011: "coyote" 5.0-liter v-8 enters production, making 412 hp
2012: boss 302 is back after 41 years with a 444-hp v-8
2015: sixth-generation mustang debuts with model-first independent rear suspension; shelby gt350 and gt350r models get a flat-plane crank 5.2-liter v-8 that sounds magnificent
2018: the third iteration of the coyote v-8 is built, putting out 460 hp, and the performance package level 2 option package is unleashed upon the world
2019: the latest version of a bullitt edition mustang arrives at dealerships
congratulations to ford on the mustang's 55-year production run. please don't ever put it out to pasture like you did to the rest of your cars.

's editorial department is your source for automotive news and reviews. in line with 's long-standing ethics policy, editors and reviewers don't accept gifts or free trips from automakers. the editorial department is independent of 's advertising, sales and sponsored content departments.