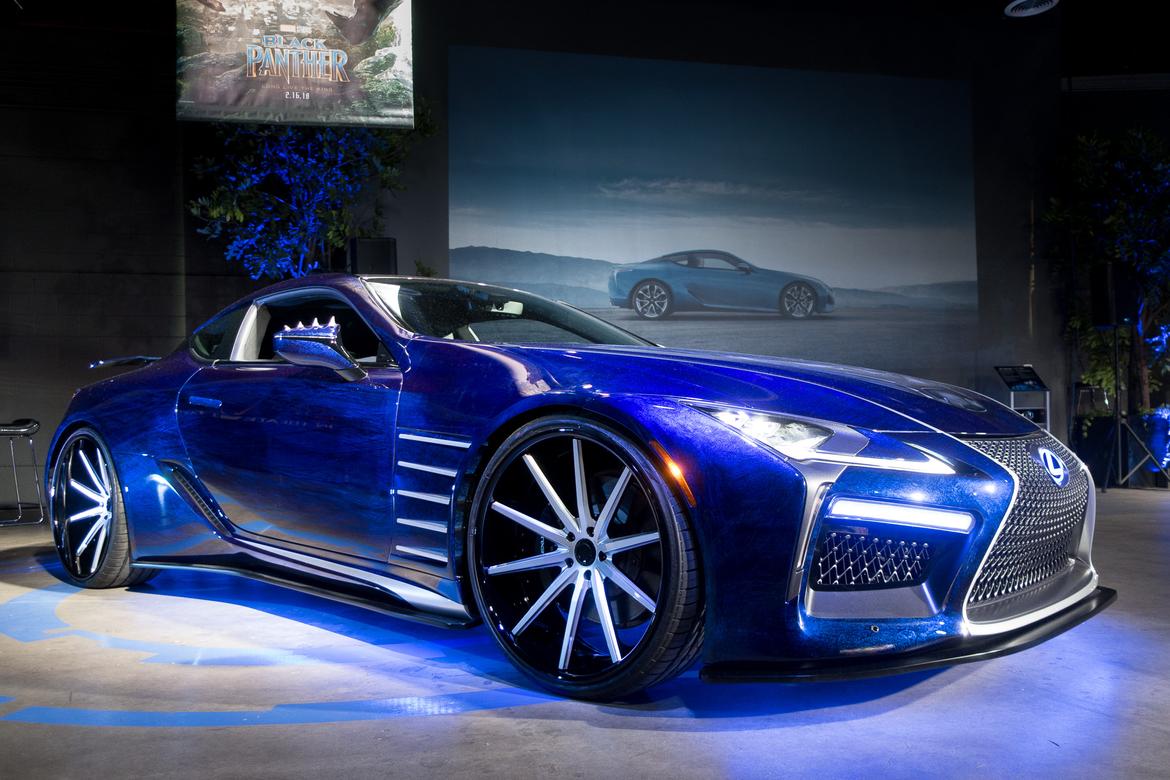 — Lexus has shown two new variants of its LC 500 grand touring coupe, one available for purchase and the other decidedly not — due to its use of vibranium, a metal that does not actually exist.
Related: 2018 Lexus LC 500 Review: Photo Gallery
The cars are inspired by the forthcoming "Black Panther" superhero movie from Marvel, and both wear rich blue paint schemes to evoke that comparison.
We'll start with the real car that you can actually buy: the 2018 Lexus LC 500 Inspiration Series. The most striking feature about this car is its paint, which has been dubbed Structural Blue. The paint itself contains no blue pigment; the highly reflective coat instead only reflects back blue wavelengths of light. This gives the paint a strange hue that changes in different lighting conditions and viewing angles.
Beyond the paint, there are also a few customized touches on the LC 500 Inspiration Series, including a carbon-fiber scuff plate with the model designation, multicolor interior with white leather seats, 21-inch alloy wheels and a sommelier set by chichi New York department store Barneys.
This car is the first in Lexus ' forthcoming Inspiration Series of special-edition vehicles. Lexus says it will produce Inspiration Series variants for its flagship models, but it wouldn't say which models that includes or when they'd be produced. Lexus will produce 100 LC 500 Inspiration Series models for the U.S. for sale in spring 2018 (pricing information has yet to be released).
Also on display was a more whimsical "Black Panther"-inspired LC, which will not be for sale. This one-off comes with some features that are mythical, much like the superhero who inspired the car: a vibranium core that offers self-sustaining fuel; a vibranium weave in the body panels to make them bulletproof; and a remote control interface.
The "Black Panther" LC also comes with a large Black Panther mask decal on the hood, blue underbody lighting, 24-inch wheels, a blue paint with subtle striping that makes it look like a panther's fur and a body-widening kit.
Both of these cars will be on display at the Specialty Equipment Market Association Show in Las Vegas Oct. 31-Nov. 3.