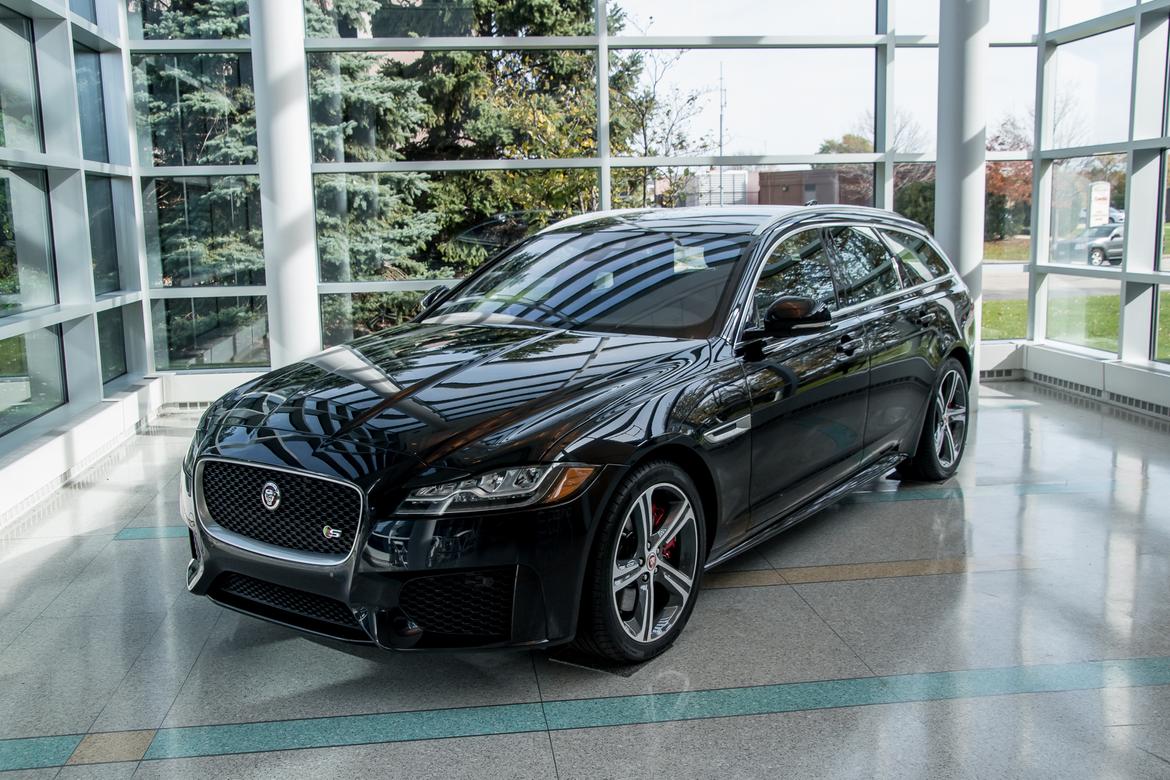 The one thing designers can do to make wagons look better — sportier — is keep the rear end from being too bulbous. Jaguar has done this as well as any with the new 2018 XF Sportbrake without sacrificing utility.
Related: Jaguar Unveils 2018 XF Sportbrake Wagon
Designers typically thread this needle by sculpting a roofline that tapers down near the back and leads to a raked rear window — anything to prevent a vertical backlight, to use the Brits' term. Unfortunately, this approach can only take away from cargo space, a major characteristic that allows a wagon to compete against SUVs (a war it is losing fantastically, especially on the U.S. front).
Jaguar appears to have erred on the side of cargo, as I'll explain in a moment, but the Sportbrake's beltline is high enough — and the sheet metal creased sharply enough above the taillights where sheet metal transitions to glass — that the rear end does indeed look reasonably sporty. To my eye, it's less bulbous than the previous generation, which was never sold in our market. A little less rear overhang would have helped, but the Sportbrake shares the XF sedan's wheelbase and overall length, so what can you do?
Paint color is a critical decision when it comes to a vehicle like this. I say go dark.
Cabin
Jaguar says the Sportbrake gives more backseat kneeroom than the XF sedan, but if there's a difference, I'd say it's fractions of an inch (full specifications aren't offered yet). There's a bit more headroom in the wagon, and the panoramic moonroof is terrific. Overall, the backseat works for a 6-foot-tall adult but not with a lot of room to spare.
The driver's rearward visibility isn't great because of the high beltline, but ultimately that characteristic does pay off ...
Cargo Space
The cargo area is impressively roomy. Even though the rear window is sloped, the body sides are tall, so you get a claimed 31.7 cubic feet of cargo space behind the 40/20/40-split folding backseat. Pull the handles on both sides and the spring-tensioned backrests fold to open an enormous 69.7 cubic feet.
Is that really enormous? Well, it's enormous enough to outdo Jaguar 's F-Pace SUV, which has a specified 33.5 cubic feet behind the backseat and only 63.5 cubic feet total. The "F" in each model's name means they're related, so it's a fair fight. The primary rear seating dimensions between the F-Pace and XF sedan are within fractions of an inch of each other, as well. Only the price is a wrinkle, as the Sportbrake will launch only as a loaded S trim level for more than $71,000. The F-Pace starts at slightly more than $43,000 and tops out at $64,195 before options.
Where the Sportbrake "wins" is with a maximum rooftop load spec of 220 pounds versus 160 pounds for the F-Pace (too much weight up high poses risks for an already taller vehicle). Given the Sportbrake's roof height — about neck high on me — its roof rack would be much easier to load, as well.
Versus SUVs
I've been on a crusade since the start of the SUV craze to illustrate that wagons are as good as SUVs — and potentially better, in many ways. The first time I did so was with a 2000 Subaru Legacy Outback (then truly a station wagon), which proved to have as much interior space as a bulky 2000 Oldsmobile Bravada (like a Chevrolet Blazer) while being a vastly superior vehicle. (I wish there were a link for you, but 's earliest pages exist only in memory.) The differences aren't as great now that most SUVs employ space-efficient unibody construction like cars, but the XF Sportbrake is my newest Exhibit A if called upon to prosecute this case. It offers plenty of utility, even if there's no "U" in "wagon."
If you're looking to sit up high or need more ground clearance, go ahead and buy an F-Pace. Otherwise, I see no reason to choose one over the Sportbrake with its standard all-wheel drive — except possibly its starting price.
2018
Jaguar
XF Sportbrake; photos by Joe Wiesenfelder