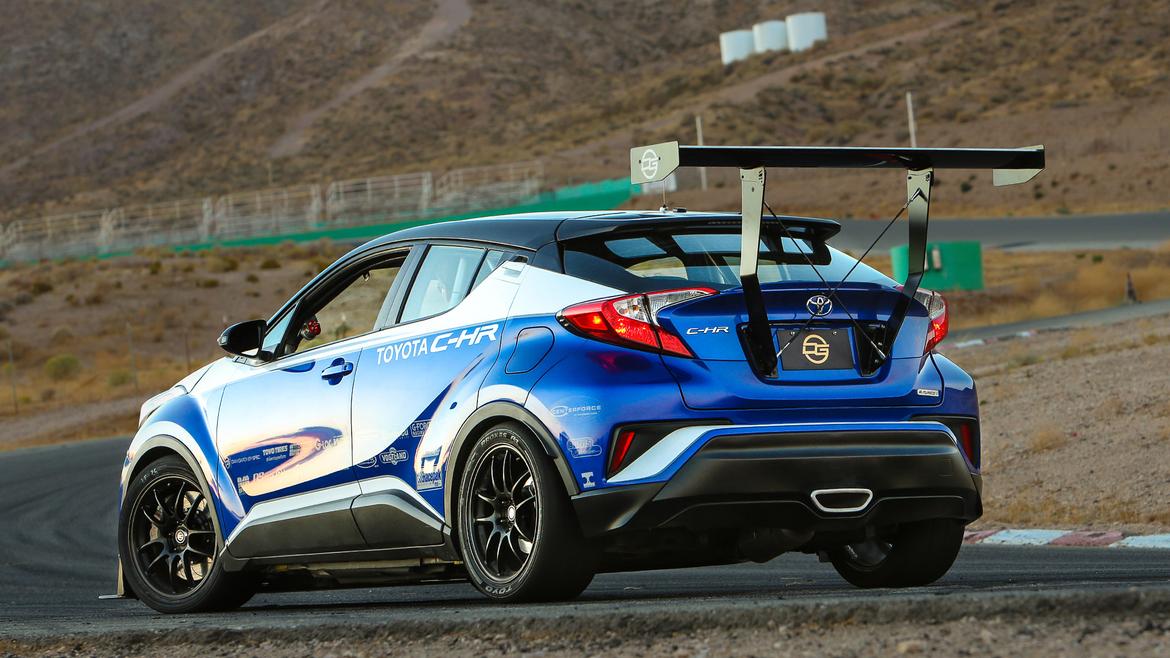 — Can more than 600 horsepower cure the Toyota C-HR? For the sheer spectacle of it, maybe. It's all in a day's work at the 2017 Specialty Equipment Market Association Show, its extravaganza of over-the-top automotive accessories that descends on Las Vegas each fall.
Related: Hyper-Efficient Hyundai HyperEconiq Ioniq to Appear at SEMA
Toyota rolled into Vegas this week with the hopped-up C-HR and a quintet of 2018 Camry sedans customized by NASCAR drivers. Here's the breakdown:
1. C-H(orsepowe)R
Toyota turned its not-quite-a-crossover into a track animal with a turbocharged 2.4-liter four-cylinder Used Engine , five-speed manual transmission and limited-slip differential, plus a hang glider of a rear wing. With "power output beyond 600 horsepower" — Toyota didn't give an exact figure — the front-drive hatchback scooted 'round the 2.5-mile Big Willow outer track at California's Willow Springs International Raceway in just 85.22 seconds, Toyota claims. That's pretty good, considering WSIA's records. Whether this cures the underwhelming C-HR is a moot point, as shoppers won't be able to buy it or any of the Camry sedans below; Toyota calls them only "fun SEMA concept builds."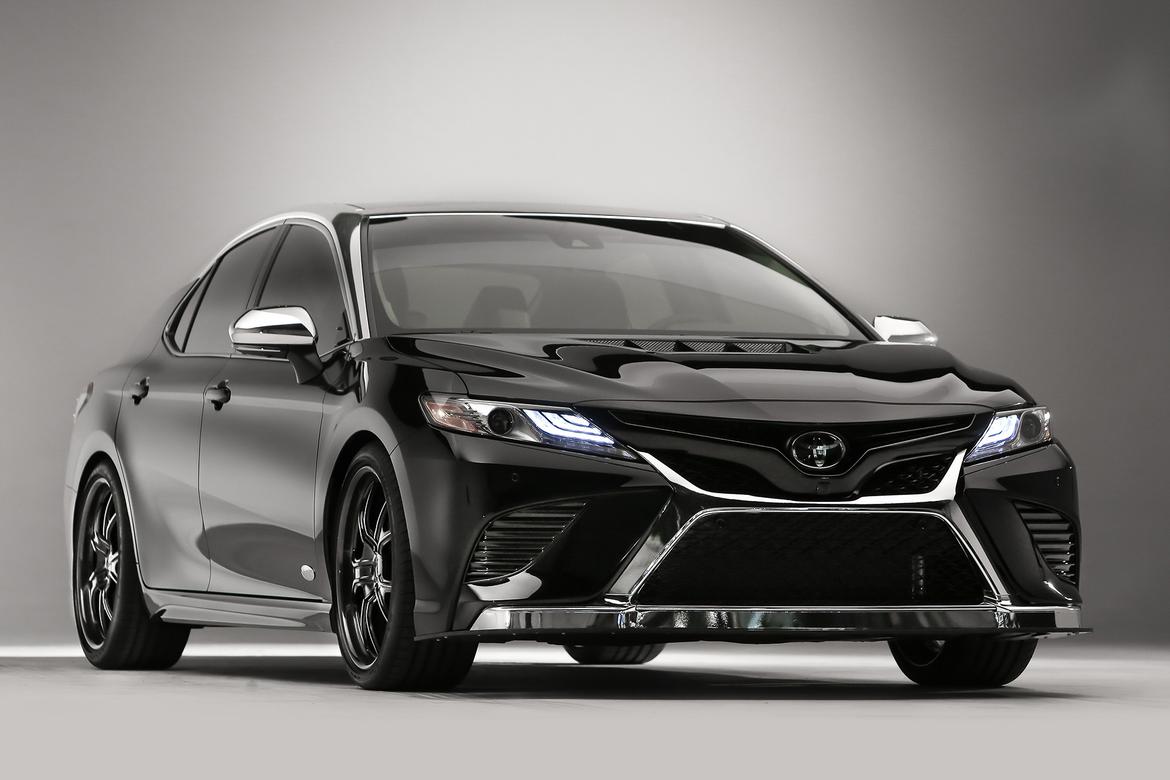 2. Make It Rowdy
A NASCAR Toyota Camry shares little more than front-end styling with the real car, so it's nice to see Kyle Busch tinker with the latter. The 2015 NASCAR Cup Series champion put his stamp on a custom Camry for SEMA, dubbed "Rowdy Edition II" after his nickname. The Busch-mobile keeps its original black paint but adds metallic A-pillars and bumper trim, a metallic roof, custom rear wing and plenty of "Rowdy Edition II" badges.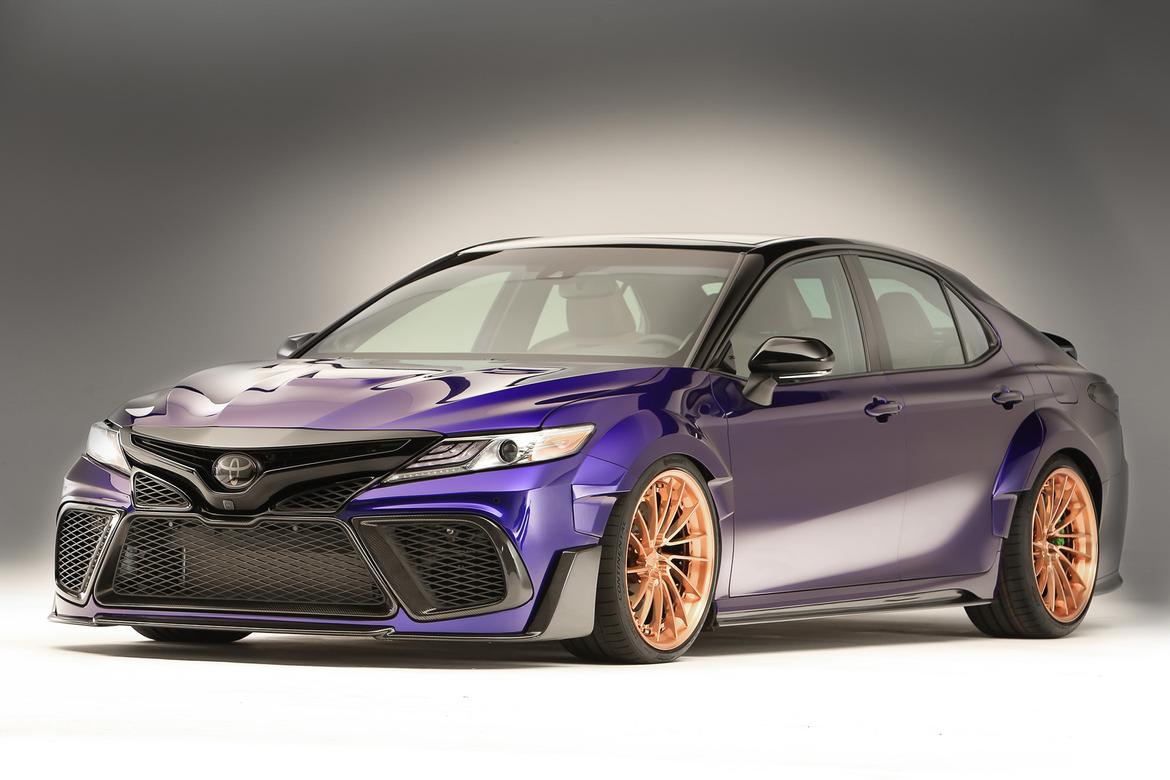 3. Prints, Burple Reign
NASCAR analyst and U.S. "Top Gear" personality Rutledge Woods partnered with Rick Leos, the builder behind last year's slammed SEMA Sienna, for a Camry gone digital. The sedan's hood, bumpers, rocker panels and headlight surrounds came from three-dimensional printers, while the "Burple" paint job is named for a portmanteau of blue and purple. Speaking of ports, the exhaust has MagnaFlow components, while a lowered Megan Racing suspension and staggered 20-inch rims round out the exterior.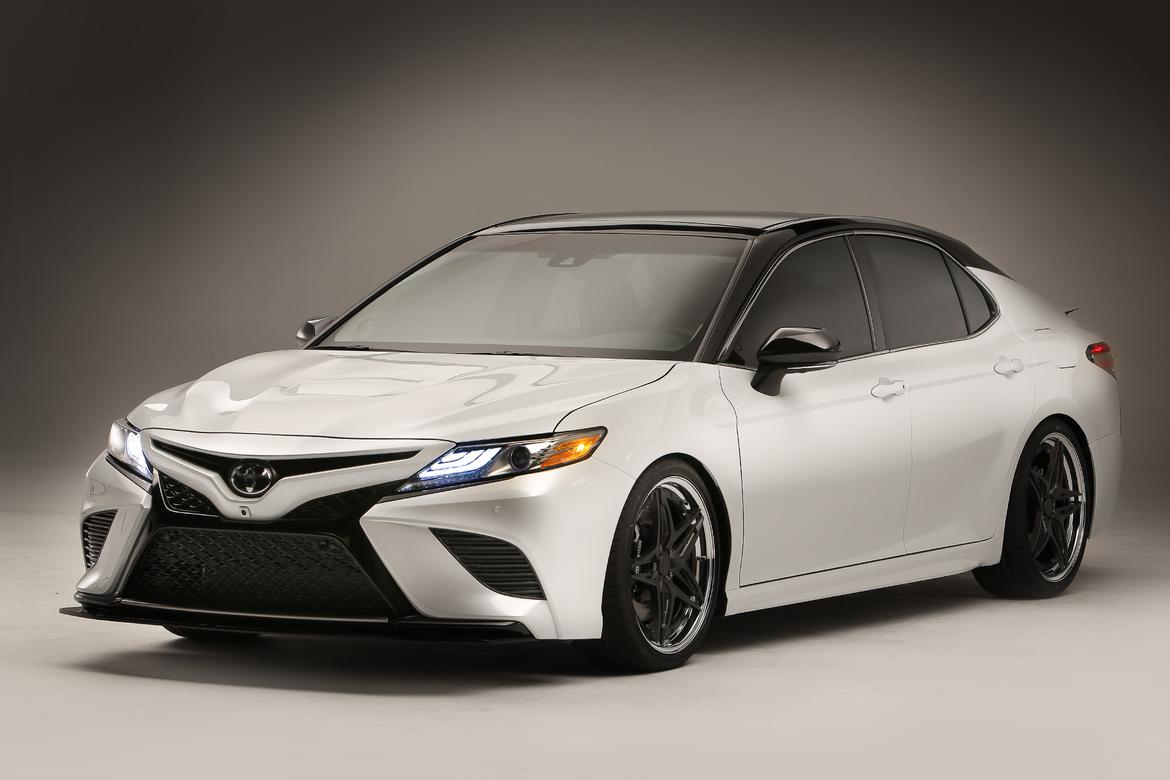 4. Rookie Job
The Camry designed by NASCAR Cup rookie Daniel Suarez looks fairly stock, with black paint higher up and pearl white below the beltline. An AEM intake, TRD exhaust, 20-inch rims and custom bodywork — including a front splitter, rear diffuser and trunk spoiler — round out the changes. Inside, Suarez's Camry has red-stitched logos and carbon-fiber trim.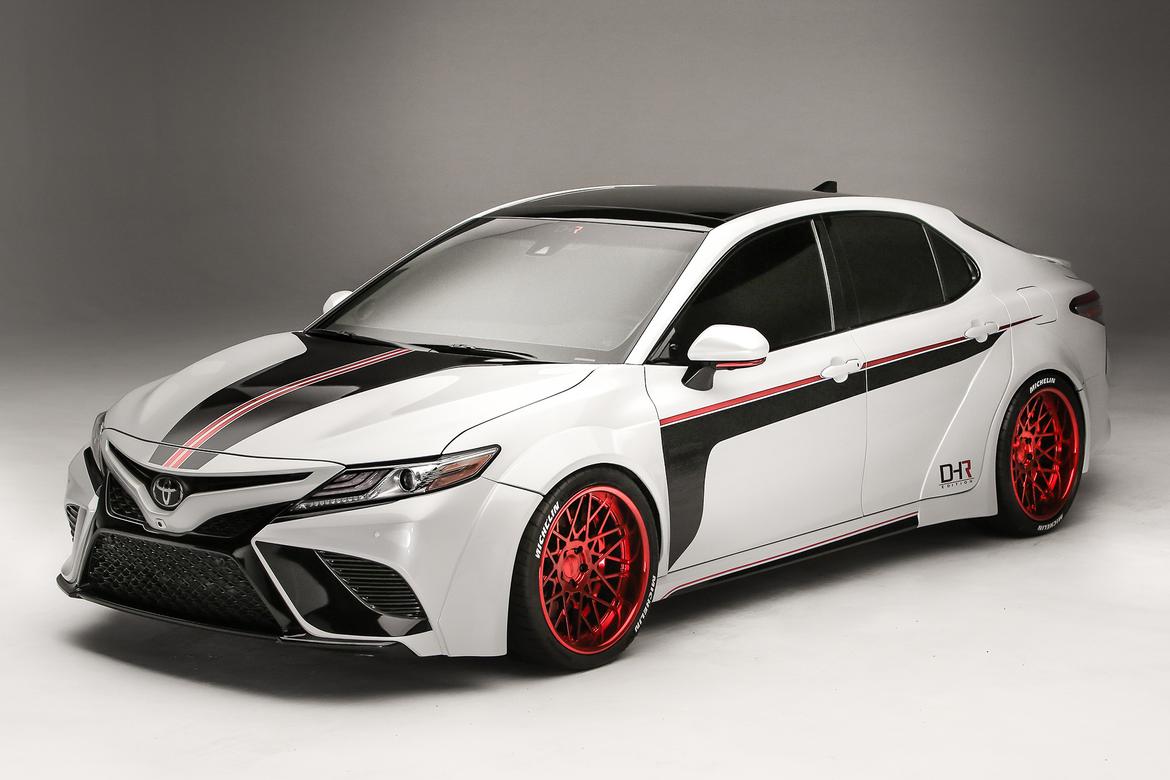 5. Hamlin It Up
Eleven-year NASCAR veteran Denny Hamlin customized his Camry with 20-inch Candy Apple Red wheels and 275-millimeter-wide tires, a setup that needs fender flares to accommodate some 6 inches' extra width. Other modifications include an AEM intake and exhaust, Tein coil-over suspension and StopTech brakes. The interior gets Recaro bucket sets with four-point harnesses.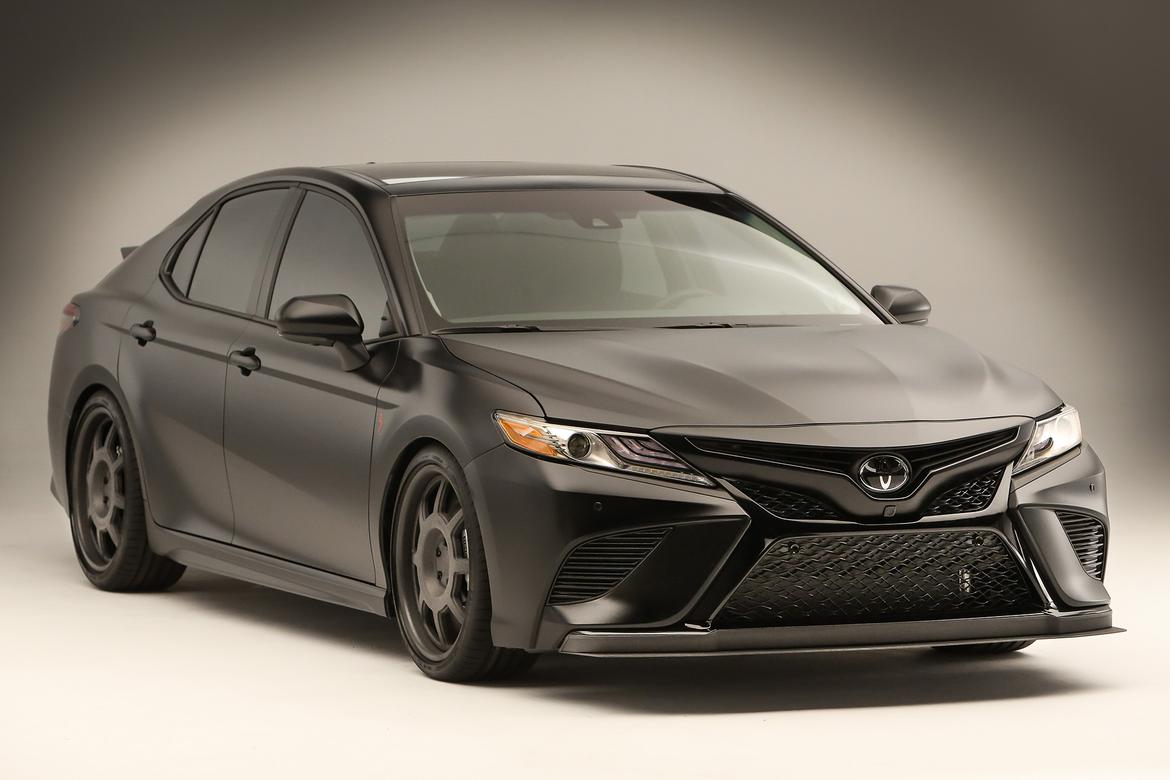 6. Paint It Black
Martin Truex Jr., NASCAR's current points leader, boasts stock-car-style wheels from American Racing. The rest of it — including the interior — is black, plus a matte clear coat for the exterior (which went through six shades of black to get to the final version). Like Hamlin's car, Truex Jr.'s Camry has an AEM intake, StopTech brakes and a Tein coil-over suspension, but it has TRD exhaust.