Love it or hate it (I'm a fan), the 2108 Lexus LC 500 is a striking design. People stop you in parking lots and on the street to admire it and ask what it is, pulling out phones to take photos.
Related: 2018 Lexus LC500 Video Review
Even a neighbor who described it as "hideous" turned out to be offended less by its looks than by its unapologetic and exuberant lack of concession to utility (as opposed to her plainly practical Subaru Forester).
It's a grand touring car — not a sports car or track-day car — that's genuinely grand. It's a treat for the eyes and a treat to drive, easy to live with in city traffic, fun on a winding road or comfortable and quiet cruising the freeway. It's even a treat for the ears,with the sweet sound of the 5.0-liter V-8, whether it be the more subdued tones in Comfort or Normal modes, or the more raucous rumble in the sport modes. More specifics in our review here.
The LC 500 is all the more impressive for the clearly obsessive attention to every contour and surface, to each bit of trim, to individual designs from the taillight assembly to the look and feel of the waves in the door panels. Dramatic and unique. Not an inexpensive car, but it punches above its weight on price.
So, with this attention to detail, it is all the more puzzling to be confronted with a few details that seem out of sync with the Zen of the big car (and it is big — nearly the size and weight of a Toyota Highlander three-row SUV). They're not deal breakers for me given the LC 500's many other virtues, but ...
Here are five things that could make this grand touring coupe even grander:
1. Tame That Wild Track Pad
The media and control system is the closest to a deal breaker for me. It's a mess, with a wide-but-narrow split-screen display and intricate menus — and that crazed track pad. Lexus says it mimics a Smart phone; I think it flies around like a mouse on speed as you try to hit the mark to navigate the menus or set controls.
Lots of practice did not make my movements any more precise nor cut the time with my eyes off the road. Separate buttons for basic functions such as Audi o volume helped, but not enough. For example, setting seat heat or ventilation control is two menus deep and still not easy when you get there. Set the seat on high for a cold start and you then need about 30 seconds of concentration to turn it down while underway -- or if you really want to do it safely, you should pull over.
Don't even think of dealing with Audi o tone settings while driving. Oh, and no Apple CarPlay or Android Auto. Too downscale? Not if you just spent $1,000 for the new iPhone X. I had an easier-to-use, more intuitive and nice-looking system recently in the nicely redesigned 2018 Kia Rio.
2. Save Me From Myself
The front lip is beautifully done, anchoring a Lexus spindle grille that actually looks integral to the design, not grafted on. But it's vulnerably low, and I don't want to know what clipping a curb or parking-lot wheel stop would cost. Best case would be an Audi ble alert with a visual cue when that pouty front lip is in danger. Many cars with similar vulnerability have them.
3. Let Me Have Coffee With a Friend
We're way past the days when cupholders were debatable, and I'd like two real ones like I could automatically get in far lesser cars. As it is, the LC 500's one real cupholder is perilously close to the climate and radio controls, and tight for a tall cup. The passenger, meanwhile, has to hold it or make do with the rectangular console bin under the sliding cover.
Why?
4. Give the Trunk a Pass
The trunk, with just 5.4 cubic feet of space, is wide but inexplicably shallow given that there is no spare, or even an inflator, under the floor to back up the custom-designed Michelin run-flats on these 21-inch forged wheels. If I had my druthers, this coupe would be a hatchback.
As it is, though, the trunk actually did work for modest shopping or a couple of soft-sided carry-on bags. But it could get a boost in practicality with a pass-through to accommodate more shapes and extend the cargo room into the cabin.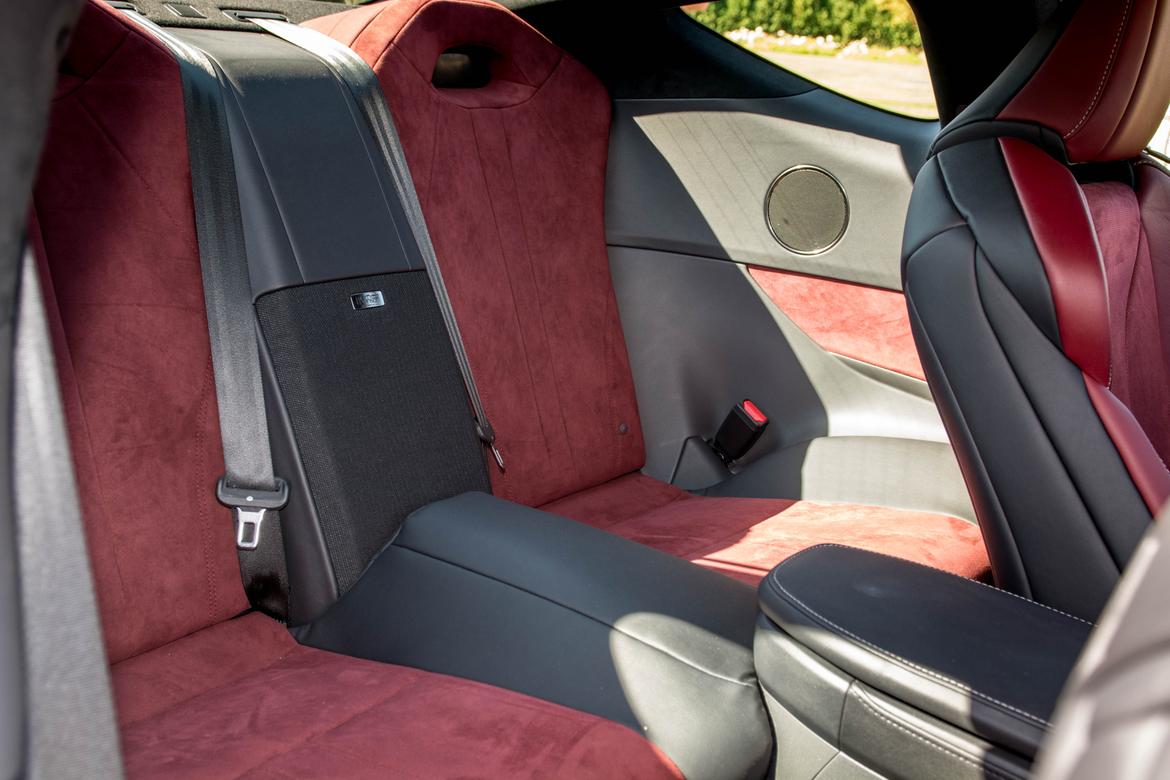 5. Lose the Pretend Backseat
Even children will find it close to uninhabitable. But that space could be put to good use as a nicely detailed and carpeted storage space for extra luggage, a laptop bag or backpacks, or a furry friend. Something durable and cleanable. It would be even more useful combined with an integrated pass-through as suggested above.
Just because some other luxury and sporty coupes have similarly useless backseat setups is no reason not to be creative. The delete might even shed a few pounds from the LC 500's 4,280-pound playing weight. And if you think the backseat gets you cheap insurance, forget it: The two doors, V-8 Used Engine , price, buyer profile and other characteristics already have the attention of the actuaries.
2018 Lexus LC 500: As Tested
Powertrain: 471-horsepower, 5.0-liter V-8; 10-speed automatic with manual mode; rear-wheel drive
Fuel economy: 16/26/19 mpg city/highway/combined
Key features: 2+2 coupe, adaptive suspension, limited-slip rear differential, 21-inch forged wheels, head-up display, premium Audi o, Performance Package (carbon-fiber roof and door sills, active rear spoiler, Alcantara sport seats, active rear steering, variable gear ratio steering)
Price: $105,614 (including a destination charge)
's Editorial department is your source for automotive news and reviews. In line with 's long-standing ethics policy, editors and reviewers don't accept gifts or free trips from automakers. The Editorial department is independent of 's advertising, sales and sponsored content departments.