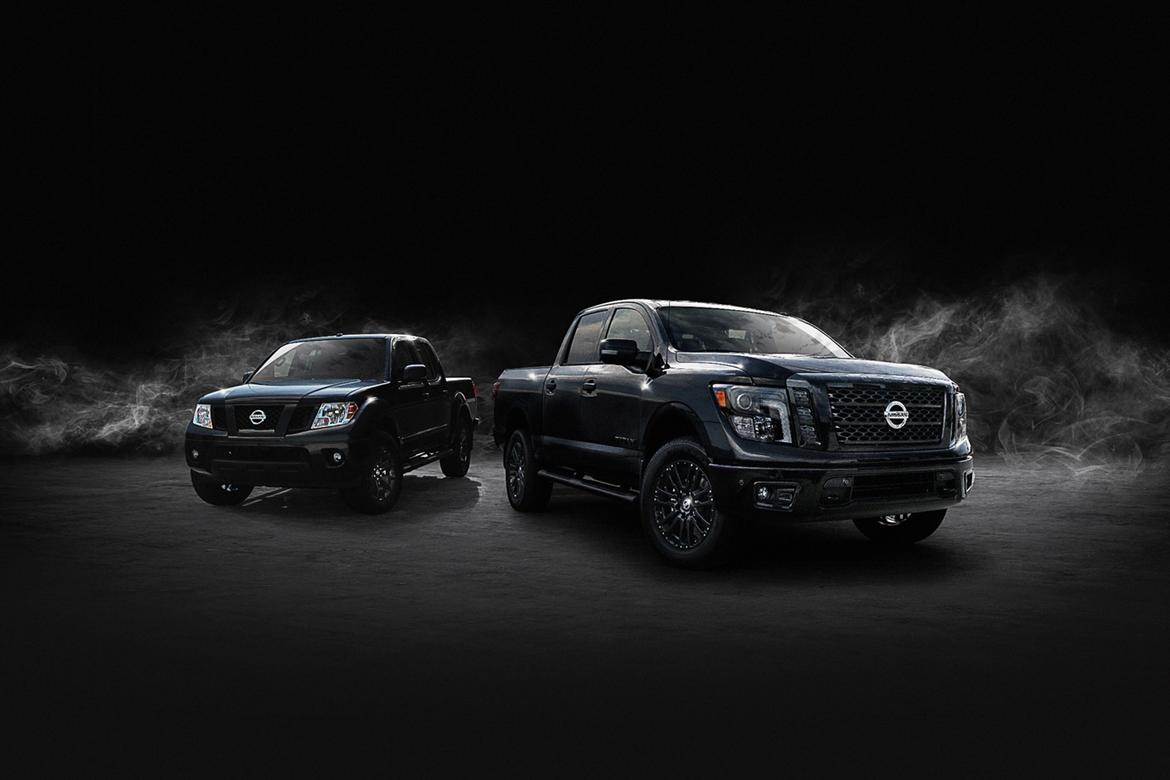 After initially offering a blacked-out Midnight Edition for the 2016 Maxima, Nissan added its top-selling cars and SUVs to the fold in 2017. Now, for 2018, the lineup expands even further to include the Titan and Titan XD full-size and Frontier midsize pickup trucks.

Related: Nissan Takes 6 Models to the Dark Side With Midnight Editions
For 2018, Nissan claims existing Midnight Editions receive additional content on top of what was offered in 2017. Nissan also says that purchasing these items in a package offers an average discount of 45 percent versus ordering the features separately.

All Midnight Edition Nissan s come with black alloy wheels, special badging and black exterior accents. Pricing and additional details vary by model:
Sentra SR: $495 buys 17-inch black wheels and blacked-out trim pieces and grille; available on the Sentra SR. This is a $5 increase from 2017.
Altima SR: 18-inch black wheels are joined by black exterior accents, heated seats and navigation in a package that costs $1,095, up $105 from last year.
Maxima SR: There's no price increase for the Maxima, and the $1,195 package includes 19-inch black wheels, black exterior accents, an around-view camera system and a driver's seat with position memory.
Rogue SV: Available on the SV trim level, Midnight Edition Rogues get 17-inch black wheels and black exterior details including roof rails and front-and-rear lower-body-element accents. The package costs $1,095, $105 more than in 2017.
Pathfinder SL: The current most expensive Midnight Edition package at $1,395 — a $200 increase — includes 20-inch black wheels, a black rear spoiler and grille, illuminated kickplates and approach lighting.
Frontier: Available for the first time on the 2018 Frontier, the Midnight Edition package is a $995 option on crew-cab Frontier SV 4x2 or 4x4 models with automatic transmissions. The package includes body-colored front and rear bumpers, black side steps, 18-inch black wheels, and black side mirrors and door handles; special Midnight Edition floormats are also available.
Pricing is not yet available for Murano, Titan or Titan XD models, but the package content is:
Murano SL: Midnight Edition Muranos include black 20-inch wheels, as well as black roof rails, mirrors, grille and black body molding on each side.
Titan: Another 2018 first-timer, the Midnight Edition is available on Titan SV and SL models with a crew cab in either 4x2 or 4x4 configurations. Included are body-color front and rear bumpers, as well as a body-color grille with a dark insert. Black 20-inch wheels and additional black accents cover the outside, and unique charcoal interior trim appears inside.
Titan XD: The package is the same as on the Titan with the addition of black fender louvers. Only 4x4 Titan XD SV and SL models with a crew cab and diesel Used Engine are available with the Midnight Edition Package.