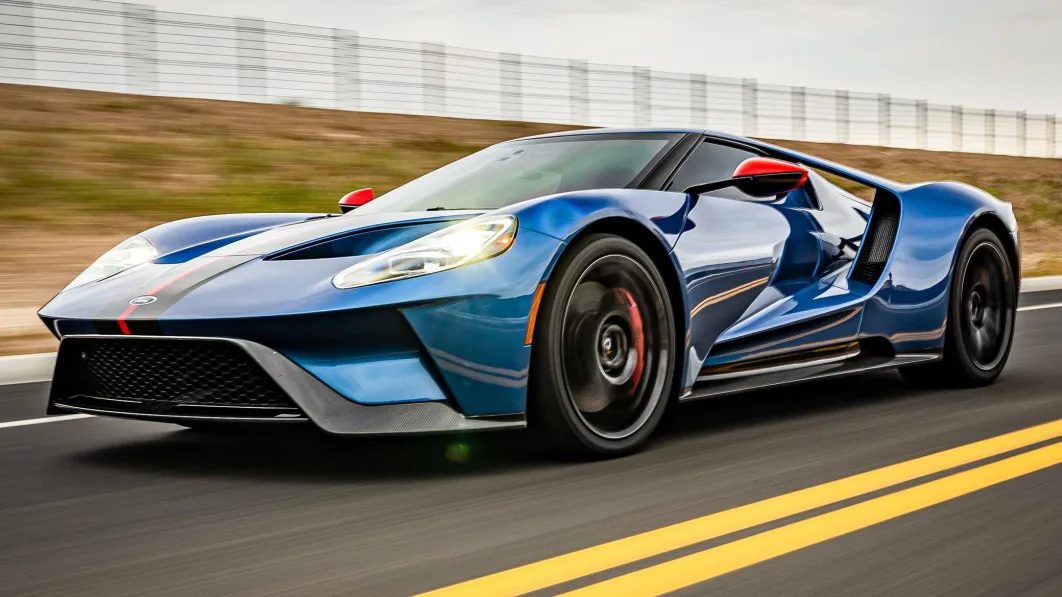 ---
enthusiast-focused auction website cars & bids recently listed a 2019
ford
gt carbon series that could become the most valuable car it has ever sold. painted in liquid blue, the supercar is one of a handful built with numerous weight-saving carbon fiber components.
ford
introduced the carbon series at the 2018 edition of the sema show as the lightest version yet of its ferrari-baiting supercar — engineers made it about 40 pounds lighter than the standard gt. they achieved that by fitting 20-inch carbon fiber wheels, titanium lug nuts, a titanium exhaust system and a model-specific engine cover with a polycarbonate panel, among other parts. around 1,350 examples of the gt were built, and carbon series-specific production figures haven't been released but
ford
hinted it could only build one a week. the example listed on cars & bids is a one-owner car with about 10,000 miles on its odometer. it stands out with red exterior accents that nicely complement the liquid blue paint and the bare carbon fiber stripes, and it's listed with an accident-free carfax report. the auction description lists only two modifications: clear paint protection film on some of the body and underbody panels and a hardwired dashcam. as far as modifications go, these are the two that we'd probably spend money on if we'd taken home this gt carbon series when it was new. whoever wins this gt will bag much more than a rare, 647-horsepower supercar. the sale also includes the new-in-box order kit that
ford
sent reservation holders to help them configure their car, scale models, a lego kit, and even a piece of the 2016 le mans-winning gt. as of this writing, bidding currently stands at $701,000 with six days left in the auction — that's the highest bid ever placed on the platform. if you've got a
ford
gt-sized spot in your garage, head on over to cars & bids to place a bid. alternatively, if the gt is out of your realm of interest or out of your budget the site is hosting a stunningly diverse selection of cars, including a 1983 lada niva, a 1984 tvr 280i, and a 1992 citroën bx.
source:autoblog.com