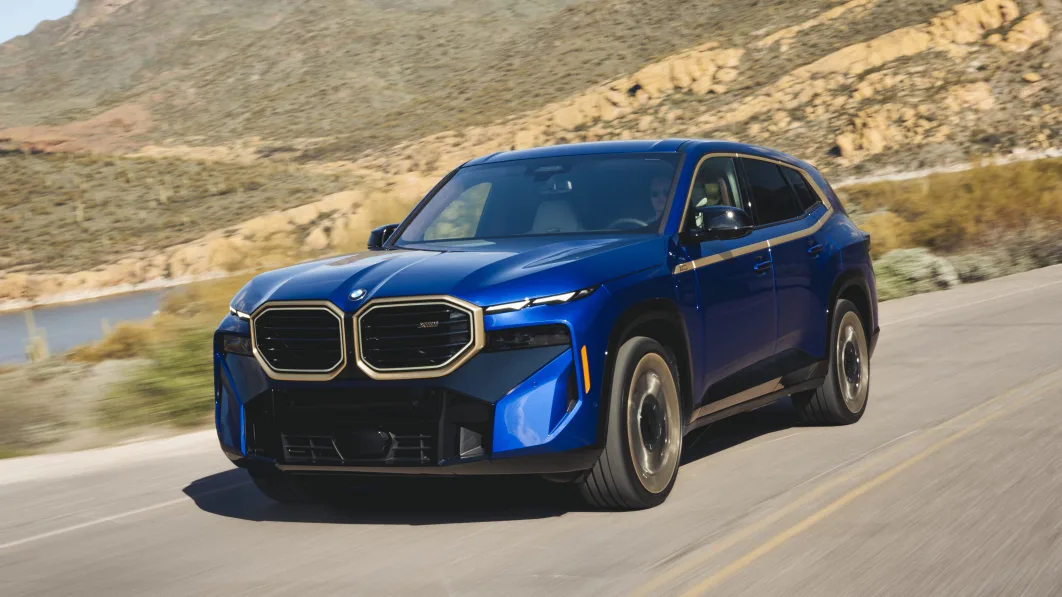 ---
phoenix, ariz. - the 2023
bmw
xm is chock full of firsts and new concepts from
bmw
. it is the first production
bmw
to be an m-only model with no lesser variants since the iconic m1 45 years ago. not only that, it's the first plug-in hybrid that's a fully-fledged m product. its design, both inside and out, features all sorts of new flourishes like a stacked quad exhaust, look-at-me exterior lighting, a wild geometric headliner and astounding natural leather on the dash. you could go ahead and dismiss it for not being a pure
bmw
m car, but you'd also be missing out on the best performance suv
bmw
has screwed together yet. comparisons to the x5 m competition are inevitable after a glance through the spec sheet — it utilizes
bmw
's modular clar platform shared with the brand's other rear-drive vehicles — but a few minutes behind the wheel dispel those thoughts. to the xm's great benefit, being a phev greatly improves the experience, giving it an identity all its own. a giant 29.5-kilowatt-hour battery pack — that approaches some low-range evs and is larger than what the i3 had when it first launched — is mounted in the underbody and provides an all-electric range of about 30 miles, per
bmw
. the electric motor integrated into the eight-speed automatic transmission can whisk you away from a stop with surprising quickness, as it's packing 194 horsepower and 207 pound-feet of torque. similar sounds as in evs like the i4 m50 and ix m60 play through the speakers in ev mode, and they blend so seamlessly into the noise of the 4.4-liter twin-turbo v8 to have you questioning whether you're in electric mode or not. it's slick and subtle, but the v8 can still act out as the animal we've grown accustomed to in other m cars. since the electric motor is so potent, the combustion engine's output is on the lower side for v8-powered m vehicles, producing 483 horsepower and 479 pound-feet of torque. for comparison's sake, the x5 m competition pushes 617 horsepower and 553 pound-feet to all four wheels from its v8. combined output for xm beats those numbers, though, and rounds out to a hearty 644 horsepower and 590 pound-feet of torque, allowing for 0-60 mph sprints in a claimed 4.1 seconds. smacking the throttle from a standstill will make you doubt the xm's 6,052-pound curb weight. the headrest-slamming instant-on acceleration exhibited by high-power evs is on tap here, as the xm violently moves off the line. and before any electric momentum is lost, boost from the twin turbos is ready to keep the party rocking. the sensation of acceleration and throttle response of the xm is better because it's a phev, which is exactly what we were hoping for in an electrified m car.
bmw
has a big bag of tricks to ensure this big, heavy suv handles like something from the m division. front and rear active anti-roll bars, rear-wheel steering, unique chassis design, and enormous wheels and tires all play a role in making the xm as fun to drive as it is. stiff chassis mountings felt through the steering wheel and seat of the pants signal right away that this
bmw
means business. on the winding mountain roads of arizona, the xm is at home skipping from corner to corner without feeling too porky for the road. its massive brakes never broke a sweat, even going downhill. point the wheel, and the xm abides right away with the same level of accuracy we're used to in an m3. its comfort steering setting is surprisingly the best, as this xm's steering effort is heavy to a fault in its sport mode. still, the disappearing act of all that weight is one to admire, and
bmw
does it without resorting to bone-crunching ride quality. the forgiveness in the xm's suspension is a new quality for
bmw
's m suvs, as both the x5 m and x3 m beat you up no matter the road, and don't respond well when the chassis is upset. the adaptive dampers and steel springs — linear in front and progressive in rear — are dialed in just how we like. you can use the xm as a grand tourer for miles on end and enjoy its controlled, comfortable highway ride. and even in that comfort damper setting, the xm is no slob in corners. you can spice it up with the full sport plus damper setting, and while this adds confidence in the form of less body movement, the great ride quality is still there. a big mid-corner heave won't upset the chassis or cause alarm. instead, the xm shrugs it right off and keeps trucking along, providing confidence to keep pushing it in and out of bends.
source:autoblog.com