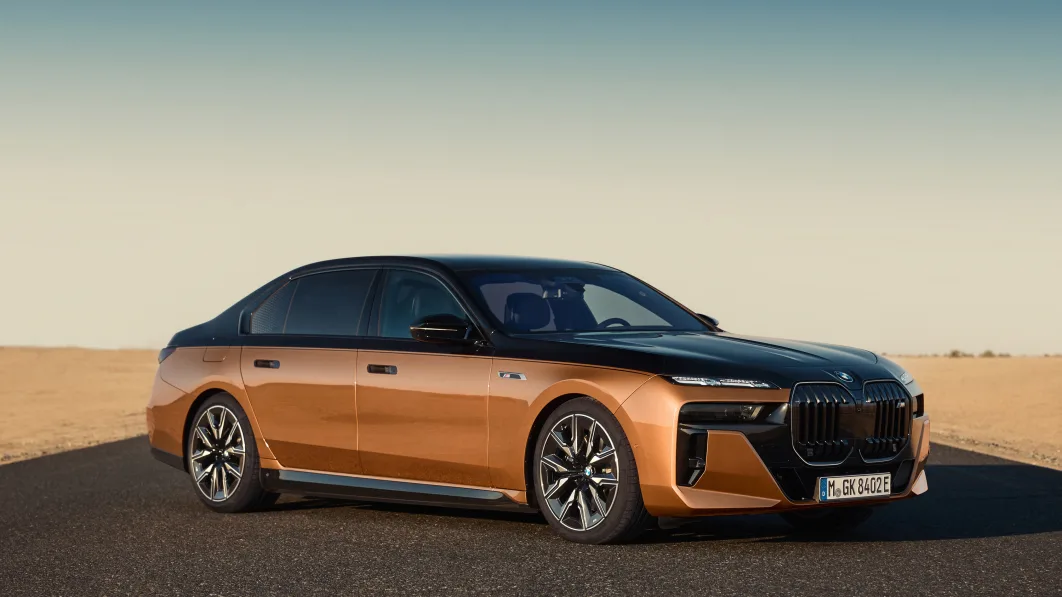 ---
hope you didn't think munich was finished serving up big electric dishes. after getting the xm label red and xm 50e set before us last week, the next course is here, the 2024
bmw
i7 m70 xdrive. not only the most powerful electric vehicle in
bmw
's range, it's the most powerful 7 series, period. a motor at each axle makes the "x" in xdrive, the one on the rear axle extra powerful. instead of being a common three-phase e-motor, the pusher unit is six-phase. doubling the number of windings takes power density to 2.41 kw/kg, a 25.5% density increase over the rear motor in the i7 xdrive60. in numbers, that means 483 peak horsepower from the aft motor to go with 255 hp from the front, for 650 hp combined. torque figures rewrite the
bmw
book, the e-motors making 748 pound-feet in sport mode. activating either m launch control or m sport boost balloons that to 811 lb-ft. from a standstill, m launch gets the speedo needle touching 60 mph in 3.5 seconds. only the m8 and a single trim of the m3 and m4 can beat it. top speed is electronically capped at 155 mph. a 105.7-kwh battery with 101.7 kwh usable powers an epa-estimated range of 295 miles when drivers aren't passing out during acceleration runs. owners who forget throttle discipline can take advantage of a new driving mode called max range to reach a charger. in electron-sipping mode, the i7 m70 lowers the ceiling on top speed to 56 mph, turns off climate control and comfort heating features for the seats and steering wheel. home ac charging at a wallbox refills the pack at up to 11 kw, dc fast charging maxes at 195 kw, 5 kw below the dc fast charging cap for the
mercedes
eqs 450+. a tuned chassis makes for spirited everyday driving between the aforementioned extremes. the standard adaptive air suspension is self-leveling, m-specific parameters and smaller hydraulic volume in the rear dampers said to tweak dynamic response.
bmw
hasn't given us a curb weight yet. to counter what we know will be substantial heft, there's extra bracing across the body to bolster stiffness, plus active roll stabilization and rear-wheel steering. every model comes standard with an illuminated kidney grille, 21-inch jet black light alloy wheels with high-gloss inserts, and blue m sport brake calipers. buyers get the options of high-performance tires for the first time on the i7, but these come on 20-inch wheels and it isn't clear if range changes substantially with the diameter reduction. the m performance professional package dresses the brake calipers in black, appends a black high-gloss grille surround, sculpted m side skirts, m logos with embellished borders on the fenders, m high-gloss shadowline trim, black m exterior mirrors, a black m rear spoiler, black accent strip between the taillights, and a unique diffuser insert for the rear apron. customization options grow again,
bmw
saying its individual range of finishes can be used for two-tone exteriors. the hero car above is done up in a sapphire black metallic upper and
bmw
individual liquid copper metallic lower, separated by a black coachline. inside, the big upgrade will be idrive 8.5. fingers crossed for that one. the new 7 makes its debut at auto shanghai this week. pricing comes closer to launch in the latter half of the year.
source:autoblog.com