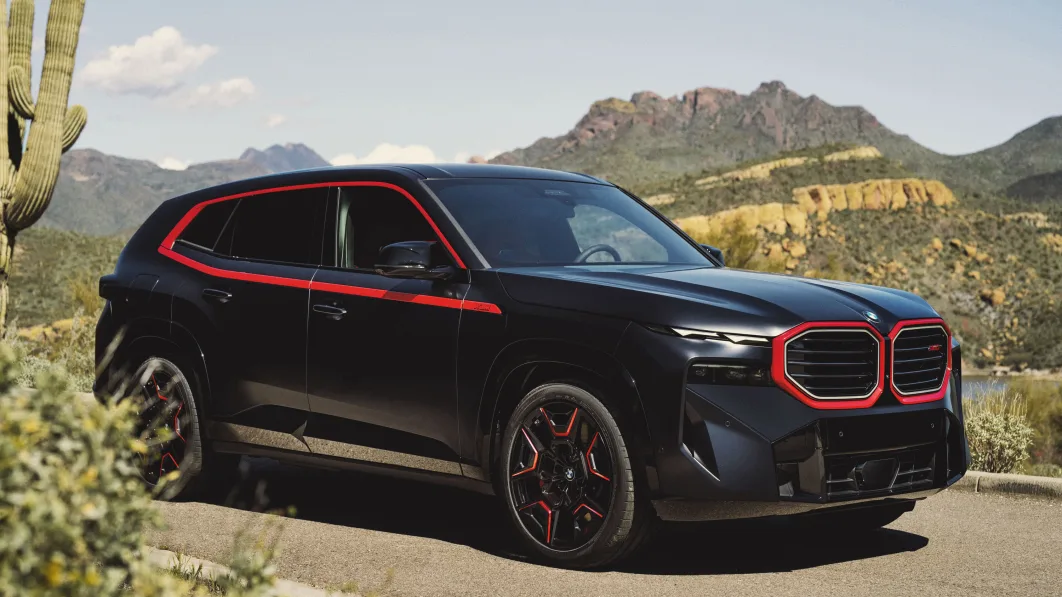 ---
in our first drive review of the 2023
bmw
xm, we called munich's new husky and high-powered suv "more engaging and better to drive than its purely combustion-engine performance suv offerings," "the best performance suv
bmw
has screwed together yet," and "a sign of good things to come." introducing the first good thing to come: the 2024
bmw
xm label red. perhaps the first thing you'll notice is that the super sporty suv is called label red instead of red label. until
bmw
explains this unexpected transposing, our guess is that
bentley
would have put down its scotch to raise a manicured finger in objection to
bmw
using red label. the english automaker hasn't produced a red label vehicle in ages, a fact that didn't stop crewe's legal team from filing to trademark the term in august 2021. besides potential chicanery in the badge area, what do we have? only the most powerful
bmw
ever made. the 4.4-liter twin-turbo v8 in the standard xm makes 483 horsepower and 419 pound-feet of torque. it's assisted by an e-motor set into the eight-speed transmission that creates the m hybrid system and produces 194 hp and 207 hp. in the xm label red, the ice by itself discharges 577 hp and 553 lb-ft. while e-motor output remains unchanged. back to the base model, total output on the ground floor of xm world comes to 644 hp and 590 lb-ft., whereas the xm label red trumps that with a square 738 hp and 738 lb-ft of torque. the label red shrinks the 0-60 time from 4.1 seconds to 3.7 seconds and gooses top speed from 168 mph to 175 mph when optioned with the m driver's package. if there's any mundane spec, it's that the fuel tank in the xm holds 18.2 gallons of gasoline, just 1.1 gallon more than the
porsche
macan. enthusiastic xm label red drivers will burn through premium refills with astonishing swiftness. the label red fits the same 29.5-kwh battery (19.2-kwh usable) underfloor, the pack powering the same all-electric range of around 30 miles and the same all-electric top speed of 87 miles per hour. short of taking the driver's seat, telling this one apart from its little brother is done by noting the toronto red accent line around the greenhouse and red badges instead of black badges. more red flourishes are found on the standard 23-inch wheels, while high-gloss black adorns the kidney grille surrounds and diffuser elements. the automaker says buyers will get access to more than 50
bmw
individual paint colors for the low, low price of zero dollars, that color wheel including hues such as
bmw
individual urban green,
bmw
individual petrol mica metallic,
bmw
individual anglesey green metallic, and
bmw
individual sepia metallic. a "small number" of units are going to leave the paint stop drenched in
bmw
individual frozen carbon black with contrasting gloss accents; we don't yet know the quantity nor what it will take to procure one. inside, more red shows up on seat headrests and upper seat backrests, air vents, and contrast stitching. one of our two earnest laments about the xm was the idrive 8 infotainment system. the xm label red might not be so plagued; its late production date means it will run the new idrive 8.5 software. we have high hopes. the 2024
bmw
xm label red debuts in person at auto shanghai later this month. production is slated to commence in august at
bmw
's plant in spartanburg, south carolina. pricing will come closer to launch, but we know the msrp will exceed $185,000, representing a premium of at least $25,000 over the standard model.
source:autoblog.com