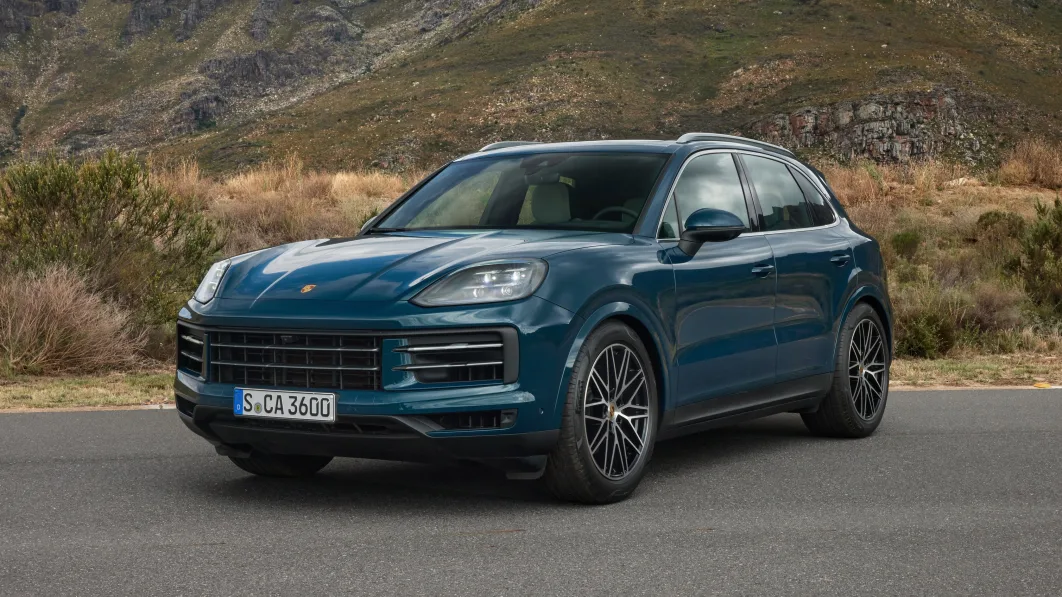 ---
the 2024
porsche
cayenne is here, and while it's just a refreshed model, it's been updated and improved at almost every level. it has updated styling and a taycan-inspired interior, plus it has more standard equipment and more horsepower. truthfully, it's difficult to tell at a glance that the 2024 cayenne is new, at least from the outside. it has a new front bumper, headlights, hood, fenders and a revised rear end with new lights and the license plate moved to the bumper. but the overall look is extremely familiar. the inside is a different story. the dash is pulled seemingly wholesale from the taycan. it has the same kind of curved instrument display (12.6 inches) sans cowl, along with space for not just the center infotainment screen (12.3 inches), but an optional passenger-side screen (10.9 inches), too. the little toggle shifter has been moved up onto the dash, though a cayenne signature, the dual center console handles, remain. more exciting are the powertrain upgrades — every single version of the cayenne makes more power. the base turbo 3.0-liter v6 makes 13 more horsepower and 36 pound-feet of torque for totals of 348 horsepower and 368 pound-feet of twist. the cayenne e-hybrid combines that engine with a 174 horsepower motor (up by 40 horses) for a total of 463 horsepower. it even gets a bigger 25.9-kwh battery pack, which should offer a solid improvement over the 17-mile ev range of the previous cayenne e-hybrid. the cayenne s drops its twin-turbo v6 in favor of a version of the twin-turbo 4.0-liter v8 now making 468 horsepower and 442 pound-feet of torque, improvements of 34 horses and 37 pound-feet versus the v6. with the sport chrono package, it'll get to 60 mph in 4.4 seconds on the way to 169 mph. finally, the cayenne turbo gt gets an extra 19 horsepower for a total of 650, and presumably the same 626 pound-feet of torque.
porsche
says this model will now hit 60 mph in 3.1 seconds and top out at 189 mph. a special weight reduction package can also remove 72 pounds from the turbo gt. the gts, turbo and turbo e-hybrid haven't been announced yet. they'll likely reappear in a year or so, as is
porsche
's way with substantial model updates. all cayennes will come with steel spring suspension standard, but now also with
porsche
active suspension management for adjustability and 20-inch wheels. air suspension is available, and it's standard on the turbo gt, which also picks up ceramic brakes, rear steering, sport exhaust and 22-inch wheels.
porsche
added some other new features as standard to all cayenne models such as led headlights, lane-keep assist, proximity key for locking and unlocking and wireless phone charging. with so many improvements in performance and feature set, it's unsurprising that the cayenne is more expensive now. the 2024 base model starts at $80,850, $7,200 more than the outgoing version. pricing for the whole line is below. cayenne base: $80,850 e-hybrid: $93,350 s: $97,350 cayenne coupe base: $85,950 e-hybrid: $97,350 s: $103,750 turbo gt: $197,950 the 2024 cayennes are available to order now. they're expected to arrive at dealers this summer. related video:
source:autoblog.com