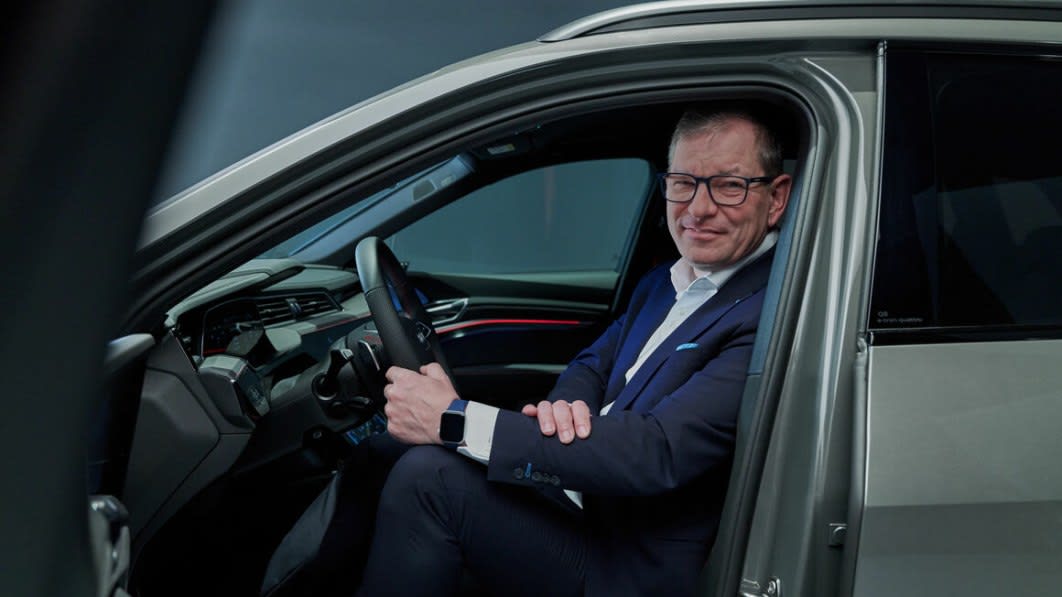 ---
audi
group ceo markus duesmann even as the
audi
group (vow.de), vw's luxury division, is in the midst of a huge ev transformation it still needs to perform where it counts — the bottom line. and so it is doing just that. on thursday the
audi
group - which is dominated volume-wise by
audi
, but also includes
bentley
, lamborghini, and ducati - posted record revenue and operating profit in 2022. that shouldn't be a surprise given what the industry has been seeing at the highest end of the market - record performances despite macroeconomic jitters across the globe. but that it's happening as the group is noteworthy. "we are on the verge of the biggest product initiative in our history,"
audi
group ceo markus duesmann said at a news conference earlier on thursday. "by 2025, we will have launched around 20 new models, more than 10 of which will be all-electric. we have set the course to go 100% electric. by 2027, we seek to offer an all-electric vehicle in each core segment." this is all part of
audi
group's vorsprung 2030 plan, which seeks to have all of the group's new models be electric by 2026 — and to end traditional gas-powered engine production by 2033. to that end, the group saw ev deliveries jump 44% (in 2022) compared to 2021 to over 118,000 vehicles, with the share of evs rising to 7.2% from 4.8% in the prior year.
audi
is also launching its first ev using the ppe (premium platform electric), which was developed together with
porsche
. that ev, the
audi
q6 e-tron, will be unveiled later this year. (past
audi
evs shared corporate parent vw's electric platform.) "with the
audi
q6 e-tron, e-mobility is coming from ingolstadt (
audi
hq) for the first time," duesmann said in a statement. "to this end, we're also building a dedicated battery assembly facility on site. this will enable us to retain important know-how here in germany and train our employees in future fields."
audi
's german rivals of course are also leaning in hard on their ev transformations. that makes it all the more important that
audi
get its ev strategy right—and launched in a timely manner. on tuesday munich-based
bmw
(
bmw
.de) reported rising profit and earnings growth for 2022, and expects ev sales to reach 15% share in 2023, and be one of the automaker's "main growth drivers." as for
audi
group's financials, the group reported revenue jumped 16.4% to a record $65.4 billion (61.8 billion euros) while operating profit rose nearly 40% to an also record $8.05 billion (7.6 billion euros). looking ahead,
audi
group expects deliveries to be between 1.8 million and 1.9 million cars in 2023 (from 1.64 million in 2021), while revenue is expected to jump in the range of $73 billion to $76.2 billion (69 - 72 billion euros).
audi
sees operating margin to be between 9 - 11%, and net cash flow to be between $4.76 billion - $5.82 billion (4.5 - 5.5 billion euros), along the same lines as the $5.08 billion (4.8 billion euros) reported in 2022. — pras subramanian is a reporter for yahoo finance. you can follow him on twitter and on instagram. read the latest financial and business news from yahoo finance download the yahoo finance app for apple or android follow yahoo finance on twitter, facebook, instagram, flipboard, linkedin, and youtube
source:autoblog.com