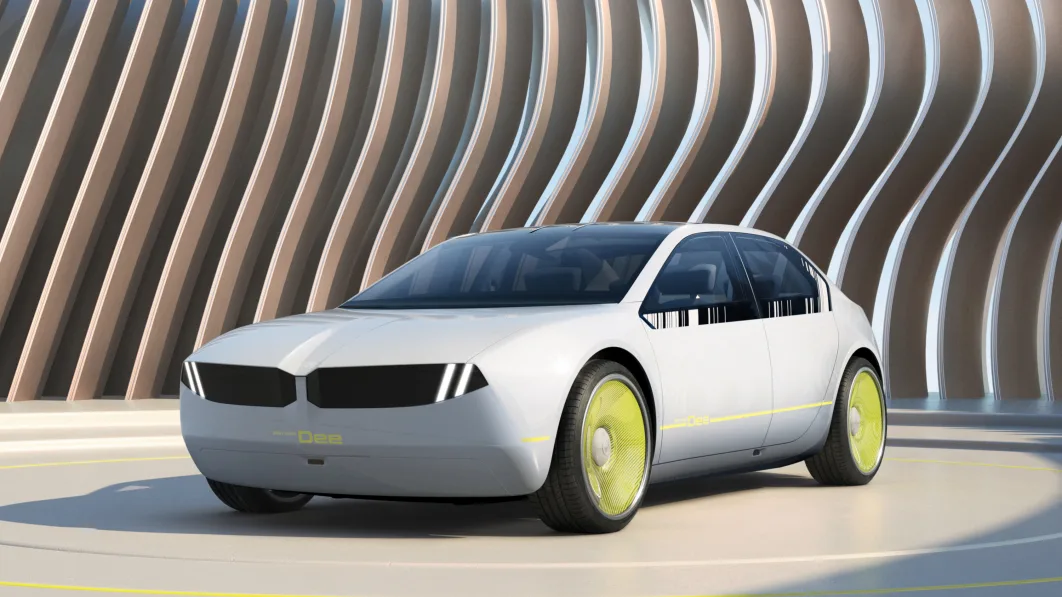 ---
meet
bmw
's advertisement for its neue klasse next-generation vehicle architecture and its vision of comprehensive digital control. this is the
bmw
i vision dee concept, a midsize sedan introduced tonight at the consumer electronics show in las vegas. "dee" is an acronym for digital emotional experience — the subject of the social media takeover starring arnold schwarzenegger, david hasselhoff, and k.i.t.t. but let's start with the vehicle itself. as for the design — and we're not saying this to be mean — if you rendered
bmw
's trademark flourishes into a vehicle from the first midnight club game in 2000 before the cars were licensed, you'd have a good basis for explaining to someone what the i vision dee looks like.
bmw
practically said so itself about the sheetmetal, calling this a "new and pared-down design language." putting the brand's fans on notice, design chief adrian van hooydonk said the automaker will be simplifying the visual language of its current lineup — and so quickly that
bmw
's entire range will be revamped in the next three years. it's hard to tell if that's good news.
bmw
's always been about the big digital play, though; idrive commenced the large-scale digitalization of the
bmw
occupant experience 22 years ago. on the i vision dee,
bmw
hallmarks are digitized as well. it's a low-polygon three-box sedan. the twin circular headlights are rendered as twin diagonal stripes inside a digital kidney grille. you might recognize the stretched grille outline shape from the
bmw
m hybrid v8 lmdh racer headed to the imsa weathertech sportscar championship in 2023. the grille here is a dual screen instead of an intake,
bmw
saying the concept could "produce different facial expressions [and] express moods such as joy, astonishment or approval visually." the taillights play the same trick. between them, a hoffmeister kink. now to dee, the star of this show, a mix of "neuromancer" and "her." k.i.t.t. really would have been the best spokesman for the digital emotional experience, the concept "showcasing what is possible when hardware and software merge." not only aiming to demonstrate how a car can create a stronger bond between driver and vehicle, the i vision dee "[exploits] the full potential of digitalization to transform the car into an intelligent companion." the front and side windows are screens. the head-up display runs the length of the windshield. the amount of information displayed there can be selected in five stages on a "mixed reality slider": analogue; driving-related information; contents of the communications system; augmented-reality projection; and "entry into virtual worlds." the press release didn't explain that last bit. but the pr did reveal that dimmable windows can create an immersive digital environment, and the concept can project the owner's avatar onto the driver's side window "to personalize the welcome scenario." the interior is another helping of sleek, conceptual fare; much of it we still have questions about. the steering wheel "can be operated by moving the thumb" and "creates touchpoints that come to life when approached or touched." we're also not sure how far dee can go with "integrating the customer's everyday digital worlds into the vehicle at all levels," only that, "natural language is the simplest, most intuitive form of interaction, enabling perfect understanding between humans and vehicles."
source:autoblog.com