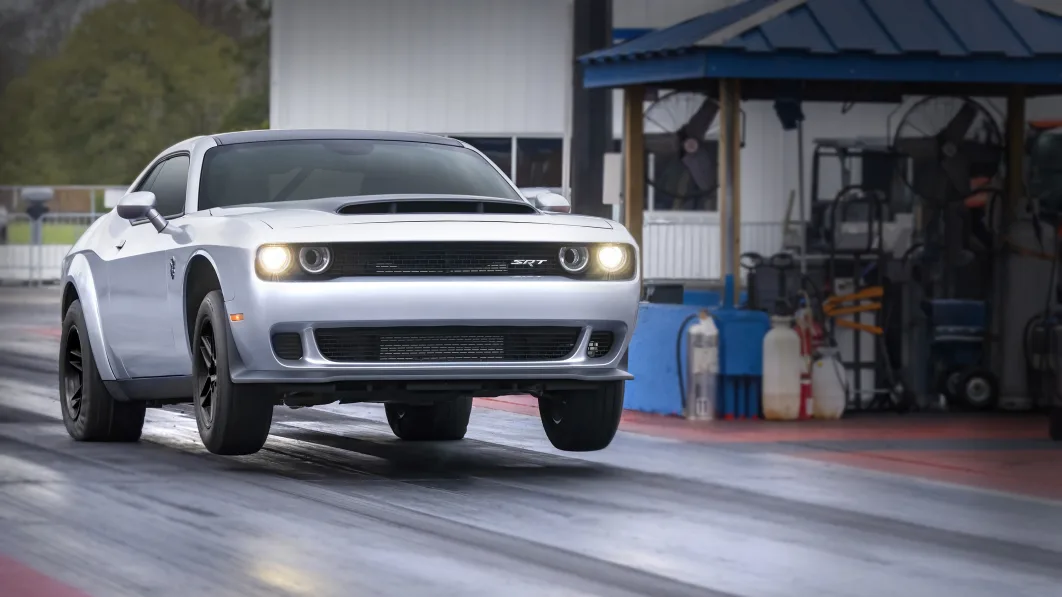 ---
is there any end to modern subjects that make one ask a question starting with, "could you have imagined ten years ago... ?" we're not sure, but here's another one courtesy of autoevolution:
dodge
invited some challenger srt demon 170 buyers to a custom exterior paint palette as part of the jailbreak program for the 1,025-horsepower coupe. there palette includes 20 color choices that were available on the 1970
dodge
challenger and another 20 selected by
dodge
designers. the secret menu came to light when tony diglio, member of a facebook forum devoted to the demon 170, posted an e-mail he received from
dodge
that confirmed diglio's choice of yellow jacket for his demon 170. when diglio asked other forum members if they'd been invited, another member responded in the affirmative and that the one-of-one custom paint job "will cost me $30k more." a thread on the hellcat.org forum claims to out some details on the demon 170's jailbreak invites. member dgolay wrote, "there were between 20-25 total people picked for the demon 170 jailbreak program. some were famous people, [a] couple were racers, [a] couple were inside people at
dodge
, and about 10 were "normal" people that had bought a lot of
dodge
s in the past 10 years. each had the ability to pick from one of 40 colors (20 legacy heritage colors from 1970 or 20 newer colors picked by srt team). all of the people were sent the 40 paint samples overnight on [the] same day and [the] first one that replied with [an] email to
dodge
with their color selection got that color. only one of each color will be built and the plaque will state it is 1 of 1, the color, and [the] customer name." diglio would have been among the cadre of regular
dodge
customers: he chose yellow jacket because he owns a 2018 challenger srt demon in the same hue. according to numbers put out by the same forum, of the 3,000 demons built for the u.s. in 2018, diglio was one of 124 buyers to go all lemony snicket. back then,
dodge
didn't charge extra for yellow jacket. going back further,
dodge
charged $995 for a yellow jacket package on the 2012 challenger srt8, but that sum also included 20-inch wheels, 392 hemi badging, and dark gray suede inserts on the door cards. with the demon 170, it seems like the less pricey the option on the 2018 demon, the more that option price has gone up on the new car. the 2018 demon started at $84.995 before destination and taxes, the demon 170 is just 14% more expensive at $96,666. the 2018 demon charged $4,995 for a sunroof, the demon 170 sunroof costs 100% more at $9,995. the 2018 demon didn't charge anything for regular paints that we can tell, and jailbreak didn't exist in 2018. now a special paint job is $30,000. the satin black painted hood costs the same $1,995 now as it did in 2018, though. when carbuzz asked
dodge
about the spendy option, the automaker answered, "the jailbreak 170 is a celebration of the ultimate 'last call'
dodge
challenger srt demon 170 shared with our most loyal muscle car customers. select individuals were offered this exclusive paint option based on their new
dodge
charger and challenger purchase history and
dodge
brand affiliation. this one-of-one paint option will add an extra layer of customization and collectability to the record-breaking challenger srt demon 170, and we made this available on a limited basis to those who have meant so much to the latest era of
dodge
muscle." american express used to have a tagline, "it pays to be a member." that sentiment has never been more true, and members have never paid so much.
source:autoblog.com