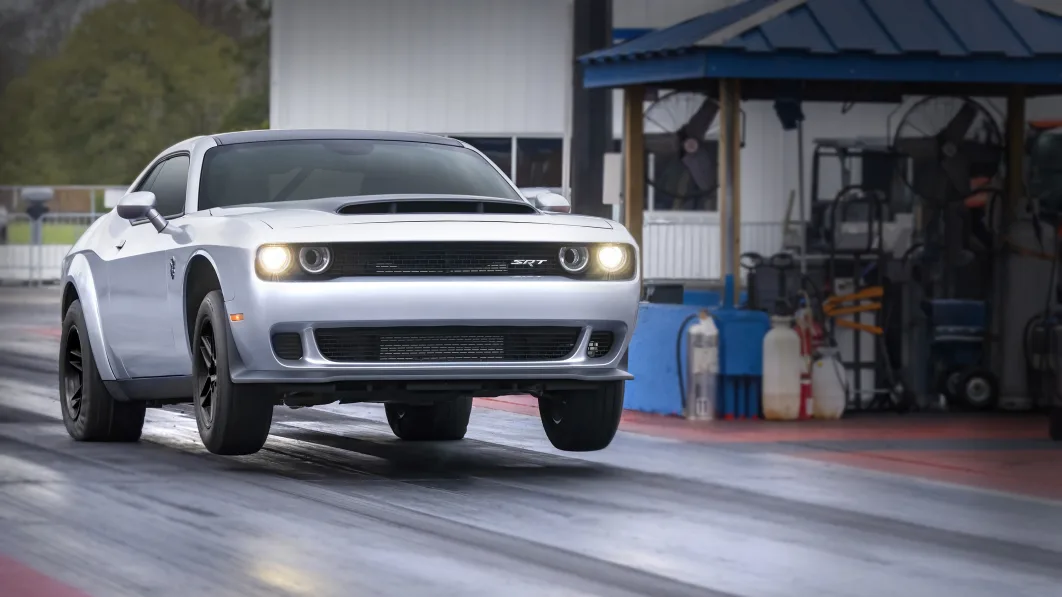 ---
many of the absolute best cars on the planet were born from passionate groups of people. people willing to put in extra work to make something really special. and that's exactly how the
dodge
challenger demon 170 came about. as tim kuniskis, the head of
dodge
, explained, the demon 170 was a somewhat secret side project that really got its start in the parking lot of the srt building. the pandemic was in full force, so it was the safest way to get people together to talk about the plan. about 40 people came, all to potentially be recruited for this project, which was going to be additional work on top of existing projects. but it was to build the ultimate
dodge
challenger. when it was time to opt in or out, every single person hopped on board. and a couple of years later, they've created the car you see here, a challenger that can make 1,025 horsepower and 945 pound-feet of torque. yes, it's a four-figure challenger, at least when it's running on e85 ethanol. and that's where it gets its 170 designation — that's the proof number for e85's ethanol content. that's not to say it's slow when running on pump gas. run it on premium (91 or 93 octane), and it makes 900 horsepower and 810 pound-feet of torque, which is still more than the original challenger demon. to hit these numbers,
dodge
literally broke some eggs (engines) to make the demon 170 omelet. the stories about blown test engines were not a publicity stunt, they really were breaking engines trying to hit their target numbers, and that led to more and more and more of the demon powertrain being replaced and upgraded. with the engine itself, it has a new 3.0-liter supercharger and pulley, a new throttle body, bigger fuel injectors, stronger cylinder head studs, new pistons, rods, crank bearings, fluid damper and billet main caps. the transmission has a new transmission brake, the driveshaft is stronger, the differential is stronger (by 50%), and the rear halfshafts and cv joints are new. the suspension has been retuned, too, particularly to handle the new, standard mickey thompson et street r street legal drag tires developed just for the demon 170. they're the same 315-mm width at the rear, but are so soft and sticky, that
dodge
stiffened up the suspension so that less of the energy from the engine was lost just shifting weight up and back for traction. but don't worry, the demon 170 can still pull the front wheels off the pavement with a good launch.
dodge
isn't including a set of skinny wheels for the front, opting instead for 245-mm wide front tires.
dodge
did remove the front wide fenders to save a bit of a weight. and speaking of weight reduction,
dodge
will be offering optional two-piece wheels with aluminum centers and carbon fiber rims for ultra-low unsprung and rotational weight — they shed about 32 pounds versus the standard wheels. additionally, the demon 170 has two-piece slotted brake rotors with brembo four-piston calipers at the front, and one-piece slotted rotors at the back, again with brembo four-piston calipers. and while it's not performance related, the demon 170 gets unique badging all around, plus a nifty "alcohol injected" word mark ahead of the hood scoop. there are a couple trick features to make it easier to run and launch the demon 170, too. it doesn't require a separate ecu to be installed to unlock all the power. plus, there are sensors and automatic computer adjustments to make sure that if you get a tank of ethanol with low ethanol content, the car will adjust settings to make sure it doesn't blow up. furthermore, there's a torque limiter that can be manually adjusted. the reason for this is if you're racing on a surface that isn't quite ideal, you can limit torque early on for better launches with the reduced traction. but what do all these power and traction upgrades mean for actual performance? well,
dodge
says that on a prepped surface with rollout, the demon 170 will get to 60 mph in 1.66 seconds. and apparently that number has been certified by the nhra, along with its quarter-mile time of 8.9 seconds at 151 mph. that speed means that not only does the demon 170 need a roll bar to participate in nhra-sanctioned events, it needs a drag parachute. now, you can get around this by easing off before the lights to keep from breaking into those times, or going to events that aren't nhra-sanctioned or doing timing. of course, you also have to be good enough to get those times. also, good safety equipment is always worthwhile, and
dodge
will be selling drag chutes through the direct connection store, as well as other demon 170 components, which we'll get to in a moment. another thing worth noting is that the tires equipped are only good to around that 150 mph mark. so if you're wanting to try standing-mile top speed runs, you should get a set of tires with higher speed ratings. and since they're drag radials at all four corners, you'll want a different set of tires for track driving that includes corners. production of the demon 170 begins in july, and they'll build them right up to the end of challenger and charger production on dec. 31. no set number has been given for the model. they'll build as many as the supply chain can provide and as many as can be sold. the maximum that will be built will be 3,300, but that's assuming everything goes completely smoothly. destination charges weren't given, but the msrp is $96,666 (because of course it is), and
dodge
says allocations to dealers selling at msrp will receive priority scheduling. current demon owners will have the opportunity to order one with a matching vin to their existing car if they're interested. and while it doesn't come with a crate of go-fast parts like the old demon, the 170 will come with a gift box with a decanter and stainless steel shot glasses. now obviously, not everyone will be able to get the demon 170, but existing challengers can still benefit from the development of the car. many of the parts will be available as upgrades through direct connection, such as the throttle body and rear differential. you might not be able to perfectly re-create a demon 170, but you can get a bit of it in your regular challengers. to not only create the most monstrous challenger of them all, but also to be able to share some of those parts with current challenger owners and fans seems like a pretty perfect way to cap off the model.
source:autoblog.com