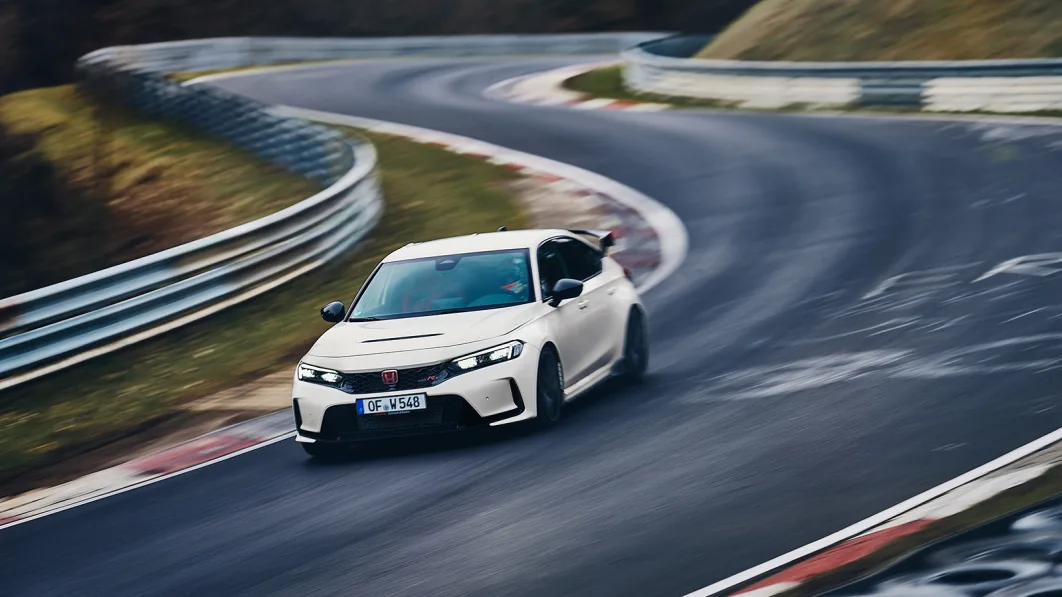 ---
turns out, there is some fine print about the new
honda
civic type r nürburgring record lap that has just come to our attention. apparently, the record was set using an unreleased version of the type r that is to be called the
honda
civic type r s grade.
honda
's press release both in the u.s. and europe includes this detail in the footnotes, first noticed by carscoops, and it also says the s grade will only be sold in left-hand drive european markets. sorry, everybody else. what's unique about the s grade model? we asked, and
honda
provided an answer. in total, the s grade deletes the air conditioning, parking sensors, rear cargo cover, cargo net hooks, auto-dimming mirror, vanity mirror lights and navigation hardware. it also reportedly swaps the auto-folding/electrically-adjustable mirrors to manual folding/adjustment and deletes the mirror heating capability. we'll note that a number of those features are already not available on u.s.-spec type rs — such as the auto-folding mirrors and parking sensors — but instead come on the regular euro models.
honda
also tells us that the powertrain, chassis and suspension running gear is all identical to a regular euro-spec type r. all of the poundage saved from these feature deletions will of course lead to a lower curb weight and a better lap time. unfortunately,
honda
doesn't have a figure to share with us as for exactly how much weight the s grade shaves off. what does this mean for the record lap? well, we don't actually know what time the u.s.-spec type r would set at the nürburgring. the record was set fair and square using this special "s grade" version of the car that will be a euro-exclusive model. it's understandable that
honda
would want to use its most potent version of the car to set the record, but we're curious what our version of the type r could do, too. many of the changes to the s grade track along the same lines as the limited edition from the previous generation. that model deleted a bunch of sound deadening, the rear wiper, cargo cover and rear heater ducts. in europe,
honda
even removed the air conditioning and infotainment system from the limited edition. plenty of other changes were made to enhance performance, too. ultimately, it sounds like the s grade removes many of the niceties that make the type r an enjoyable daily driver. if
honda
even considered selling it here, we're sure some folks would take them up on the offer, but it wouldn't be a popular version whatsoever.
source:autoblog.com