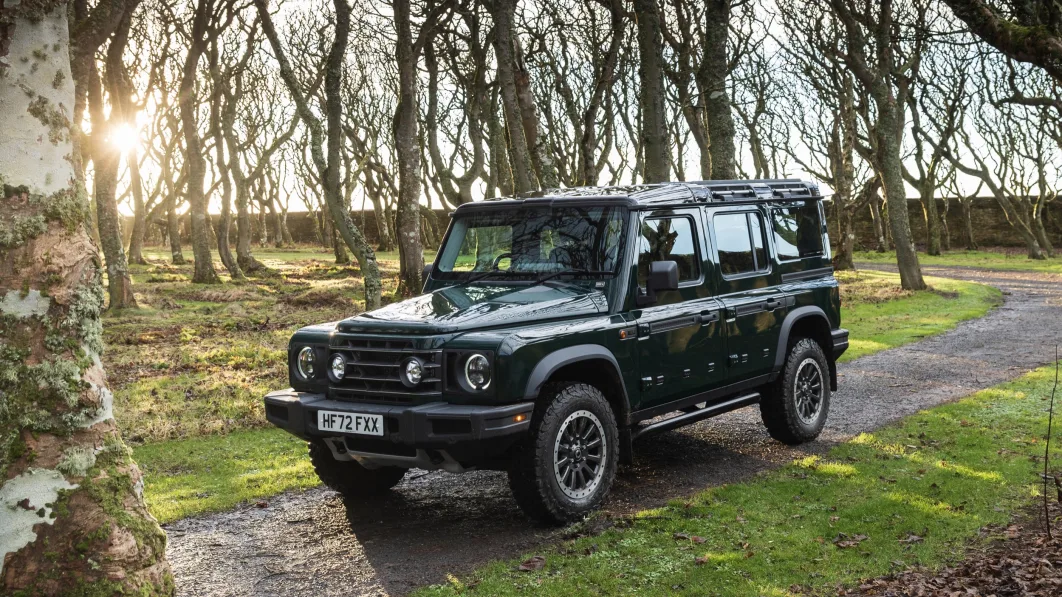 ---
loch lomond, scotland — we weren't around to witness its invention, but we'd hazard a guess that a tool like the axe was invented awfully early in humanity's history. sharp edge, brute force, blammo. while
land rover
may have been predated by the seminal military
jeep
, like the axe, it too was a simple tool designed specifically for one purpose: off-road mastery. fast forward a lifetime or so and you'll meet us where we're standing today as we open the driver's door of the ineos grenadier. it's hard not to mention the
land rover
defender when describing the ineos grenadier, but the new machine is most certainly not a copy of the old. if you were asked to picture a boxy, off-road utility vehicle, chances are you'd draw up something shaped along the same straight lines, but you could be thinking of any number of classic
jeep
, landie,
mercedes
-benz or
toyota
designs. ineos was formed by sir jim ratcliffe in 1992 and today is the fourth largest chemical company in the world. ineos automotive was founded in 2017 with the intent to build a proper off-road vehicle in the same mold as the deceased
land rover
defender (the original, not the reborn model). with its permanent four-wheel-drive system, three available locking differentials, a two-speed transfer case, solid front and rear axles, and a grunty engine, the grenadier does more than look similar to those legendary off-roaders, it off-roads like them, too. more traditional bits include a full ladder frame and an old-school recirculating ball steering box. but dismissing the ineos grenadier as merely an anachronism that doesn't belong on today's roads isn't accurate, either. ineos sources its engines from
bmw
— the u.s. model will be sold solely with a b58 gasoline-fueled 3.0-liter straight-six producing around 283(ish) horsepower and 330(ish) pound-feet of torque — eight-speed automatic transmission from zf, transfer case from tremec, axles from carraro, differential lockers from eaton, progressive-rate springs from eibach and brakes from brembo. it all adds up to a suitably sturdy platform, a modern take on historically durable componentry. off-road, the ineos grenadier is capable of traversing just about any terrain that's passable on four wheels. we pointed its stubby front end at all the usual suspects during one leg of a grand expedition through the rugged scottish countryside: boulder-strewn mountains, deeply rutted and muddy crests, small water crossings, the sandy shores of an iced-over lake. there's a too-complicated process of locking the differentials and engaging off-road mode, but once accomplished, the grenadier's capabilities are as expected and certainly comparable with any of the rest of the world's off-road icons, including those from the likes of
jeep
and
land rover
. the grenadier boasts 10.4 inches of ground clearance, an approach angle of 35.5 degrees and a departure angle of 36.1. the breakover is listed at 28.2 degrees, and ineos says the grenadier can tilt on its side up to 45 degrees. the five-link suspension setup and solid axles front and rear delivers 9 degrees of articulation at the front and 12 at the rear, and total wheel travel is listed at 23 inches. those figures are soundly superior to the
mercedes
g 550. compared to a
jeep
wrangler unlimited rubicon, the grenadier is lacking in the approach and departure angles and has about half an inch less ground clearance but is a bit better on breakover. the engine's torque curve is tuned flat, with its peak delivered between 1,750 to 4,000 rpm. the 2.5:1 low-range calculates out to a crawl ratio of 53.81, or a very manageable 1.26 mph. on the flip side of the hill, downhill assist automatically keeps the grenadier to a set speed as low as 2 mph, selectable through the cruise control buttons. the grenadier is larger in every exterior dimension than a
jeep
wrangler unlimited, but its 115.0-inch wheelbase is 3.4 inches shorter than the
jeep
's and its high-up seating position and flat fenders make it easy to place its 265/70r17 or optional 255/70r18 front tires right where you want them. two tires are offered: a custom bridgestone dueler a/t offers a good street/dirt compromise while bfgoodrich k02s would be the more natural choice given their solid reputation from overlanders. globally, three trim levels are offered for the grenadier, all of them using the same powertrain. there's a base model that comes standard with a center locking differential, an off-road focused trailmaster that gets all the extra off-road kit standard (including a snorkel air intake), and a fancier fieldmaster model that gets standard heated seats wearing leather in gray or black. we're not yet certain what will come standard or be made optional for the u.s. market, but we're hoping the belstaff-branding is left intact (ineos owns the well-known english clothier). as much as we love driving through the muck, the reality is that many more miles will pass beneath the tire of nearly any grenadier on tarmac. fortunately, this off-roader is pretty adept at on-road driving, too. the old-fashioned recirculating-ball steering has a slow ratio with 3.85 turns lock to lock, and it doesn't naturally want to return easily to center at low speeds. the steering gets more precise and gains a bit of feel as speeds rise, and the chassis is playful and communicative enough that it's not a chore to drive on twisty roads at speed. besides the lack of low-speed steering feel and considering the grenadier's mission statement, we don't have many other complaints. the suspension is compliant and the engine offers a reasonable amount of grunt. though the claimed 0-60 time of a couple ticks past 8 seconds won't win many drag races — especially lined up against a similarly box-shaped off-roader wearing the letter g — in reality it's plenty quick enough for a sturdy ute. we don't have epa fuel mileage ratings, but we'd expect something in the 20-mpg ballpark in mixed driving. the grenadier's interior furnishings are a compromise between utility, functionality and muted luxury. cloth seats sourced from recaro are standard along with rubber flooring surfaces, but leather and carpeting can be optioned. the interior is surprisingly quiet, with engine, road and wind noise low enough to carry on an easy conversation. credit
bmw
's inherently smooth inline-six engine and zf's unflappable automatic gearbox for much of the grenadier's refinement. drivers of right-hand-drive grenadier models face an unfortunate floor intrusion where their left feet will naturally sit, but no such issue exists on left-hand-drive models destined for america.
source:autoblog.com