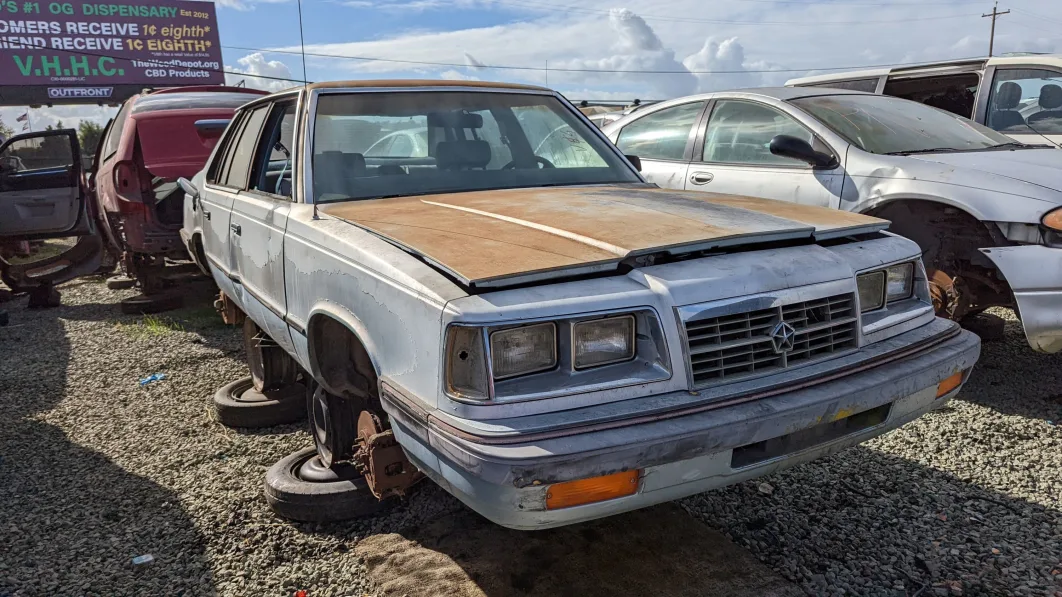 ---
one of the earliest spinoffs from lee iacocca's versatile,
chrysler
-saving k platform was a stretched-wheelbase version known as the e platform. these cars were supposed to resemble european luxury sedans, to the extent that a couple of models were badged as the
chrysler
e-class and
dodge
600 se and given suspiciously
mercedes
-ish badging. at first, the
dodge
600 was available in convertible and coupe form, but only sedans were sold for the 1987 and 1988 model years. today's junkyard gem is one of those sedans, found in a northern california self-service boneyard a few months back. though the k-car family tree had many branches, with american sales of new k-derived vehicles continuing until the middle 1990s, only a handful of u.s.-market models were pure ks: the plymouth reliant,
dodge
aries,
chrysler
lebaron,
dodge
400 and
dodge
600 coupe/convertible.
chrysler
mini
vans through 1995 belonged to the extended k tribe, as did the
chrysler
imperial of the early 1990s. there was even a k-based maserati! the
dodge
600's main rival was the
chevrolet
celebrity and its siblings, the
pontiac
6000,
oldsmobile
cutlass ciera and
buick
century. the cheapest 1987 celebrity sedan listed at $10,265, while its
pontiac
and olds counterparts cost $10,499 and $10,940 (those prices would be $18,049, $18,460 and $19,236 in 2022 dollars). the base price for the most af
ford
able 1987
dodge
600 four door was just $9,891, with the better-appointed se version listing at $10,553 (that's $17,391 and $18,555 today). since this is an se, it competed on price with the
pontiac
6000 sedan (not to mention the very cheapest
ford
taurus trim level, which cost $10,491). if you were willing to drive a manual transmission and insisted on a car that would likely hold together for a quarter-million miles, a new 1987
toyota
camry could be had for $10,648. the plymouth-badged version of this car was the caravelle, which cost a mere $9,762 ($17,164 now) in 1987. that's a better deal than those fine-print-laden prices on eighths offered on the dispensary billboard behind this car! the engine is
chrysler
's 2.2-liter four-cylinder, rated at 97 horsepower and 122 pound-feet in this application. a 146-horse turbocharged version was available for $685 extra ($1,204 after inflation). a five-speed manual transmission was base equipment in the 600 for the 1982 through 1984 model years, but a three-speed automatic was mandatory in all 600s after that. this car has the $790 air conditioning option, which would be about $1,389 in present-day bones, or clams. that am/fm radio was included at no extra cost in all 1987
dodge
600s, no doubt because the music that year was so good that you needed fm to appreciate it. was this car a better deal than a new
pontiac
6000 sedan? this one started out in colorado, then moved to the west coast at some point. carlin
dodge
is still in colorado springs, though it's now autonation
dodge
ram. the moss and lichen buildup tells a story of long-term outdoor storage. this car might actually have just the 62k miles showing on its five-digit odometer. 1988 was the last year for the 600, after which it was replaced by its k-cousin, the
dodge
spirit. you can't beat 'em!
source:autoblog.com